Amber Rose's Boyfriend Alexander Edwards Shares Having Father-Son Time Amidst Cheating Allegations
"All 12 of y'all bums (the ones that I know of there's probably more) can have him," said Rose as she called out Edwards' mistresses.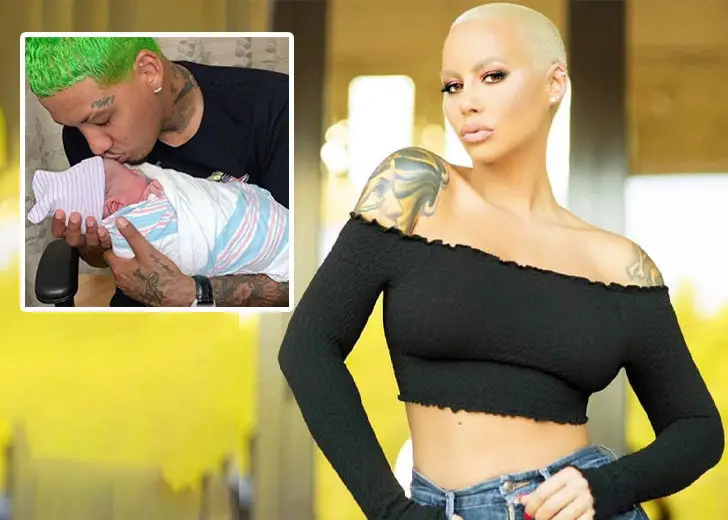 Amber Rose made scathing accusations of infidelity pointed towards her boyfriend, Alexander Edwards. Edwards allegedly cheated on the SlutWalk founder with twelve different people. 
Whilst these allegations were making headlines everywhere, the allegedly unfaithful AE took to his Instagram stories to flaunt his father-son bonding moments with their kid, Slash Electric.
Rose Accused Her Boyfriend of Infidelity
Rose made a post on her Instagram stories where she claimed Edwards had been cheating on her and that she was tired of being embarrassed behind the scenes. 
She also claimed that Edwards had twelve mistresses that she knew of, possibly more. She wrote, 
All 12 of y'all bums (the ones that I know of there's probably more) can have him.
She called all of them out for sleeping with her boyfriend while knowing full well that he was in a relationship and had a baby.
She acknowledged that none of those women owed her any loyalty and hinted that she didn't hold a personal grudge. 
The two of them share a 22-month-old son. 
Rose Implied a Breakup
Rose was mindful of not spilling any names involved in the matter as she claimed she was "not in the business of ruining lives." She did, however, imply that the relationship was over, in light of the fact that he cheated. 
She stated she couldn't be the only one fighting for her family and added, 
I've been so loyal and transparent but I haven't gotten the same energy in return. As for him... The lack of loyalty and the disrespect is ridiculous and I'm done.
It is somewhat noteworthy that she did not call out Edwards by his name, but at this point, it is almost public knowledge that the two of them had been in a relationship for the past three years. 
Edwards Was Unfazed By the Accusations
As for the Universal Music Group executive, he has yet to make a comment on the matter. But going by his activity on Instagram, he seemed to be unfazed by the accusations.
Instead, his recent Instagram stories featured him sharing quality time with his baby boy. Mere hours after the Last Kings Records artist made her announcement in her stories, Edwards shared adorable snaps of his son. 
The snap uploaded by Edwards saw little Slash sporting a backward turned NYC cap as he flashed the cutest smile to the camera. The toddler appeared to be comfortable wearing just his diapers and the cap. 
The picture was followed by a video of the father-son duo playing on the bed. The music exec threw the little one's pacifier around as Slash was trying to get to it before his father did. 

22-month-old Slash playing with his father Alexander Edwards (Source: Instagram)
The video was filled with laughter, and evidently, both the father and the son were having a good time. 
The video ended on an even happier note, though. After struggling to keep up with his father for a while, the toddler finally got his hands on the pacifier and gleefully flaunted his victory.