Lala Kent Slams Us Weekly over False Randall Emmett News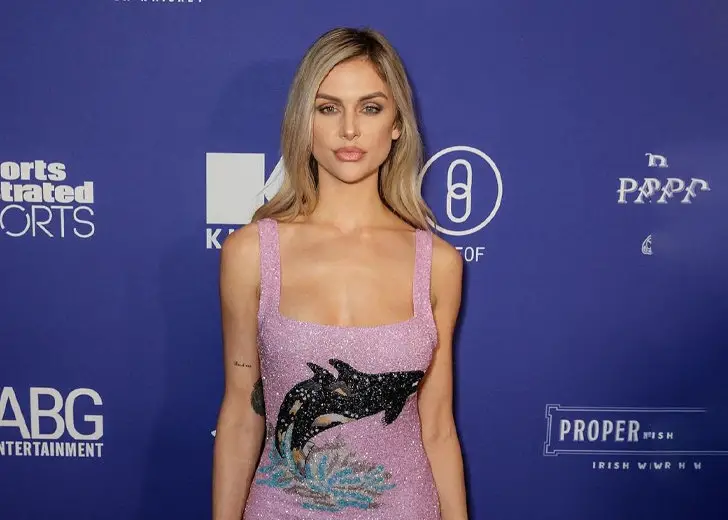 Lala Kent and her ex Randall Emmett, who got engaged in September 2018, are presently co-parenting their daughter, Ocean, born in March 2021.
Since the pair's split in October 2021, the Vanderpump Rules star had made it apparent that she was "disgusted" with her ex, a movie producer, since he cheated on her on multiple occasions.
"I want to focus on Ocean, I want to focus on the Give Them Lala brand, and my future, and just creating a beautiful life for my daughter," she said during an Amazon Live session in January 2022.
But on February 15, Us Weekly reported that Kent and Emmett ended up crossing paths for the first time publicly since their split at a Super Bowl party.

Lala Kent with her daughter she had with her ex Randall Emmett. (Photo: Instagram)
"It was like they didn't know they would be at the same party and ran into each other and couldn't avoid each other because they were in the same VIP section," the publication quoted their source.
The news soon grabbed a lot of attention, and in the wake of the situation, Kent came forward to claim that the news was nothing but "a complete lie."
Lala Kent Claimed She Never Saw Randall Emmett
The reality TV star apparently took to Instagram stories to slam Us Weekly for running a false story about her interacting with Emmett.
"@usweekly you should be ashamed, & we should all question everything you publish," she wrote, questioning the publication's reliability.
She then clarified that she never saw him or laid her eyes on him at the party. Even if she had seen him, she stated, "he would never get an 'obligated hi' from me."

Lala Kent slammed Us Weekly for disseminating wrong news about her and Randall Emmett. (Photo: Instagram)
The diva later explained that she wanted to maintain as much distance as possible from Emmett for various personal reasons.
She, therefore, also communicated with him only through a "recommended app" to be on the same page while co-parenting their daughter.
In December 2021, the Give Them Lala author similarly told People that she and Emmett had very little communication. She stated that while expressing that she felt being a single mother was a strength she could not describe.
"But all in all, I feel like the most powerful, independent, and most beautiful that I have ever felt in my entire life," she added.
Her discontentment became more apparent when she talked about her failed engagement with guest Larsa Pippen during her Give Them Lala podcast in March 2022.
Kent shared out loud she wasn't mourning the split with ex partner.
"It's hard for me to come from a place of, like, mourning a loss when there was no loss because it wasn't ever real," she explained.
She reiterated that "there was a lot of betrayals" and her ex-partner wasn't the way he seemed behind the scenes. 
Lala Kent Is Reportedly Dating Again
During the Amazon Live conversation in January 2022, Kent further revealed she was back in the dating world so that she could move on from her past.
"I'm going to spill tea right now. I have a date tomorrow night," she said at the time.
The reality star continued to share, "It's a group date. I've said on my podcast a million times I'm not ready to go and date, but I feel like this will ease me in because it's a group setting."
She also detailed her new boyfriend by sharing that he was very tall with a build like Superman and a lot of tattoos. In addition, she found him to be gentle — and the type of man she wanted.