Kristen Hanby Family Tree: Family Members & Siblings Covered
Everything you need to know about popular YouTuber and music producer Kristen Hanby's family is covered in this article.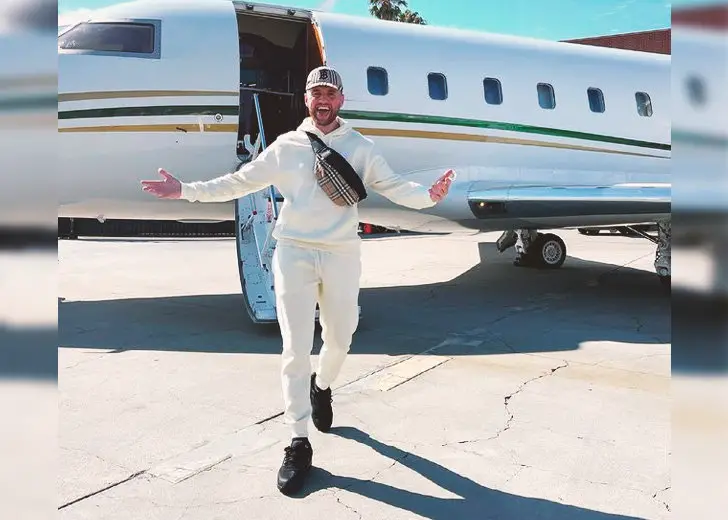 Popular YouTuber and singer Kristen Hanby is a popular social media star who is known for personal live vlogs, fun-humorous content, and prank videos. His usual subjects for the prank videos are his family members, especially his mother. 
Hence, in this article, we try to cover the most asked questions about his marital status, dating history, and family members, including his father, mother, brothers, sister, and cousins.   
Is Kristen Hanby married or dating?
Kristen Hanby has been in a relationship with social media influencer Jasmine Brownsword for a long time. She regularly appears in his music, prank videos, and vlogs. She has 277k followers on her Instagram.
Kristen is yet to make Jasmine his wife, but they still have a strong bond despite not taking their relationship to the next level. 
Kristen Hanby and his girlfriend are awaiting a baby girl
In July 2022, Kristen was super excited when he disclosed via video on his Instagram that he would be a dad soon. The caption wrote, "SO….. IM GOING TO BE A DAD!! Unexpected but very excited!!!," and he whispered in the video, "mini me."
Later, in September, the pair revealed they were expecting a daughter in a gender reveal event. 
Kristen had surprised his family when he shared his partner's pregnancy news with them for the first time in July. The news made all the family members upbeat and happy. 
Where Is Kristen Hanby from?
Hanby was born on March 8, 1993, in Jersey on the Channel Island between Great Britain and France. It has a population of around 100,000. He started his career by making videos on his native Island, Jersey. He is currently based in Los Angeles, California, in pursuit of making a name for himself in the entertainment business. 
As of this writing, he has 3.2 million followers on his self-titled Youtube channel, 7.3 million followers on his Instagram, and 19 million followers on Facebook.
Although not verified by major publications, many platforms have estimated his net worth to be in the range of $1.5 to $6 million. 
Who are Kristen Hanby's Family Members?
Talking about his family tree, Kristen was born to his mother, Giselle Hanby. However, as of now, the Hanby family has not disclosed Kristen's dad yet. Therefore, there is not much information about his dad. Hence, it is unknown whether his dad is still alive. 
Hanby belongs to a family of six, including his mother, Giselle Hanby, two sisters, Natalie and Bryony Hanby, a brother Jonathan Hanby, and his long-lost father, who abandoned his family many years ago.
His grandmother is occasionally seen in his videos and family pictures, but whether she lives separately or with Hanby's family is unclear.  
His family members are a regular fixture in his videos. Sometimes, his silly acts seem to outrage them. And due to his theatrics, the prankster is often seen getting slapped or shouted at by his participating family member. But it can be assumed that they maintain good faith among themselves.  
Kristen's popularity has made his sisters famous
His elder sister Natalie, who goes by the Instagram handle @nathanby123, currently has 673k followers on her social media. At the same time, his younger sister, Bryony or bryonyjasmine3, on Instagram is followed by 286k fans. 
The most popular sister, Natalie, is married and mother to two kids, an elder daughter Lexi, and an August 2021-born younger daughter, Atlas.  
Promisingly, Natalie also got engaged to her longtime partner Ruben Fernandes in August 2022. 
What is Kristen Hanby's height and weight?
Hanby weighs 65 kilos (143 pounds), and his height is 172 centimeters (5 feet and 8 inches).
Did Kristen Hanby win?
The exclusive boxing feud between Hanby and fellow Youtuber Vitaly that took place at the OVO arena in Londen in March 2022 on the undercard of Deji vs. Alex Wassabi ended in a draw. Vitaly had previously said he would finish the match within 60 seconds, but the fight continued until the 4th round. Vitaly was on the front foot majority of the time, whereas Hanby was agile and moved a lot to counterattack. 
None of the participants could land clear punches often. Hanby, especially, resorted to clinching and headbutting to avoid getting hit. 
Later, Vitaly claimed that the judges "fixed" the match by accepting his opponent's dirty game. 
How did it Start for Kristen Hanby?
Once, during his early years, he posted a prank video of his family on his Facebook account. It went on to generate a lot of views and gave the newbie his first-hand fame. 
However, he got his first actual break after his five-part prank video went viral, gathering over 100,000 views. In this video, Hanby is playing pranks with his elder sister Natalie.
Before establishing himself as a popular YouTuber, Hanby had a career as a carpenter and was busy working at construction sites. He did the job for six years. 
However, his first taste of viral fame made him rethink his ongoing profession and career. This made him start posting a lot of videos online, showcasing his version of humor. Currently, he is known as a guy who would do absolutely anything to bring humor to his videos. 
Kristen Hanby is a popular singer
Apart from making videos for fun. As a side project, Hanby makes music and has songs like 'Fast and Dangerous,' 'On the Road,' 'Good Girl,' and 'Change My Mind,' to name a few on his resume. He has been interested in making music and rapping since a young age.
In fact, his music and songs have been very popular and have accumulated millions of views on Youtube.  
Hanby's endorsement of Manchester United's Jesse Lingard
Hanby's popularity can be felt because he was approached to promote merchandise for Manchester United's forward Jesse Lingard. He was asked by Lingard's personal assistant to promote the forward's clothing launch in Manchester last year.
Speaking to Squaremile, Hanby revealed he is a huge supporter of the Premier League outfit and claims to have met dynamic forward Marcus Rashford during the merch launch. He also claims to be a regular attendee at Old Trafford.