The Magical Career of Illusionist & Beloved Prankster Michael Carbonaro
Michael Carbonaro is best known for his truTV hidden camera series, 'The Carbonaro Effect.' A skilled magician and illusionist, he has carved out a prosperous career for himself.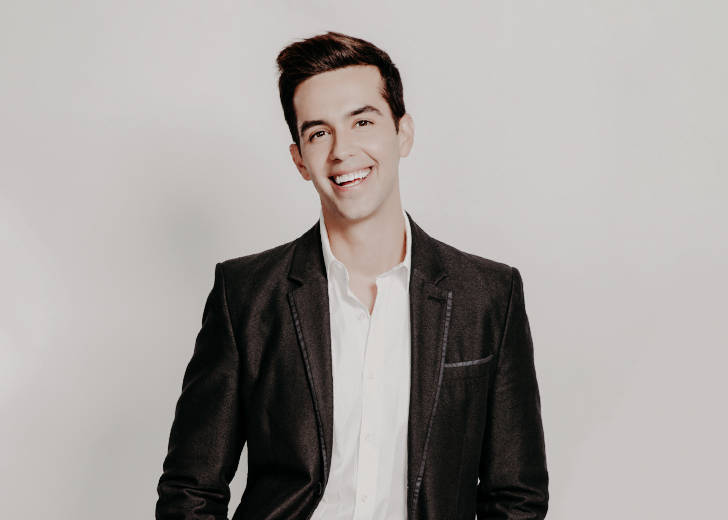 Illusionist and prankster Michael Carbonaro is best known for his truTV hidden camera series The Carbonaro Effect. On the show, he plays tricks on unsuspecting people who are unaware that he is a magician.
The TV show first premiered in 2014 and was an enormous hit with viewers of all ages. Skilled in sleight of hand and a master of misdirection, the magician has carved out a prosperous career both in television and on stage.
Read on to learn about Michael Carbonaro, how he got started in magic, who he is married to, and what his surprising net worth is.
Who Is Michael Carbonaro? A Peek into His Childhood & Family Life.
Michael Carbonaro was born Michael Joseph Carbonaro on 28 April 1976 in Oakdale, New York to parents Charles P. Carbonaro and Elizabeth Carbonaro.
The 6' 1 New Yorker is the younger of 2 sons. His late father worked as an electrician while his mother was a nurse.
Michael was very close to his father. Charles would often help his son build props and fix the decorations for shows. So when he passed away in 2017, it was not unexpected of Michael to pay tribute to his father with an episode-end card reading "Forever Our Hero, Charlie Carbonaro."
As a young boy, Carbonaro was initially intrigued by horror movies and recreating the special effects makeup. In an interview with Baltimore Outloud, he revealed that he was dead set on becoming a makeup artist and would buy make-up supplies at a neighborhood magic shop where he grew up.
…I would buy make-up supplies at a local magic shop and there were guys behind the counter who were showing real (magic) tricks. I went there for the make-up and it was full of masks and puppets and gags and pranks and bloody things and zombies. It was theatrical too; there was stage make-up. It opened up this world where illusion is all of that. I became interested in magic from going to buy make-up supplies. Through magic, buying those tricks and trying them out on my friends, I noticed that I had a love for performing.
His mother noticed her son's innate gift early on and helped him refine his skills. As a kid, Michael used to practice magic in front of the mirror or perform endless tricks to his cat and then his mother, who became his first admirers.

A Photo of Michael Carbonaro's Mother (left) and Michael Carbonaro and his husband (right) (Source: Familytron)
Subsequently, his mother sent him to the renowned Tannen's Magic Camp, where he honed his skills throughout his childhood. Recognizing his abilities, his family helped him get his first paid magic show at just 13 years old. He painted his face like a clown and performed magic and ventriloquism for 3 hours straight. 
From there, he performed at parties, bar mitzvahs, and company picnics throughout his teenage years. He used his earnings to pay tuition for a bachelor's degree in drama at the prestigious NYU Tisch School of the Arts.
According to Carbonaro, he went to NYU to learn how to become a performer. "I went to New York University's School of the Arts specifically to learn everything I could about theater and make myself a better magician. To learn how to be a performer, acting, voice, speech, all of those things.," he says. 
So How Did Michael Carbonaro Get Into Magic? His Career and Achievements.
After graduation, Carbonaro continued performing private magic shows on Long Island and did some Off-Broadway shows. He also appeared in shows like 30 Rock, Law & Order: SVU, and Daytime TV series, Guiding Light and All My Children. 
At some point, he took a leap of faith and moved to California to pursue a career in film & television. When he got there, he thought he would have to put magic shows aside.
However, he later realized that Los Angeles was home to the world's most renowned private clubhouse for magicians, the Magic Castle. He immediately became a member and started performing.  
Carbonaro got his big break on a recurring hidden camera segment on The Tonight Show With Jay Leno, a precursor to The Carbonaro Effect in which Carbonaro posed as a convenience store employee and played tricks on customers who were often left perplexed.  
Carbonaro never imagined he would end up working with Jay Leno, who he said is the "greatest guy in the world."
'Jay Leno is the greatest guy in the world, willing to give a no-name guy a chance to try something brand new. He just trusted me to create new ideas and just run wild. The Tonight Show became my playground for hidden camera magic and Jay actually called me personally to congratulate me when I got my own show. He's just a great guy.'
The Magic Clerk skits outperformed expectations, and it was not long before truTV offered Cabonaro his own series with a similar premise but on a grander scale. This led to the launch of The Carbonaro Effect, which premiered on truTV on May 15, 2014.
With rising fame and success from The Carbonaro Effect, Carbonaro took his act on the road and started touring the country.
His live acts often feature the premise of being in 2 places at the same time. This led spectators to question if he actually had a twin. 
Carbonaro received the Copperfield Prize in 2016. The prize is given in recognition to individuals who have made outstanding contributions to the art of magic.
His other accolades include the Best Actor award by Outfest and "Magician of the Year" conferred by the Academy of Magical Arts.
Who Is Michael Carbonaro Married to? Is Michael Carbonaro gay?
The New York-born-and-bred jokester does not hide the fact he is gay and is a strong advocate for the LGBTIQ+ community.
According to Michael, he knew that he was gay from a very early age, but he was fearful of opening up about it because society was not as liberal back then.
During a chat with Huffington Post's Noah Michelson in 2017, he reminisced about the time he had a crush on 'Elliott' (played by Henry Thomas) from the 1982 sci-fi movie, E.T. the Extra-Terrestrial.
He had hung a poster of 'E.T.' on his wall and in the corner, in tiny letters he wrote: "I heart Eliot."
…What's neat about that is not only did I write it but I knew to hide it. I had already learned • I must have been six • I knew not to tell anyone that.
The magician initially kept his romantic preference a secret, but following the advent of gay rights, he identified with his lifestyle. In 2014, he married his long-term partner, Peter Stickles, who rose to fame in 2007 when he played a gay vampire, Damian, in The Lair.
Stickles has starred in various roles and has had quite a successful career.
Carbonaro and his spouse are pretty private about their love life as both rarely put up photos of their relationship on social media.
Carbonaro believes this is not necessary because his relationship has nothing to do with his career.
Michael Carbonaro's Net Worth.
We already know that he has been making money from magic gigs since his teens; therefore, we can somewhat deduce that Carbonaro might have an impressive net worth.
With his successful career on TV and live shows coupled with his acting gigs, his net worth grew significantly.
According to Wealthy Persons, as of 2021, his net worth is estimated to be around 1 million dollars.
Much of his net worth comes from the success of The Carbonaro Effect. In an exclusive interview with Fansided in 2018, he revealed that he "had no idea" that the show would go on so long.
No, I didn't think the show would go one this long. I thought we'd maybe make 8 episodes of hidden camera magic television and that would be it. I had no idea we'd go into four seasons and we're past 80-some odd episodes already. I can't believe it.
Besides Magic and Acting, Michael Carbonaro Loves to Doodle
As if being blessed with acting and performing arts was not enough, the acclaimed artist is also exceptional in doodling, which is evident from his Instagram. You can tell he loves Halloween from his graphic and spooky-looking art, which is always paired with a cryptic caption.
Fans love his art and are in awe of his never-ending stream of talents. In one of his art, a fan praised him as being one of the most talented graphic artists.  
"Michael, you are a very talented graphic artist as well as one of the best-hidden camera TV show magicians ever to be nationally seen on truTv!!!"