Who is Gus Johnson? 7 Facts About The YouTuber
Gus Johnson's YouTube game has been strong since 2010.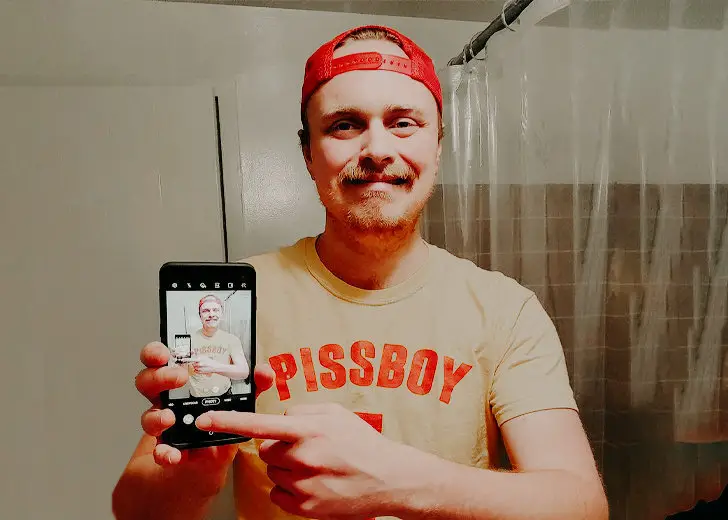 Gus Johnson is a YouTuber who is known for his comedy skits that he does with his friends and family. He started his YouTube career in 2010 with a song he wrote in the memory of his friend Ian. Since then, he has uploaded several singles on his channel, but the major focus has been comedy. 
After 10 years of being on the platform, Johnson has amassed over 3.1 million subscribers. Here are seven facts about him, his family, his girlfriend, and his career.
Johnson Credits Family, Friends, and Girlfriend For YouTube Success
In his video titled 'Thank you for 3 million! (Q&A too),' Johnson credited his friends, family, and girlfriend for helping him reach that milestone. Initially, he thanked his fans for watching his content and helping him build his platform. With no other plans but creating content, he considers himself lucky to be surrounded by supportive people. 
He thanked his best friends and peers for collaborating with him, his girlfriend Abelina Sabrina for helping him, and his family for always being with him and encouraging him since day one.
Johnson's Twitch and Podcast
The comedian is not only limited to YouTube— he has a Twitch channel as well. He plays various games like Skyrim, Half-Life: Alyx, and The Elder Scrolls V: Skyrim among others. He started his Twitch channel less than a year ago and has over 200K subscribers.
Johnson also has a podcast with this friend Eddy Burback named 'Gus & Eddy,' which is available on various platforms like YouTube, Apple Music, and Spotify.
Johnson And His Music
Johnson has posted various music videos on his YouTube channel. He has two studio albums which are self-released — Champagne Seats (2016) and Lightning Rods & Leaky Roofs (2018). 
Johnson has also uploaded several singles on his YouTube channel. He has over 30 songs and parodies that are usually funny. He has also collaborated with his girlfriend on various ones like your friends who get married after high school, your friends from high school who fell for pyramid schemes, and Peeing On The Seat.
Johnson And His Girlfriend, Abelina Sabrina
The pair has been together for over three years. Sabrina is also a YouTuber and has a channel with over 167K subscribers. She usually makes short comedy skits and is often collaborates with her boyfriend as well. She also has a Twitch channel where she plays games like Phasmophobia, Stardew Valley, First Class Trouble, and SpeedRunners in collaboration with other streamers. 
Johnson And His Brother Sven
The YouTuber often collaborates with his brother, Sven. Sven also has a YouTube channel and has over 545k subscribers. The brothers often collaborate to make comedy skits and also have made some funny songs and music videos together.
Today is my brother Sven's birthday. He is my favorite creative partner and so far ahead of where I was at his age. I am proud of him and if you haven't seen any of his videos yet, you're missing out. pic.twitter.com/jYIs9GtddQ — Gus Danger Johnson (@Gusbuckets) April 26, 2020
Johnson And Comedy Central
In 2019, the comedian signed an overall deal with Viacom Digital Studios to make videos for Comedy Central. He created monthly content for the channel and also starred in Comedy Central's existing shows like That's an App and As Seen on CC.
Johnson and His Net Worth  
The Wisconsin native started making videos in middle school. He used to edit his videos in his grandfather's basement and has been making since then. With his YouTube career since 2010 and his Twitch account and Podcast, the comedian amassed a net worth of $1 million as of 2020.