Who Is Keeley Hazell Dating? Inside the Model's Love Life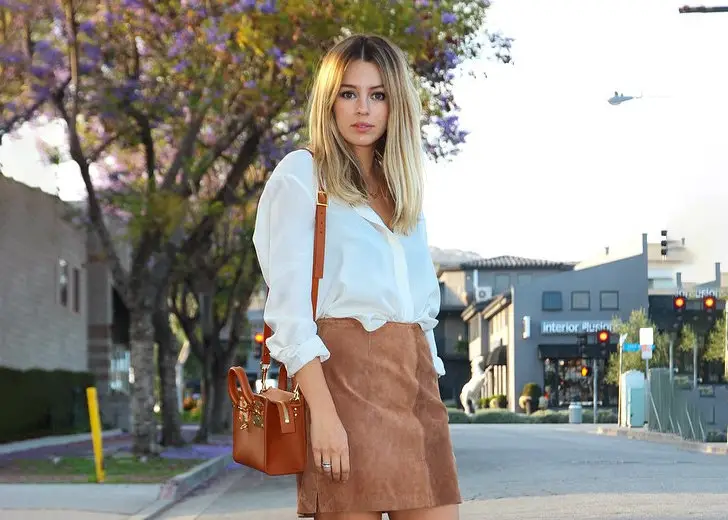 Keeley Hazell once made headlines for gracing the cover of magazines, but in recent years, she has been better known for dating Jason Sudeikis.
Hazell and her boyfriend were first linked in February 2021, after the latter split his with his former fiancée, Olivia Wilde. 
A source close to Sudeikis confirmed to People that the Ted Lasso actor had been casually seeing the British model turned actress.
The insider revealed the duo knew each other from many years ago but clarified the actor wasn't looking for anything serious as he was still processing his split.
A few months later, in June, they were spotted on what seemed like a date. 
People reported that the couple was snapped with their arms around one another as they spent their roaming in the Big Apple. 
According to the outlet, Hazell and her boyfriend first met on the set of 2014's Horrible Bosses 2, where Hazell starred as Ms. Lang, Chris Pine's assistant.
She also starred in a few episodes of Sudeikis' Apple TV+ series Ted Lasso as Bex, the girlfriend of Anthony Stewart Head's character, Rupert.
Keeley Hazell Dating Jason Sudeikis On and Off
But a month after Hazell and her boyfriend were photographed, E! News reported that the duo had called time on their affair. 
A source told the outlet that the duo was "no longer romantic" after enjoying a brief relationship. 
"Jason and Keeley were never in a serious relationship. It was definitely never a serious thing," the insider shared. 
The insider seemingly confirmed the demise of their romance and added the British model and the Ted Lasso actor were "longtime friends who have been close for years."
But in November, reports surfaced that the pair were giving it another go. 

Keeley Hazell's rumored boyfriend, Jason Sudeikis (Source: Jason Sudeikis/Instagram)
A source told People that Hazell and her boyfriend were spending time again and that they were casually dating again. 
The insider added that they enjoyed each other's company and noted that it was never serious. 
Around that time, Page Six also reported that the couple was caught kissing on a beach in Cabo San Lucas, Mexico. 
The outlet reported that the PDA was proof that they were dating. 
Two months before this PDA, the couple was spotted on a hike together, but at the time, sources kept insisting they were just friends.
Keeley Hazell and Former Boyfriend David Walliams
During Hazell's reported split with Sudeikis, Hazell was linked to her former lover, David Walliams.
Last July, after Hazell and Sudeikis' break up made rounds on the internet, reports surfaced Hazell was dating David Walliams. 
Walliams and Hazell first sparked rumors in early 2020 after Keeley returned to the UK following a stint in America. 
The model stayed in Walliams' bachelor pad for nine months while her home was renovated. 
By November, reports surfaced the duo was in a relationship after they were seen getting cozy during a dinner outing at private members' club George in London. 
The duo never addressed the rumors, and eventually, Hazell was linked to Sudeikis. 
However, in August 2021, Hazell and Walliams' reunion rumors started after they appeared together at pal Ant McPartlin's wedding. 
However, Hazell has never addressed the rumors with either Sudeikis or Walliams.