Kate Beckinsale and Jason Momoa Dating Rumors Explained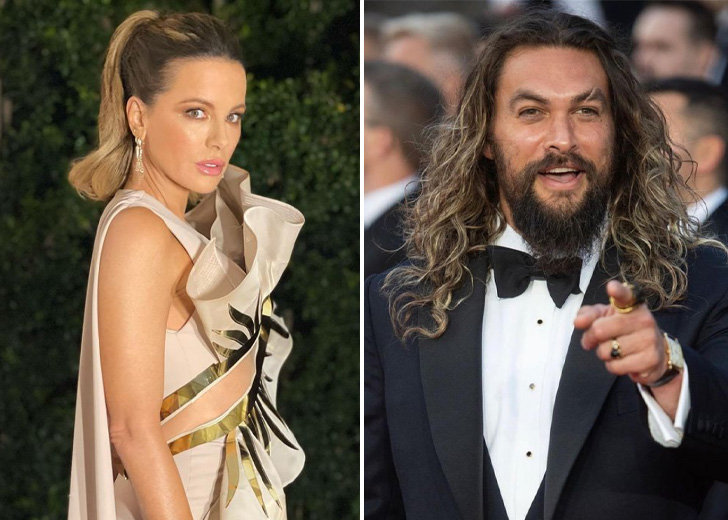 Jason Momoa and Kate Beckinsale sparked dating rumors in March 2022 after the pair were photographed together at the Vanity Fair Oscars after-party in LA.
The Aquaman star could be seen giving his jacket to Beckinsale as they stood outside. The pictures quickly spread through the internet, and many speculated that Momoa, who had recently separated from his wife, had moved on with Beckinsale.
However, Momoa revealed the rumors weren't true when talking to Extra at the Los Angeles premiere of Michael Bay's new movie, Ambulance, on April 4, 2022.
"It was cray," Momoa said of the dating rumors. "[I] have a conversation with a woman about her country, I was in England doing Aquaman 2. Everyone is like, 'Are you dating?' No, no, it was chivalry. The woman was cold."

Jason Momoa puts an end to the dating rumors surrounding him and Kate Beckinsale (Source: YouTube)
Momoa further added that nothing was going on between him and Beckinsale. He also commented on the speculations about him and the Underworld actress being together.
"Absolutely not, not together," he said. "She is very nice. I was being very nice, just being a gentleman. Now I am not giving my coat to anyone."
Jason Momoa Split from His Wife
Momoa and his wife of five years, Lisa Bonet, announced their split in January 2022. The pair took to Instagram to break the news that they were going their separate ways after 16 years together.
"We have all felt the squeeze and changes of these transformational times… A revolution is unfolding ~ and our family is no exception," the two wrote in a joint statement.
"Feeling and growing from the seismic shift occurring. And so ~ our Family news~ That we are partying ways in marriage."
Momoa and Bonet noted that while they were ending their marriage, their love would carry on. 
The pair also added that their two children — daughter Lola (born July 2007) and son Nakoa-Wolf (born December 20080 — would be their priority.
"We free each other to be who we are learning to become… Our devotion unwavering to this sacred life & our Children."
While neither Momoa nor Bonet expanded on what led to their separation, a source revealed the reasons to Us Weekly.
The source noted the relationship between the two worked initially because of how different they were. Momoa was jovial, loud, and the center of attention, while Bonet was cool, calm, and subdued.
However, the same difference resulted in their marriage failing as time went on. "That energy really started to cause friction because they wanted to live different lives."
Are They Back Together?
Apart from dating rumors with Beckinsale, Momoa had also been recently involved in rumors saying he and Bonet were reconciling after he allegedly moved back in with her.
However, Momoa shut down the speculations when he addressed the rumor while talking to Access at the Oscars.
"Oh, no, no, no, we're not back together," he said. "We're family, you know. We have two beautiful children together. We're family forever, so."
DeuxMoi also previously claimed Momoa was dating someone. The gossip page also added that the person he was dating was also an actress.
However, there has been no confirmation of the dating rumor, and Momoa himself has shared nothing regarding his dating life.