Is the K-Pop Industry Too Controlling Regarding Idols' Dating Lives? Former Idols Speak Up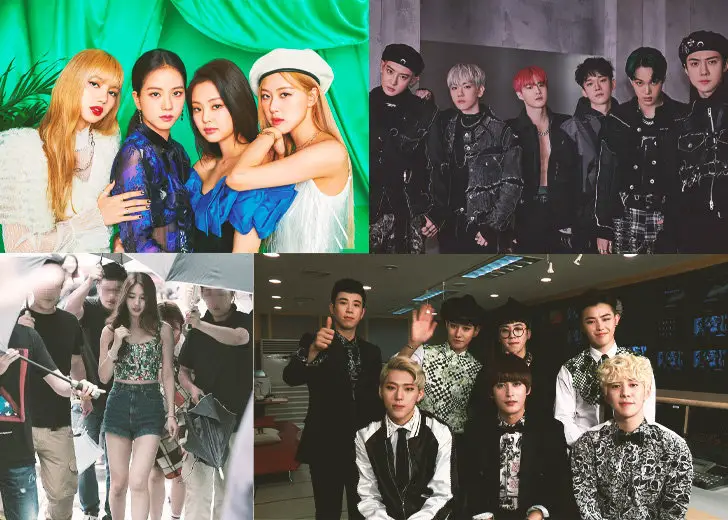 The K-pop industry is filled with endless opportunities for those wanting to work hard and show off their talent. Doing that, the industry has introduced pop cultural phenomenons like BTS, BLACKPINK, and recently, the Netflix hit Squid Game to the world.
But in addition to hard work and talent, many K-pop idols have time and again revealed the opportunity-filled K-pop industry's strict expectations and endless rules.
Notably, one aspect that has always been controversial is the topic of dating and the inability of representative agencies and netizens to allow idols to have relationships.
To explore the truth about the South Korean entertainment industry's restrictions on dating life, American YouTuber Anthony Padilla talked with some former and now-solo K-pop idols, including former Blady member Tina, now known as Soobin or Christine, and Boyfriend's Jeongmin.
In the introduction of the video titled 'I spent a day with EX K-POP IDOLS,' Padilla stated:
Today I'll be spending a day with ex-K-pop idols to learn the truth about becoming an idol and what it takes to leave it all behind. By the end of this video, we'll find out if the industry's strict regiments are as torturous as rumors suggest, how forbidden romantic relationships really are, and what a painstaking lawsuit to break a multi-year contract really looks like.
Ex K-Pop Idols Admits The Industry Is Controlling Regarding Artists' Dating Life
During the conversation, Jeongmin shared that he barely had enough time to eat due to the busy schedules set by his agency. Hence, he added there was no chance he had time to manage a relationship.
He also emphasized that he, as well as K-pop stars he knew, chose not to get into relationships because of the fans — which most of the stars from the industry commonly state. According to them, fans feel a connection to their favorite idols, and whenever artists have been in relationships, netizens have turned against them in the past.
Similarly, former Blady member Tina stated that even though fans and agencies are wary of dating, it unsurprisingly still continues in the industry. She even shared that, most of the time, the agencies knew about the dating life of the idols.
She recalled her agency once telling her:
I just remember the company saying, 'Just don't get caught.' They'd just be like, 'If you're going to date, don't get caught by us.'
Tina then admitted that many idols "secretly date" and that they plan it wisely so as to not get caught because the agencies didn't openly allow them to be in a relationship during their contract period.
"There is a lot of secret dating, and you date mostly at night because, obviously, our schedules are jam-packed during the day. We would go to a little bit outside Seoul, and then we would date around the nighttime," she added.
K-Pop Industry's Other Restrictions
While the restriction on dating life is evident and most K-pop stars keep their relationship private, the industry has also been harsh on artists in various other criterias.
For instance, fans were furious when K-pop star Lisa Manoban's solo 'Lalisa' was provided limited promotion by her agency YG Entertainment in September 2021. They were also very open about the agency being too harsh on her just because she was a Thai-born idol.
The K-pop industry is also infamous for restricting artists from wearing specific kinds of dresses and consuming alcohol.