Julia Fox Speaks Out on Amber Heard vs Johnny Depp Trial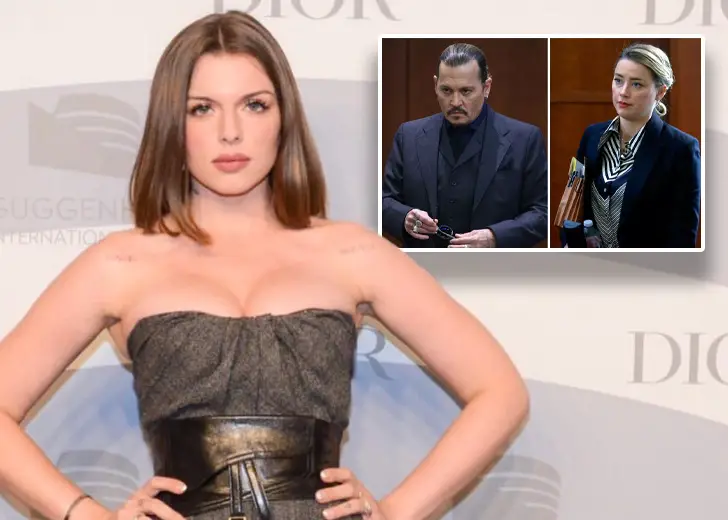 Julia Fox is not one of those staying silent about the Johnny Depp-Amber Heard defamation trial. The Uncut Gems actress has openly expressed her support for Heard on Instagram.
Her support, however, has generated a lot of reactions on social media. Her thoughts have gathered both positive and negative responses.
Some accuse her of being biased towards Heard, while others think her comments are right and that they are finally shining a light on Heard's situation from a different angle.
Julia Fox Publicly Supports Amber Heard
On May 15, 2022, Fox left a couple of comments on a now-deleted Instagram post showing she was behind Heard in the ongoing defamation trial. She left the comments on a post from an Instagram account named Trash Culturale.
The first of her two comments on the deleted post read, "So in love with her and this is clearly a sick way of still controlling her life by suing her all over the world."
It was her second comment that was more strongly worded and more explicit in her support for Heard.
Speaking of how, according to her, Heard was at the receiving end of abuse, she wrote, "Wrong. She never had the power in the relationship to be abuse to him."
She then talked about what she thought was the reality of the situation.
"Did she hit him? Yes. Was it abuse? No," she added. "You need to have power to be able to be [sic] abuse it."
Further, Fox said Heard could never abuse Depp because she was just 25 and Depp "clearly was always way more powerful" than Heard, both physically and financially.

Julia Fox's comment on a now-deleted post in support of Amber Heard amidst the ongoing defamation trial. (Photo: Instagram)
The post where she made these comments was swiftly deleted, but eagle-eyed fans found the post, and the screenshots are now circulating on the internet freely.
Reactions to Julia Fox's Defense of Amber Heard
Fox defending Heard in the way she did riled many people up on social media. Most of the reactions criticizing her take can be found on Twitter and a few Instagram gossip pages.
Most of the backlash is getting is about what she said about Heard not being the abuser in her and Depp's relationship. She has also been accused of misjudging and misunderstanding the power dynamics between the two.
"Julia Fox just straight-up saying a woman beating her husband isn't abuse, because Power," one user wrote on Twitter. They also pointed out how, according to them, most of her stans were similar.
There were many similar takes on the platform. They argued that abuse and power dynamics in a relationship did not always depend on the age or physical stature of the partners.
Some even accused Fox of trying to stay relevant after her relationship with Kanye West ended.
The story was completely different on Reddit, though. On a thread about her comments on r/deuxmoi, most people were all for Fox and her support for Heard.
Many there were in disbelief that Fox was the first celebrity to speak to support her this explicitly. They pointed out inconsistencies in his testimony and opined Heard was not the abuser.
Further, they also drew attention to the Amber Heard vs Johnny Depp libel case in the UK, which was decided in her favor.
Fox's comments came just hours before the trial resumes on May 16, Monday. Reports suggest the proceedings will get even more private and dirty as Heard faces cross-examination from Depp's legal team.