Vanessa Paradis and Johnny Depp Remained in Good Terms after the Split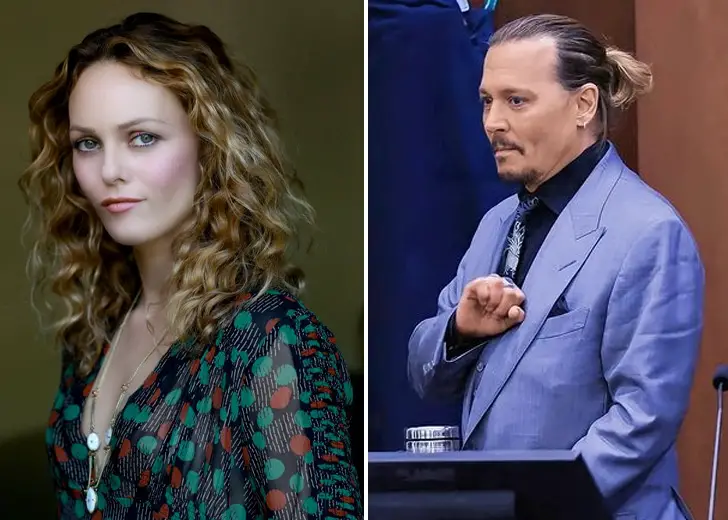 Vanessa Paradis, one of Johnny Depp's ex-partners, testified in his favor in his libel case against News Group Newspapers. She called the accusations against him, levied by his ex-wife, Amber Heard, "distressing."
Her reasons for testifying in his defense lie in their 14-year relationship. They had an incredible relationship, and her testifying in the case has people asking a lot of questions about their time together.
Vanessa Paradis and Johnny Depp's Relationship
Paradis and Depp first met in 1994 while he was dating Kate Moss. Their first meeting ended without anything romantic developing between the two.
Then, in 1998, Depp and Paradis met again. They were coincidentally staying at the same hotel, Hotel Costes, in Paris, France. He was enamored by her at his first glance.
Paradis did not even have to turn towards Depp for him to fall in love. Her back was enough.
"Whammo, man, across the room, amazing, incredible, awesome. The Back, the Back," he described the occasion to Rolling Stones in 2005.
Paradis was wearing a backless dress, and he "saw that back and that neck." And then she turned around.
"I saw those eyes, and — boom!" he dramatically explained the moment to Daily Mail in 2011. "My life as a single man was done."
He was uncertain about what he was feeling at that moment. "You have this feeling — I can't really explain what it was, but I had it when I met her," Depp confessed.
Within a year of that falling-in-love moment, Depp and Paradis welcomed their first child — daughter Lily-Rose Melody Depp. She was born in 1999, at a time when he did not actually plan to be a father.
"Fatherhood was not a conscious decision. It was part of the wonderful ride I was on. It was destiny," he told ABC in 2006.
Then, in 2002, the former couple welcomed son John Christopher "Jack" Depp III.
Paradis also made him get sober. She asked him to cut down on his drinking and smoking, and take up diet and exercise, all of which made him extremely grateful she was a part of his life.
"She and I have been together for nearly 14 years, and, well, I can hardly believe it," he gushed in his Daily Mail interview. "It only seems like yesterday that we met."
Depp was a busy man then, which took a toll on his relationship. Even though the couple was in love, their relationship wasn't working.
So, they split amicably in 2012. During a sit-down with Rolling Stones in 2013, he opened up on how his time away from Paradis became the reason it ended.
"Especially in the racket that I'm in because you're constantly away or they're away and so it's hard," said Depp. "It wasn't easy on her. It wasn't easy on me. It wasn't easy on the kids."
"They're the mother of your kids, and you'll always know each other, and you're always gonna be in each other's lives because of those kids. You might as well make the best of it," he added.
Paradis, too, had similar feelings about their break up.
She told Harper's Bazaar in August 2012, "Sometimes you could be in an unhappy relationship; you are very much in love with someone, but it's making you unhappy and you think things can change and you can work it out."
Paradis has since moved on and is now married to Samuel Benchetrit.
Vanessa Paradis Defended Johnny Depp in Amber Heard Libel Case
Depp and Heard have been going at each other in a defamation and libel case for a while now. Paradis was on her ex-partner Depp's side in the case when she was called up for a statement.
In July 2020, Paradis, in her statement to support Depp, wrote she had always known him as a "kind, attentive, generous and non-violent person and father."
While acknowledging that she did not know Depp and Heard's relationship's intricate details, she spoke from her own experience with the Pirates of the Caribbean actor.

Vanessa Paradis's statement in defense of ex-partner Johnny Depp for his libel case against Amber Heard. (Photo: TMZ/Twitter)
The accusations, according to her, were "nothing like the true Johnny I have known, and from my personal experience of many years, I can say he was never violent or abusive to me."
Paradis shed light on how Depp's career was destroyed because people believed these "false facts" and that had been "distressing" to her as well.