Amber Heard Thanks Fans For Support Amid Johnny Depp Controversy
"I'm with you too. Thanks to all of you all around the world for your undying support. I see you," Amber Heard wrote.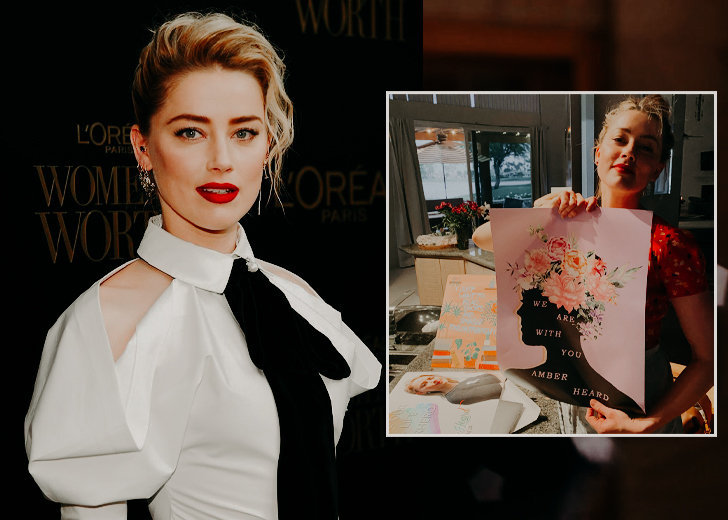 Amber Heard and Johnny Depp have been waging in years-long legal battle through various lawsuits since May 2016, the year the actress filed for a divorce — She has been through a wringer, but she never forgets to thank her fans amidst the chaos.
Heard recently took to social media to thank her fans worldwide for the undying support by flaunting multiple posters they made. She uploaded a photo of her posing with a poster that read, "We Are With You Amber Heard" on her Instagram. 
The second photograph featured 3 other posters, one of which read, "You Are Our Real Life Superhero," while another read, "I Just Want To Read Books And Smash The Patriarchy."
Along with the pictures, she also penned a sweet note for her beloved fans, saying, "I'm with you too. Thanks to all of you all around the world for your undying support. I see you."
Heard Continues to Receive Backlash 
After winning the UK legal battle against her ex-husband, the 34-year-old star has been subjected to a barrage of online abuse. Fans of Depp have been targeting Heard ever since the judge ruled that he was violent during their relationship. They have bombarded Heard with messages telling her they wish her dead. 
Some of the ruthless trolls even brought Heard's late mother, Paige Parsons, in the menacing attack by writing, "If your mother could see what you do she'd be glad to die."
The situation remained the same even when Heard earned herself another victory when the court denied Depp's appeal to overturn the court's ruling. She continued to face backlash from the internet folks, but this time she lost her patience for the online pestering and hit back at the haters with mockery. 
Yes Mr Waldman, I may be wearing makeup on this occasion but on every occasion you will still be short. — Amber Heard (@realamberheard) March 26, 2021
Online Trolls Were Not Her Only Problem
After losing the legal battle, the Pirates of the Caribbean star was removed from his role as Grindelwald in the Fantastic Beasts 3 following his loss against The Sun newspaper. Fans of the actor were angered and started an online petition to remove actress Heard from Aquaman 2.
The organizers of the Change.org petition maintained that Heard should be treated equally like Depp and demanded that she be removed from her big-budget franchise. Heard plays Mera in Aquaman 2. At the time of writing, the petition has received over 1.8 million signatures. 
This started speculations that Heard was fired from Aquaman 2. But a report from Entertainment Weekly quickly shut them down. Heard admitted that she had been dropped by companies and lost work when she spoke out against Depp. 
Paid rumors and paid campaigns on social media don't dictate [casting decisions] because they have no basis in reality. 
In fact, a few days ago, the actress shared a photo on Instagram of her training for Aquaman 2. It looks like the petition might be for naught.