Are Josh Richards and Nessa Barrett Getting Back Together?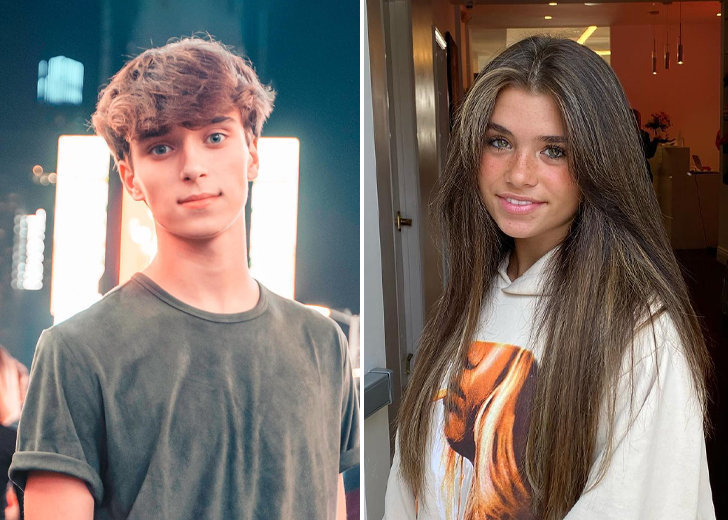 The last time we reported on Josh Richards and Nessa Barrett, it seemed like the duo was getting back together. 
Richards and Barrett were dating before Barrett broke up with him and got into a relationship with Richard's friend, Jaden Hossler. 
Barrett and Hossler dated for almost a year and broke up in April 2022. Ever since then, netizens have been speculating that Richards and Barrett might date again. 
So what led netizens to this conclusion? Richards and Barrett were spotted hanging out, and people automatically assumed they were dating again. 
However, during a discussion on Richard's YouTube show, Tea Talk, he clarified to his viewers and guest and good friend Bryce Hall that he was never getting back together with his pop star ex. 
Even though Richards confirmed he would never reunite with his ex, Hall opined they would be friends. 
And judging from the latest videos floating on the internet, netizens are convinced the duo is more than friends.
Josh Richards and Nessa Barrett Dating Again
On May 22, 2022, tiktokinsiders posted a blurred image of Richards and Barrett at a party. 
In the comments section, the BFFs podcast commented, "Let's just say there may be more videos than just that."
It is confirmed what the cryptic statement was referring to but immediately after the first photo went live, tiktokinsiders posted another video. 
Although it was hard to decipher what was going on in the video, the 'La Di Die' singer looked like she was telling Richards something. 
The video was sent by an eyewitness at the party who claimed the duo was caught making out and grinding. 

tiktokinsiders' post on Josh Richards and Nessa Barrett making out and dancing at a party. (Source: tiktokinsiders/Instagram)
They also added that the former couple left the party together. 
It is unconfirmed if all this is true, but users were not afraid to express their disappointment in the post's comment section. 
One user wrote, "he went through all of that js to get back together." Another one wrote, "She just went back to him because it's easy SMH."
Dave Portnoy Thinks Josh Richards and Nessa Barrett Are Hooking Up
In a May 26, 2022 episode of the BFFs podcast, Richards and his co-hosts, Dave Portnoy and Brianna LaPaglia, and guest Dixie D'Amelio discussed the rumors about the former couple. 
Richards maintained nothing was going on with him and Barrett, and they were getting closure from Barrett, but Portnoy refused to believe it and gave his opinions. 
"I don't believe anything you are saying. I think you guys have probably already hooked up and are rekindling, and I think that's what's happening. No one tells me the truth, so that's what it looks like to me," opined Portnoy. 
LaPaglia also agreed, but Richards replied he was sticking to his original statement. 
And it looks like netizens were not buying Richards' statements either. One user wrote, "I don't believe it either. Now bring a capybara on the podcast."
Meanwhile, another one commented, "Well, Dave might be right! whatever loving Jessa, be it friends or lovers."