Britney Spears' Decision Decides If Jeffree Star Will Buy His LA House
Star's former house is spread in a total area of 20,000 square feet.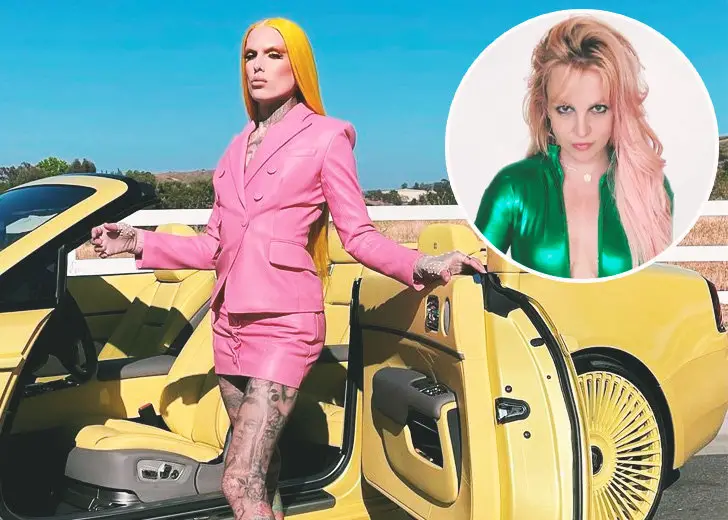 Britney Spears and her fiancé Sam Asghari are looking for a new house for themselves.
On Tuesday, October 19, the couple was spotted touring a $16.5 million Los Angeles estate in upscale Hidden Hills, a property that was once owned by makeup guru Jeffree Star.
The property that Spears and Asghari, a personal trainer by profession, looked at is located in the gated Ashley Ridge section of Hidden Hills. According to New York Post, the said property would be a major upgrade from the singer's present home in the Thousand Oaks neighborhood.
Jeffree Star Awaits Britney Spears' Decision
After becoming aware of the news, Star took to Twitter to state that he was eagerly waiting for Spears' decision on whether she'll buy his former house or not.
"Will @BritneySpears buy my LA mansion?? Smiling face with halo We shall see," he wrote, replying to deputy editor Nicholas Hautman's tweet, which had New York Post's report attached to it.
Hautman's tweet said, "Britney Spears and her fiancé, Sam Asghari, toured a $16.5 million estate in Hidden Hills, California, on Tuesday."
Fans of both Star and Spears immediately replied to the tweet, dropping their thoughts on the ongoing development.
And while many claimed that it could be a great purchase for the singer and her soon-to-be husband, some stated the house was already popular amongst the public, and therefore it would not provide much privacy to the couple.
"Damn that would be iconic if she did. Hopefully she does it's a very beautiful mansion," one tweeted.
Another added, "I do not feel that would be appropriate for Britney to purchase your home Jeffree. She needs and deserves her privacy." Someone also replied to that tweet, saying, "Bro Britney is an adult she can decide for herself what she wants."
"It's in a gated community so it's not like anyone can get to it," another fan chimed.
Interestingly, Star, who is famous for his androgynous looks and luxurious Los Angeles lifestyle, sold his mansion to move to Wyoming and started raising yaks. He is presently a full-time resident of Wyoming.
Britney Spears' Move behind Buying a New House
The move to buy a new property came after the singer's father, Jamie Spears, was suspended from her 13-year conservatorship. 
In addition, the move to start shopping for new houses came after her lawyers hired military security specialists to clear her current Los Angeles mansion. That happened in the wake of alarming allegations that her dad was spying on her and had bugged her house.
Because of all that, Spears and her partner have also been open [for a while now] about wanting to find a new home after her conservatorship officially ends.
"Britney burst into tears upon hearing the judge's decision," a source told Page Six. "For the longest time, she had begun to think that she would never see the day that her father's domineering control over every single aspect of her life would end, but it finally happened."
Details of Jeffree Star's Former House
The French-Normandy-style estate, spread in a total area of 20,000 square feet, reportedly has seven bedrooms and 13 bathrooms with two guesthouses, a 4,700-square-foot garage for 10 or more cars, and a 3,700-square-foot barn.
It also comes with several top-notch amenities, including a large game room with a wet bar, a red velvet-designed home theater with custom seating, a two-story gym with a steam and a sauna, and a wine tasting room with a refrigerated wine cellar.
The large gourmet kitchen inside the house opens to the family room, a library, a safe room, two offices, a crafts room, and a sculptural glass elevator.