Jason Derulo Went Big on His First Go-around with Tattoos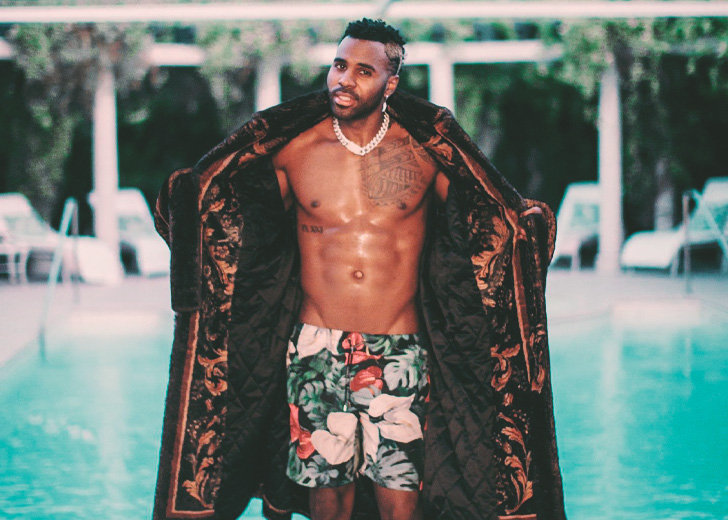 It would be an understatement to say Jason Derulo is fond of tattoos. The multi-platinum songwriter has marked his body with multiple designs that have their meaning and significance. Interestingly, he even named his third album Tattoos, which he released on September 20, 2013.
Here's a quick rundown on the designs Derulo has on his body and the meaning behind them. 
Jason Derulo's First Tattoo
Derulo had his first tattoo from an artist named Mario in Las Vegas in the early 2010s.
The monochrome design on is left arm comprises a decorated skull with 'Future History' inked on its forehead. Future History is the name of Derulo's second album and also his record label. 
In an interview with DailyMirror in 2013, the famed singer gushed about his first mark.
He remarked he went big for his first design and mentioned how he hadn't been thinking about the size. As per his accounts, he loved skull arts and wanted his first ink to represent his love for music. So he got a decorated head with the name of his publishing label.
A year before the statement, Derulo had told Fuse that 'Future History' from the ink represented his journey as a singer.
It stood as the bridge between his past and the future. In his own words, the word represented his dream to make it big in the music industry. He wanted his legacy to continue and his music to be in the history books. 
About his Maori Design
Besides the skull tattoo, Derulo has a Maori tattoo, a Tā Moko tribal marking under his left knee. He got the ink during his trip to New Zealand in November 2019. 
He spoke about the design during an interview on ZM radio (reported by Dailymail) and shared it was unique from his other tattoos. "It was incredible, because the tattoo artist was really spiritual," Derulo recounted the experience.
He shared that he spoke of his untold sorrow with the artist and made the tattoos as per his understanding and ambitions. "When I'm feeling lost within my life I can look to my tattoo and it brings back all of the things that we talked about," he stated, adding it was excellent. 
Jason Derulo's Other tattoos
Derulo has several other significant designs in his collection of body art.
He has a big Tahitian Warrior symbol tattoo on his left shoulder, representing himself as a warrior. He got the mark after he admittedly recovered from an injury. Accompanying the ink is another huge warrior design on his left chest.
Further, Derulo has the word 'Undefeated' written on his left forearm, 'I Am My Brother's Keeper' on the inner side of his right bicep, 'Yesterday' on his right elbow, and 'New Beginnings' on the inner portion of his left arm.
The Florida native has his birthdate written in Roman on the right side of his ribcage and the initials of his name, 'JD,' written on his left hand. The letter 'J' also stands for his mother, father, and brother's name, while the 'D' stands for a treble and a bass chef.
Other than these, Derulo has rose, bird, cross, anchor chain, micro retro phone, and feathers inked on his body.