Jason Derulo Belives His Cute Baby Son Jason King Will Keep His Legacy Alive
Jason Derulo has a few things in common with his newborn baby.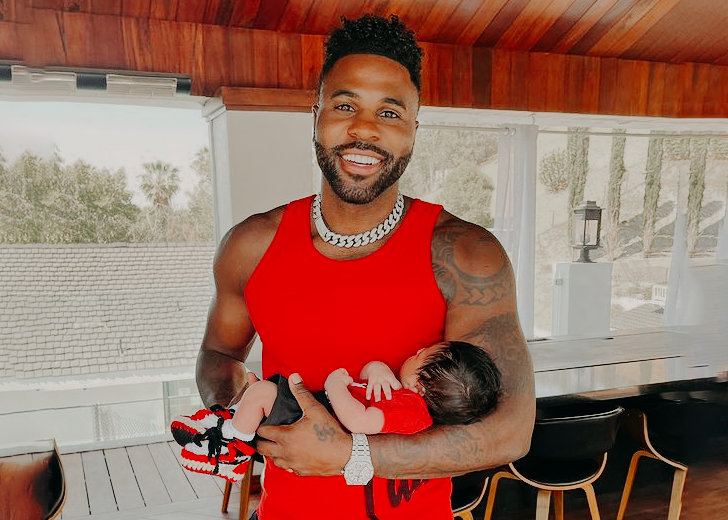 Jason Derulo recently became a father for the first time, and he already has one thing in common with his newborn son: their names.
Derulo and girlfriend Jena Frumes announced the birth of their baby boy on May 18. Jena uploaded an Instagram photo of her holding baby boy's tiny hands while Derulo shared a video of their baby's birth with a caption revealing his full name, Jason King Derulo.
During a recent interview with People, Derulo revealed he wanted a son desperately so that the pair could share the same moniker and explained why he named his son after himself. 
He said it was because he needed to carry on the family name.
My brother has girls, and my sister has a girl, so I knew we needed a boy to carry on the name, literally. We needed to have a boy because the Derulo name was out.
Jason Derulo's Life as a First-Time Parent
The Jalebi Baby singer is taking his time adjusting to life as a parent. 
During an interview with Yahoo Life's parenting podcast series, So Mini Ways, the new father opened up about his parenting experience. While Derulo has heard about the horrors of parenting, nobody told him it was also a fantastic experience.
He admitted that the biggest challenge was definitely waking up, but credited his girlfriend for doing it when he could not. He also shared that while his girlfriend does most of the hands-on work, he is still there to help her whenever he can. 
Derulo, who spends most of his time on TikTok ever since he resurrected his career on the app, revealed that he while the app taught him many things, he's putting his put down when it comes to taking parenting advice from TikTok.
He iterated that was not how he would raise his son, and it was all a learning experience.
But you know, it's all been a learning experience. I remember leaving the hospital, and I was like, "Damn, that's it? No pamphlet? Nothing? He's ours? What do we do?" But once we realized that he's not made of porcelain, it just got a lot simpler. 
Jason King Derulo Jr. Loves Music Like His Father
Derulo and his son not only share a name, but they enjoy listening to music as well.
The TikTok star revealed that his son really liked music and still plays music for him because it is the only thing that calms him.
And Derulo doesn't put on 'Baby Shark' or other children's songs. Instead, he plays his own music and other adult jams that he likes. He revealed that he played 60% of regular music and 40% of kid's music and was thinking of making kiddie music. 
As for whether he'd consider releasing a kids' album, Derulo said that would depend on his son, who will be the first critic.