Jena Frumes Has a Twin Sister? — Everything You Need to Know about Jason Derulo's Girlfriend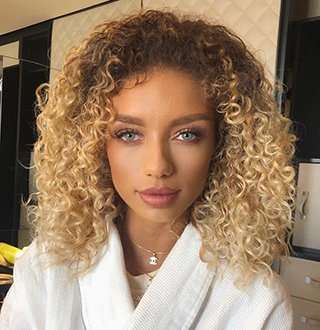 Many people may know Jena Frumes as the girlfriend and also a baby mama of Jason Derulo, but she is a force to be reckoned with in her own rights. An Instagram model, entrepreneur, and environmentalist, the model has over four million followers on her Instagram and over 150K subscribers on YouTube. 
Here are some of her wiki facts. 
Her Friend Looks Like Her Twin Sister
It wouldn't be a surprise if anyone mistook Jena Frumes and her long-time friend, Lauren Wood (Lolo Wood) to be twins — the duo share uncanny resemblance, especially with their over-the-shoulder perms and similar face structure.
Only a close follower of the models would know that the duo is just friends and not siblings, and also that Wood is taller than Frumes, who has a height of 5 feet 6 inches.
Other than just their looks, what can deceive people into thinking the two are siblings is their adorable sister-like bond. They even did skydiving together in 2018. And when Frumes shared a picture from their adventure, her followers couldn't help but write how they looked like sisters.
Another Instagram Model: Cyn Santana Wiki: From Age & Net Worth To Post Pregnant Bliss | Explicit Details
She Graduated from North Carolina University
Born on September 21, 1993, Frumes was into modeling from a young age. But her parents weren't sure about her career choice. So they made sure their daughter always had a backup and compelled her to complete her studies.
To align her study and passion, the 27-years-old chose theatre and arts and graduated from the North Carolina Central University. 
After graduating, the social media influencer moved from New Jersey to Los Angeles to make her dream come true.
In the new city, she got her breakthrough by featuring in Nick Cannon's comedy show, Wild N' Out. The appearance on the show let her amass followers on her social media handles. 
Know About Her Relationship With Jason Derulo: Jason Derulo and Girlfriend Jena Frumes' Pregnancy Journey — Baby Fever's Kicking In
Her Dream Is To Star in Action Movie
Though Frumes has made quite an impact with her modeling stints, her actual dream is to become an actress for action movies.
On June 26, 2019, she Instagrammed a video from her fighting practice and stated that one of the biggest goals in her life was to star in an action film. She also revealed that she was learning fighting choreography from the movie, Hobbs & Shaw.
To make her dream come true, Frumes has even trained accordingly. On December 20, 2019, she shared a video from her practice session and disclosed she was learning skills for boxing. She also maintained that as an actress, she wanted to be able to do her stunts herself in any film. 
Following her dream, she played the role of Bunny in the upcoming action movie, The House Next Door.
Similar: Insta Star Victoria Waldrip Age 18 Brags About Net Worth At Hand Amid Parents Background Conflict
She Is an Environmentalist
Besides an actress and a model, Frumes is an environmentalist who uses her social media platform to raise awareness regarding climate change and global warming. She has been pretty vocal about environmental degradation and its impact on other species. 
Besides, she has been part of non-profit organizations such as Zoological Wildlife Foundation, HavASole, and Lost Angels Org.