Jason Derulo Shares Close Bond with Siblings and Has Tattoos Dedicated to His Family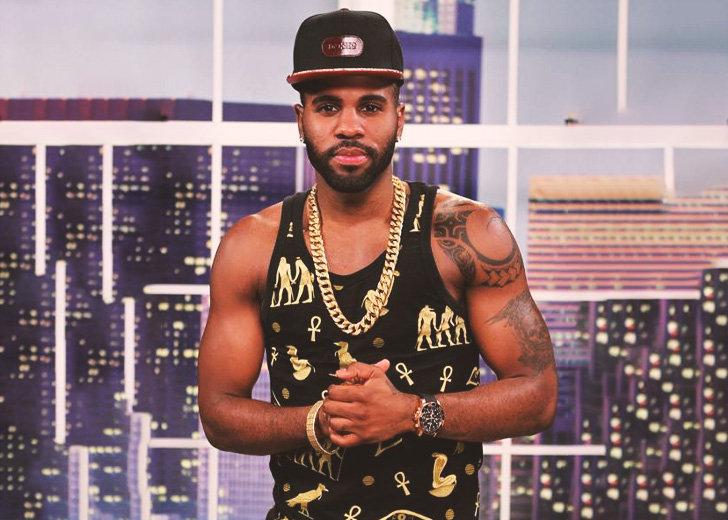 Haitian-American singer Jason Derulo maintains a close bonding with his family members, including his two siblings.
Apart from his music, the famous pop artist is also a fan of tattoos or body art, as he likes to call them.
Jason Derulo Has Tattoos Dedicated to His Family Members
During his 2013 interview with the British outlet The Daily Star, the singer shared his love for tattoos and detailed their concept. 
As per Derulo, all his body art lies in the uppermost part of his body as he considers the "bottom half as being a little feminine."
In explaining his many inked designs, the 'In My Head' hitmaker first touched upon a big decorated skull art made on his left arm by a Las Vegas-based artist named Mario.
While Derulo loves all his inked art, there is one design in particular which the singer keeps close to his heart.
Per Derulo, he has the letters JD engraved on his left arm. In his explanation of the artwork, Derulo said, 
My mum's name is Jocelyn, my dad's name is Joel and my brother is Joe so this is a family one. The 'D' is also a treble and a bass clef.
On the contrary, the singer also revealed that his parents aren't keen on their son's tattoos.
He recalled his dad Joel being more upset with his son's inks than his mother, who comparatively is less telling-off of the two.
Additionally, Derulo has a tattoo with the text "I Am My Brother's Keeper" for his brother made on the inside of his right arm.
Similarly, his brother has the same design along with the JD done on his body, "but without the music."
All about Jason Derulo's Siblings
In his 2020 conversation with The Guardian, Derulo talked about his parents who immigrated from the Caribbean country of Haiti to the United States while he was a kid.
In the conversation, Derulo also reflected on the work ethic embalmed by his family members and credited them for their diligence and work commitment.
Per Derulo, his family's attitude toward work has been one of the factors that have kept him grounded despite having a glittering career in the entertainment industry.
He further claimed to have belonged to a like-minded family where everybody works together.
The 'It Girl' hitmaker has a sister named Kim, the oldest child of her parents. Additionally, she is married and is a mother to her daughter.
Unfortunately, as of this writing, nothing concrete is known regarding Kim's full name, her whereabouts, and her daughter's name.
Derulo has an elder brother named Joe, who reportedly is responsible for the management of his firm Jason Derulo, Inc.  
Joe also contributed to the singer's 2009 break-out hit 'Whatcha Say.' Derulo's family seems to be closely knit if his social media posts are taken into consideration.
In the pictures shared by Deuro, his family members are often seen together during their many gatherings and day outs.