Jake Paul Gets Cozy with OnlyFans Star Sky Bri after Julia Rose Break Up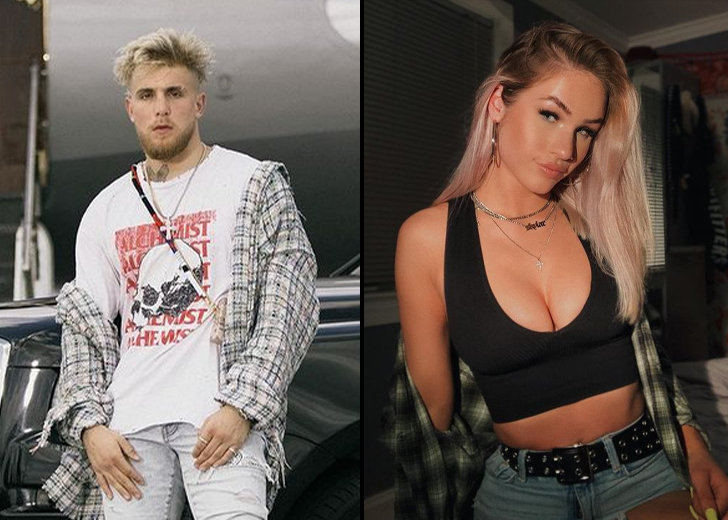 Jake Paul doesn't stay single for long, albeit he did bring back his 2019 single 'I'm Single' back to public memory in recent times.
Following the break up with his ex-girlfriend, Julia Rose, Paul's new girlfriend set the internet ablaze with a steamy PDA-filled snap over her Instagram story. 
The snap confirmed, for all intents and purposes, that the YouTuber-boxer is now dating OnlyFans model Sky Bri. 

Sky Bri flaunting her new beau in her Instagram stories (Source: Instagram)
Jake Paul & His New Girlfriend Flaunting PDA
Just hours before this writing, Bri shared Richelle Knupps' Instagram story where Bri and Paul were spotted kissing one another while scantly dressed in beachwear. 
Knupps had captioned her story, "long week with my babies," and Bri chose not to add captions of her own.
Notably, Rose has since changed her Instagram handle from Julia Pail to JuliaForPresident. Also, Paul seems to have unfollowed his ex-girlfriend on his socials. 
Mere hours before that still, Page Six had gotten word from its industry sources that Paul was "devastated" by the breakup. 
The split didn't come as much of a surprise as Paul had dropped a pretty out there hint that things between him and the Instagram model were sailing rough waters. 
Last week, Paul had put up a tweet that read, "Alexa, play 'I'm Single' by Jake Paul."
Julia Rose 'Still in His Heart'
The source with the outlet affirmed Paul had since moved on and was seeing other girls. That being said, they added, "still in his heart she was the one."
If the insider is to be believed, Paul would still go back to being with Rose if possible, and the source explicitly refused to dismiss that possibility. 
"He would like to get back together with her and maybe they will, but they both need to slow down their lives," the source was quoted saying. 
The outlet also reported that Paul was spotted having what appeared to be a heart-to-heart talk with buddies at Miami Beach restaurant Papi Steak.
Jake Paul's Sham Marriage to Tana Mongeau
Prior to his relationship with Rose, the YouTuber was in a sham marriage with social media celeb Tana Mongeau. 
They'd gotten married in front of guests who signed up for the $50 pay-per-view event as a part of Mongeau's MTV reality show, No Filter: Tana Mongeau.
It was only later revealed that the couple's July 2019 nuptials wasn't legally valid, and the two of them broke up next January. 
Without stalling for much longer, Paul was making headlines for dating Rose just weeks later. 
About Sky Bri
As per Lad Bible, Bri was formerly working for Target before she decided to trade her stunning physical appearance for fame as an adult video creator. 
Fans, or those interested, can find her adult film tapes and X-rated content on her Twitter feed, albeit the tweets serve only as advertisements for her OnlyFans page. 
The social media juggernaut's new girlfriend boasts a respectable 344 thousand followers on Instagram as of this writing. In recent times, she has also been fairly active on TikTok.