Jake Paul Finally Asks Girlfriend Julia Rose to Marry Him (Kind Of)
Julia Rose is on the brink of getting married to her boyfriend, Jake Paul.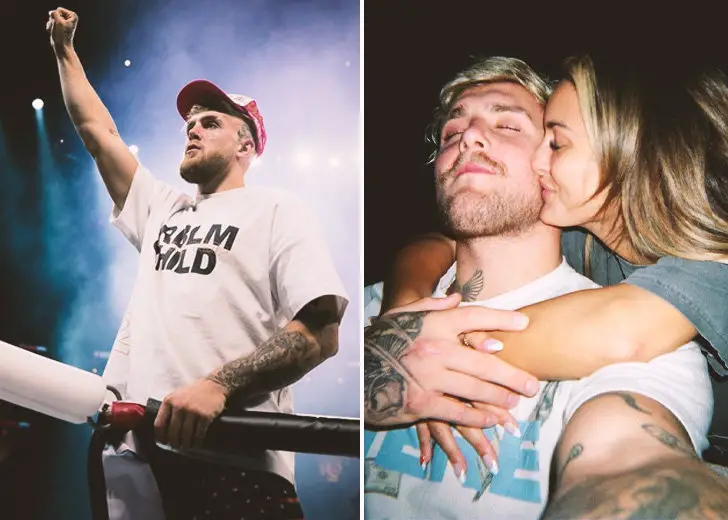 Julia Rose has been dating boyfriend and Internet superstar Jake Paul for a while. But it's only been a while since they've taken their relationship public.
And now, after a couple of weeks of letting everyone know they're together, marriage rumors have already started flying.
Jake Paul Asks Julia Rose To Marry Him
On August 31, 2021, Rose put up an Instagram post about Paul. In the post, they were seen cozying up with one another. In the picture, Rose can be seen hugging him from behind and planting a kiss on his left cheek. Paul had one hand on top of hers while the other took the picture.
The caption of the picture exuded her pride in her boyfriend. The post came after Paul's boxing match against Tyron Woodley, in which the internet star came out victorious with a unanimous split decision.
"Tastes like another win to me," said the model about her partner, referring to the result of the fight. She also emphasized not to doubt her man with an all-caps text.
However, here's where things get interesting. The first comment that showed under the post was from Paul. "Marry me?" he asked Rose, fueling the engagement rumors that had already been circulating for a while.
In early August, Rose had played a major role in the speculations. Everyone noticed she had, out of nowhere, changed her Instagram handle to @juliarosepaul, taking his second name.
At the time, Paul clarified their position. He said that even though they weren't married, he was planning on proposing to her really soon and had even got her a "nice promise-ring-slash-pre-engagement ring."
The couple has gotten to this point after having an on-again-off-again relationship since 2020. During one of their breaks, Rose had a fling with Harry Jowsey for a week.
She also dated Stephen McHugh, a Philadelphia, Pennsylvania native, around 2017. They appeared together in season four of the reality TV show Are You The One?
Who Is Julia Rose?
Other than being Paul's almost-fiancee, Rose is a lot of things. She was born on December 30, 1998, and shares a birthday with basketball legend LeBron James. She is reportedly from New Orleans.
In an interview with Beauty Lee Bar in 2017, she revealed she started modeling because of her love of travel and photography. She wanted to make art come to life.
Rose also spoke about her ambitions and where she saw herself in 10 years and then 20. At the time, she hoped to become a published model, publish a book in the coming few years, and appear in Sports Illustrated. In 20 years, she just wanted to be happy.
Rose has accomplished a few of her goals. She is now a published model and owns her own magazine.
ShagMag, her digital adult magazine, came into existence in March 2019. She started the company alongside McHugh, and she even went as far as to expose her breasts during a baseball game to gain traction.
It worked, and the deed was worth the lifetime ban she received from going to baseball games. Her magazine grew a lot since that point, and so did her internet presence, gaining almost 5 million followers on Instagram at one point. In addition to this, she also hosts a podcast called The Sh*tshow.
So, will Rose become the wife of one of the internet's favorite dudes and break millions of hearts in the process? Looking at how things are going, we might not have to wait that long for an official announcement.