Helen Mirren Says She and Liam Neeson Were a Serious Item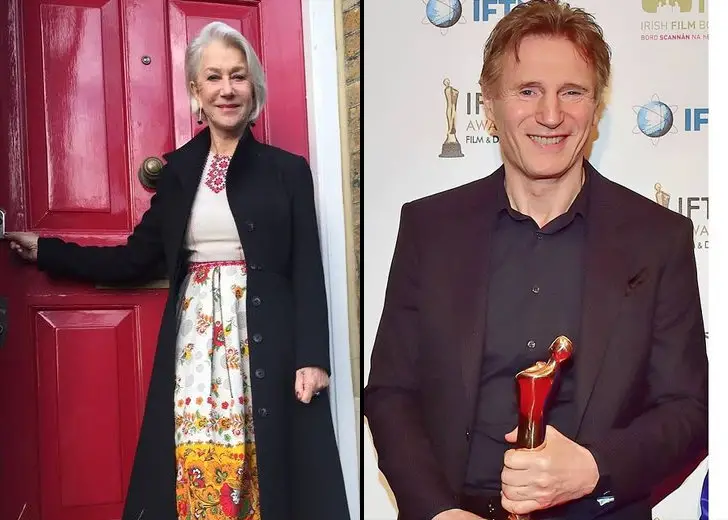 Helen Mirren, 76, and Liam Neeson, 69, were one of Hollywood's favorite couples in the early 1980s.
The veteran actors, both of whom are from the United Kingdom, hit it off after they first met on the set of the 1981 adventure film Excalibur.
In the film, the actress played the lead as Morgana Le Fay, while Neeson, who was making his debut, played the supporting role of Gawain.
Liam Neeson Was Instantly Mesmerized by Helen Mirren
The first glance of Mirren is one of the few beautiful moments of Neeson's life, as he had openly admitted the fact in his various interviews.
For instance, speaking with The New York Times (via InStyle), the Taken film series star gushed about how quickly he fell for the actress, while remembering first seeing her on stage as Lady Macbeth.
"She was so sexy. I thought, 'Gosh, that's Helen Mirren!' She was as beautiful up close as on stage. Just so human. I was in love with this extraordinary human being," he remembered.
And when he later saw her in her costume for the first time on set, he said he went, "Oh [expletive]," adding, "I was smitten."
During another conversion with Anderson Cooper on 60 Minutes, he stated that he fell in love with Mirren from the get-go.
"Oh my God. Can you imagine riding horses in shiny suits of armor, having sword fights and stuff, and you're falling in love with Helen Mirren? It doesn't get any better than that," he added.
Helen Mirren and Liam Neeson Dated for a Few Years
While Neeson was always in love with Mirren, the actress, on the other hand, also fell for the actor after getting to know him.
They started dating in the early 1980s and had a serious four-year relationship, which the two candidly admitted when they appeared on the same episode of The Graham Norton Show in early 2018.
"We didn't date. We lived together," Mirren shared. "We were a serious item for a while."

Helen Mirren, Liam Neeson, and Jamie Dornan on The Graham Norton Show. (Photo: YouTube)
As she said, they lived together in London after she reportedly encouraged him to move to London and live with her. She even helped him get an agent.
In another interview on Good Morning Britain in October 2019, the diva recalled a memory she had with Neeson during a camping trip in the 80s. 
"I like camping with Liam Neeson," she said, sharing that the car they took and the tent they slept in wasn't quite Neeson-sized.
Break-Up Was Hard for Liam Neeson and Helen Mirren
After being together for almost half a decade, the former couple had to make the hard decision to separate.
According to Mirren (in The New York Times), Neeson struggled to get jobs for himself despite her help, and after a point, it became difficult for him to be "under my shadow."
She also believed that things would turn good for him if he came out from her wing.
"He handled it with great elegance and grace. We loved each other. It was difficult to let go," she added.
Neeson shined bright after the break-up and worked on some successful acting projects. He also dated Julia Roberts and Brooke Shields before meeting his wife, actress Natasha Richardson.
Sadly, she passed away in 2009 after suffering a head injury while skiing in Canada.
On the other hand, Mirren met her husband, director Taylor Hackford, on the set of 1985's White Nights. They wed in 1997 and have been together ever since.