Are Heidi Gardner and Kristen Schaal Related?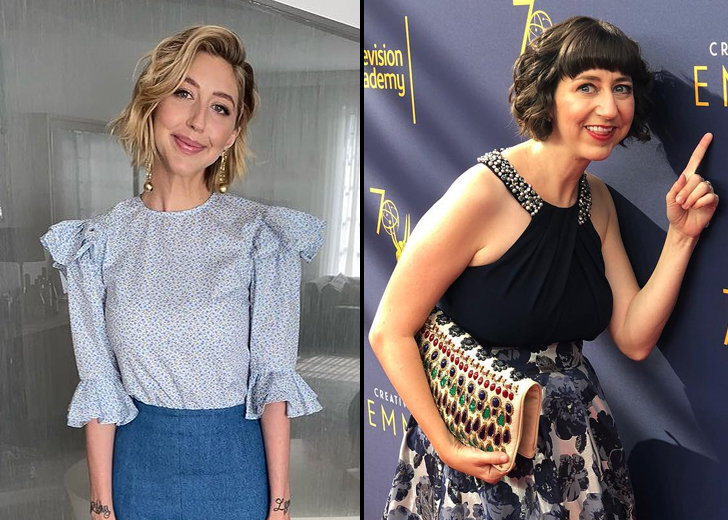 Have you ever watched a movie or TV show and recognized a familiar face?
And when you finally could put a name to the face, you did a quick Google search to confirm your suspicions. 
But the search result tells you it's an entirely different actor and leaves you confused. 
Well, you are not alone in mistaking Heidi Gardner as Kristen Schaal in Netflix's Unbreakable Kimmy Schmidt: Kimmy vs the Reverend. 
The actresses look so similar that they make us do double-takes and leave us wondering if they are related. 
Netizens have taken to Twitter to express their confusion as well. 
User @IamAnt85 tweeted in November 2017 that he was mind blown after realizing that the doppelgangers were two different beings. 
Meanwhile, another user, Caitlin, wrote that she thought Gardner was Schaal's older sister, but then she found out that Schaal was younger.
User Marimigiano-Reggiano wrote that they could not tell the two of them apart, and the fans could not agree more. 
There are many such similar tweets, and shockingly, the duo is not related to each other. 
The two were raised by their own parents and had different and unrelated upbringings. 
Heidi Gardner Impersonantes Kristen Schaal on 'SNL'
In 2017, Gardner delighted her fans with hilarious impressions of Schaal on Saturday Night Live. 
Gardner put on a wig and ended up looking every bit like the Bob's Burgers' actress and even nailed her lookalike's breathiness.
Her enthusiasm and surface portrayal showed that Gardner had a grasp of Schaal's nuance. 
Whether Gardner had a special connection to Schaal or if it was an indication of her talent for mimicry, fans were impressed. 

Left Kristen Schaal, Right Heidi Gardner (Source: Kristen Schaal/Instagram, Heidi Gardner/Instagram)
The actress made her audiences laugh and maintained a sense of awe at how well she captured her doppelganger.
Some fans were so impressed that they initially thought Schaal was impersonating someone else. 
Even Schaal was impressed with the act on SNL as she took to Twitter to express it. 
A fan had asked her what she thought of Gardner's impersonation, to which the Flight of the Conchords actress replied, "Pretty sweet! Also thought she looked adorable. But, of course, I'm biased."
Who is Kristen Schaal?
Apart from looking like Gardner, Schaal is a famous actress who is better known for her voice acting work because of her distinct voice. 
The actress has acted in plenty of films and TV shows throughout her career. 
These include her role as Mel in Flight of the Conchords and Carol in The Last Man on Earth. 
However, her sweet, singsong, and slightly manic voice landed her the most popular and comical role ever — voicing the nine-year-old Louise Belcher from Bob's Burgers. 
Besides Bob's Burgers, the actress has also provided voices for several characters on BoJack Horseman, most notably that of Sarah Lynn.
However, her unique voice didn't always attract admirers. 
She was told early on that her voice was "atrocious," and once she started looking for work, everyone who came in contact with her criticized her voice. 
But she overcame the hurdles which she opened up about to Northwestern University magazine. 
"I had some hurdles. But those are just as important as the wins. I still wanted to fight for it after being told I couldn't have it," said Schaal.