Get to Know the Voiceover Artist Kristen Schaal: Her Career, Husband, And Family Life
Kristen Schaal's voice is as famous as her comedic chops.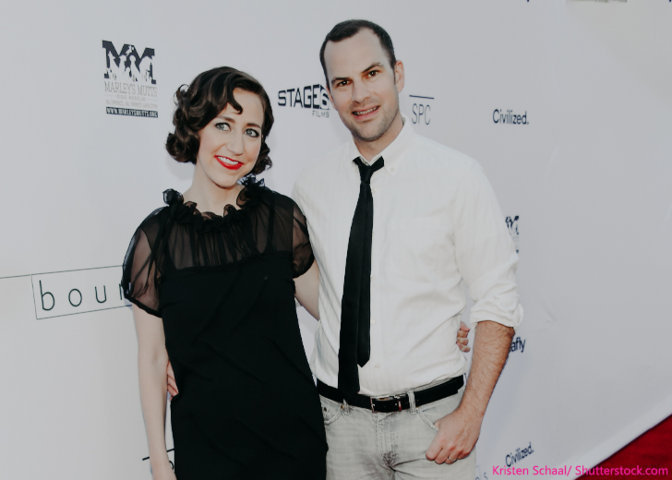 Louise Belcher, the sassy youngest child from Fox's hit animated sitcom Bob's Burgers, Trixie the blue plastic Triceratops in the Toy Story franchise, and protagonist twin Mabel Pines on Disney Channel's Gravity Falls all have one thing in common. 
They were all voiced by the actress and comedian Kristen Schaal, who built a career with her high-pitched, shrill, lisp, and sharp voice. It is instantly recognizable.
Before the success, Schaal had moved to New York to start her career as a stand-up comedian. Eventually, she and her friend, Kurt Braunohler, started the weekly variety show Hot Tub and moved the show to Los Angeles seven years later.
During her performance, she was spotted by Bret McKenzie and Jemaine Clement, the stars of Flight of the Conchords. 
They hired Schaal immediately and cast her as the unforgettably creepy groupie/stalker Mel on Flight of the Conchords. 
Since then, Schaal has written for and acted in movies, TV, and radio shows, including South Park, Ugly Betty, and How I Met Your Mother. She even co-wrote a book with her husband Rich Blomquist, a writer.
Schaal's Marriage and Family
Although Schaal is a private person and prefers not to speak on her love life, she got married to Blomquist in 2012 at the famous Stanley Hotel, where renowned author Stephen King was inspired to write The Shining in 1974. 
And in true comedic fashion, Schaal included a hilarious element in her wedding: a Llama for supposed luck. After 6 years of marriage, Schaal and Blomquist welcomed their first child, Ruby in 2018. 
Recently on June 25, the comedian appeared on Late Night with Seth Meyers to talk about her new Disney Plus's newest live-action kid's show, The Mysterious Benedict Society. 
But before they delved into a conversation about the show, the actress and the host talked about their kids. 
When host Seth Meyers asked the actress what her three-year-old daughter was into, she jokingly responded that she was into her dad.
The actress revealed that while she was busy filming her new show during the pandemic, her husband and daughter had gotten close. 
She [her daughter] was like, "Daddy, I Love You this much," like her arms were out as far as she could go. And I knew the answer, I don't know why I did it, but I was like, "How much do you love mama?" And her arms went in just quite a bit. 
Schaal's Husband
Schaal may be the bigger name, but Blomquist is hugely successful, with several credits to his name. Blomquist was a writer on The Daily Show for 10 seasons.
During his time, the show won six Emmy awards; 2003–2006, 2009, and 2011. Before that, he was a contributing writer on Saturday Night Live, specifically for Robert Smigel's 'TV Funhouse.' 
In 2014, Blomquist signed a two-year overall deal with 20th Century Fox Television to develop new projects for the studio. He had previously worked with the network for American Monster, which he co-created with Schaal. 
After signing the deal, he wrote The Last Man on Earth until it got canceled. He then wrote the animated sitcom Bless the Harts, which unfortunately did not get renewed for season 3 in 2021.