Harry Styles and Andy Cohen Hookup and Dating Rumors Explained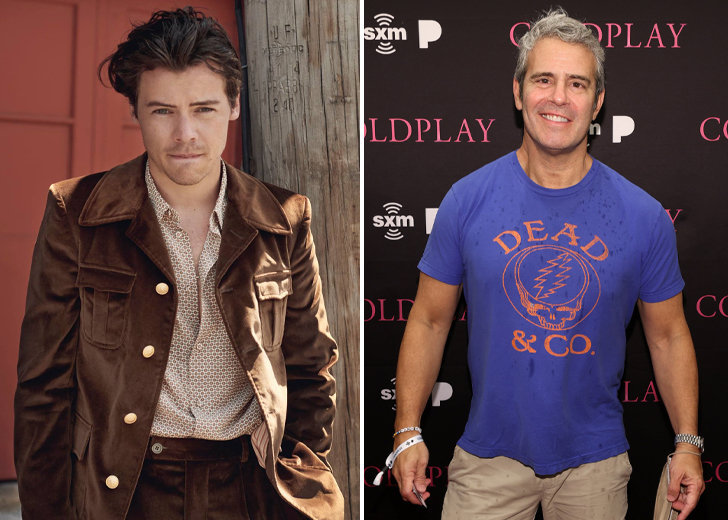 In a recent fan interaction, Sonja Morgan alleged that Harry Styles and Andy Cohen had a hookup sometime ago.
She stated that during an event when a fan asked her if she would have her gag reflex removed for the One Direction singer.
Morgan quickly responded she had no interest in the singer, explaining she didn't even know who he was until "Andy [had a physical relationship with] him."
"Me asking @SonjatMorgan if she would have her gag reflex removed for Harry Styles…and I oop," the fan tweeted, revealing what he had asked her earlier.
Reactions to Andy Cohen and Harry Styles Hookup
After The Real Housewives of New York City star's statement surfaced on the public, many fans headed to social media to inquire if Styles and Cohen were ever dating each other in the past — or present.
And many seemed to be in disbelief about the hookup. For instance, the fan, who got Morgan to reveal the unverified information, later wrote that he didn't believe the information even for a second.
"Just to be clear, I def don't believe it for a single second," he noted in his tweet after writing, "The fact that I got Sonja Morgan to admit that Harry Styles and Andy Cohen have allegedly [expletive]… I'm iconic!!!"
Rumours are circulating about the relationship between former One Direction singer Harry Styles and TV personality Andy Cohen on social media. https://t.co/9dmteLMUrj — May 🍌 lendo unbelievers (@drunkmedicinee) December 20, 2021
Another Twitter user wrote, "Soo… planting seeds in a different direction?"
"Oh pleazzee! Really..come on people what is the gain by all this horrible gossip? Just don't get it!" another said.
But Were Harry Styles and Andy Cohen Dating?
Well, nothing has been confirmed regarding Styles and Cohen dating and hookup speculations. So far, both of them have made no remarks on this matter.
But on the other hand, Cohen has always been open about his sexuality.
Speaking with Oprah Winfrey in 2019, the television personality revealed he realized he was gay in the men's locker room at his father's tennis club when he was "around 12 or 13."
"I was devastated," he said while adding, "It was the early '80s and there were no gay people on TV, no gay role models. I wasn't hopeful about my future."
Cohen, who welcomed son Benjamin [also Ben] via surrogate in 2019, is also reportedly single at present.

Andy Cohen spends time with his son, Ben. (Photo: Instagram)
In his many interviews since welcoming his son, he said that he hasn't had the luxury to go out and explore the world of relationships.
"I like very independent people who have their own things going with their own lives, who are very strong in their belief systems," the TV host told People, explaining the type of person he was looking for. "That's very attractive to me."
In contrast to Cohen, Styles' sexuality has been a topic of discussion among fans for a long time. But he hasn't addressed any questions regarding his sexuality.
Meanwhile, he has been rumored to be dating actress Olivia Wilde for nearly a year.
She was also spotted at Styles' UBS Arena show last month. Before that, she had reportedly attended the singer's San Diego show.