Before Hannah Brown Met Her Boyfriend Adam Woolard — The Reality Star Spills the Tea in Her Book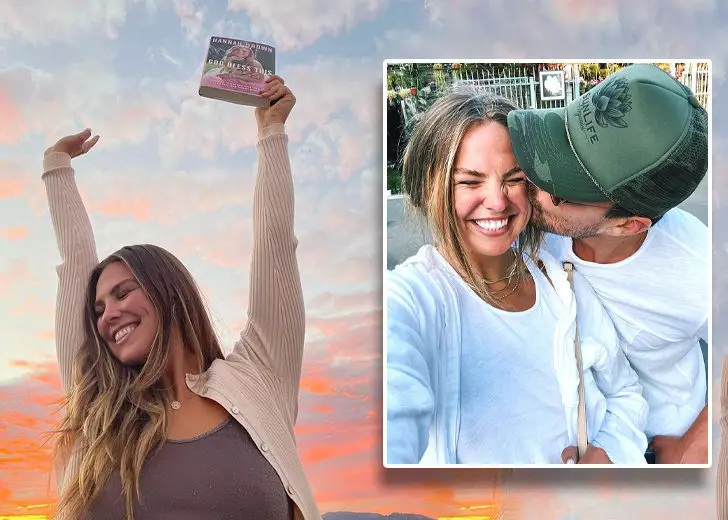 Hannah Brown just recently came out with a tell-all book, God Bless This Mess, about her time with Bachelor Nation, and there is quite a lot to be covered from this emotional hot-pot. 
Brown was first seen on The Bachelor's season 23, competing for Colton Underwood's affection, and was later made The Bachelorette for the show's fifteenth season. By the end of The Bachelorette, she ended up engaged to Jed Wyatt.
However, the dreamy engagement ended before they could walk down the aisle.
Instead, Brown almost got back together with two boyfriends—runner-up Tyler Cameron and third-place finalist Peter Weber.
Hannah Brown: 'God Bless This Mess'
In her book, the reality star mentioned how she went into The Bachelorette with no intention of having a physical relationship with anyone. However, she ended up sleeping with two of the three finalists: Weber and Wyatt.
"I slept with more men in one week than I'd slept with in my entire life," she wrote.
She explained that although Weber was better in bed than Wyatt, the emotional connection with the latter was decisively deeper.
She was so sure about Wyatt that she decided not to get in bed with Cameron during their last overnight date. 
All that aside, she claimed to have seen leaked pictures of the contestants before she handed over her phone to the producers, and Cameron was the one she was looking forward to meeting the most. 
"When I finally got to gaze into his eyes, I felt a little connection. I felt a little spark," she wrote of Cameron. "I felt a little connection with Jed, and with Luke [Parker], too, who I had met before this season even started."
Hannah Brown Left 'The Bachelorette' Engaged
Following her dates with the three finalists, Brown wasn't sure. She felt like she couldn't send Weber home because they slept together. 
After developing a connection with Cameron over their date and making out "like crazy," she couldn't lose him either. 
With Wyatt, she wasn't so conflicted. 
She admitted that she didn't feel like her husband was in the room from day one, but when Wyatt proposed at the end of the season, she just couldn't say no. 
It's hard to explain how conflicted I felt. Jed hadn't done anything wrong. I cared about him. And the engagement itself was dreamy — but it wasn't necessarily my dream.
Hannah Brown's Relationship with Fiancé Jed Wyatt Didn't Last
She came to regret her decision before the two even made it home.
She learned that Wyatt's real name was Jarad, not Jed.
All that ran through her mind was that she was engaged with a guy, and she didn't even know his real name. 
Then came the revelation that Wyatt's last text before he handed his phone over to the producers was to a girl named Haley Stevens, and it read: "I love you."
It turns out, Wyatt had introduced this girl to his mom and had told Brown that the two of them were "just friends."
Brown broke up with her fiancé over this. Even though he had hopes of getting back together, she called him later to make it crystal clear that their relationship was done for good. 
Hannah Brown's Hookup with Tyler Cameron
A while later, she began texting Cameron while he was on After the Final Rose. Although initially, it was "nothing romantic," the more they talked, the more Brown began getting ideas. 
They finally saw each other after the show. Things were a tad bit awkward at first, but they started getting "hot and heavy" soon after.
Still, they refrained from going all the way — his call. 
Brown and her then-boyfriend had plans to travel together and explore this relationship some more.
Then, after Cameron left for NYC, he let her know that things between them weren't exclusive. Instead, he was seeing supermodel Gigi Hadid.
Brown was heartbroken. 
Hannah Brown's Return to Bachelor Nation
But the ghosts of The Bachelorette were far from done. While Brown was competing on Dancing with the Stars in September 2019, the producers from The Bachelors approached her to make an appearance on Weber's premiere. 
Although unwilling, Brown was under contract with the network, so she had to do it. 
Still dealing with the last two failed relationships, Brown recalled her first appearance on Weber's season as a form of PTSD.
She sat in the limo for over an hour and was a mess but ultimately got through it.
She made another appearance that season, hosting the group dates for Weber's birthday. Things happened, and when Brown walked off upset, Weber went after her. She recalled of her conversation from that night:
The biggest thing, the one that took my breath away, is that Peter offered to quit the show if I'd take him back. 'If you can say without a doubt that you want to be with me, I'll quit the show.'
For the passion that Weber showed, she wanted to kiss him, then and there, but she couldn't. There were cameras around and had she kissed him, things would have been a mess. 
She explained to Weber that he couldn't leave the show for her, and she couldn't join in because of her obligations to DWTS. They parted ways. 
Still, Brown told him that if things didn't work out on the show, he could still reach out because it was likely that she'd still be single. 
Hannah Brown's Short-Lived Romance with Peter Weber
Brown saw Weber again in January 2020. He was engaged to Hannah Ann Sluss, but he was already having doubts. He also confessed that he had feelings for runner-up Madison Prewett. 
Brown wrote somewhere in her book, 
This show was meant to be focused on romance and love, but so many of us who went on it found ourselves caught up in emotional disasters.
After a party that both Brown and Weber attended, he informed her that he'd called off his engagement. One thing led to another, and she ended up going to his parent's house in Agoura, California.
Brown didn't go there expecting to sleep with him but ended up doing it anyway. However, she also admitted that it wasn't good and didn't last long.
After an awkward run-in with his dad the following day, the boyfriend gave Brown $100 to Uber home. But the next time that she talked to him, he confessed that he still had feelings for Prewett.
Getting Back Together with Tyler Cameron
A couple of months later, Brown found herself talking to her ex-boyfriend Cameron again when she found out that his mother had passed away. She was dealing with a family situation herself, with her brother having an overdose. 
The two rekindled their bond over their situations, and after making sure that things were alright with her brother, she headed out to Florida to attend his mother's memorial.
Initially, she was to stay at a hotel nearby but ended up crashing with Cameron in a house he and his friends had rented. 
"He cried with me about his mom. 'Wow,' I thought. 'I really really care about this person,'" she wrote.
An Unexpected Connection
After the memorial, Brown went back to Texas to get her brother in a rehabilitation facility, and Cameron returned to NYC. Later, when the quarantine was announced, he invited her to stay with him and his friends in Jupiter, Florida. 
She figured that the lockdown would just be a couple of weeks, and that would give them the time to figure things out between them.
But things weren't so simple. The two ended up sharing a bed for 20 days straight but didn't so much as a kiss. 
On the other hand, Brown was bonding with Matt James. But their relationship was not an orthodox one. They would cuddle some nights but would spend days not talking. 
No matter how much we talked, and connected, I always felt like his bench girl. Like I was the backup player who never got to play in the game.
They eventually parted ways and hadn't spoken to one another since.
As of this writing, Brown is dating a new boyfriend, Adam Woolard. According to People, they met on a dating app about a year ago.