Michelle Young Stuns on 'the Bachelorette' Season 18 Promo
Will Michelle Young finally find her happily ever after?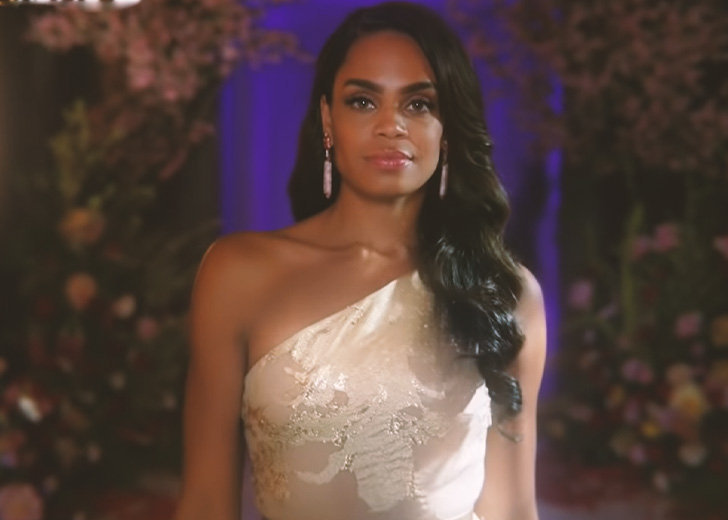 The Bachelorette returns October 19 on ABC for season 18, and it's now Michelle Young's turn to find love. 
ABC just released a trailer teasing Young's upcoming season, which aired during Bachelor in Paradise episode. The promo proves that the 28-year-old Minnesota native is determined to find her perfect match. 
Set to 'Bounce Back' by Little Mix, the sneak peek shows Young, looking exquisite in a custom white, lacey gown featuring a high slit made by designer Stanley Hudson. She waltzes into a room filled with beautiful floral installations and stops to smell a rose. 
After that, the former basketball player shows her dribbling skill on the court before tossing the ball into a crystal net. 
From the basketball court, she struts into the classroom. The elementary school teacher grabs an apple off a student's desk and tosses it in the air while giving a glance at the camera, looking every bit confident and fierce. 
She then makes her way down a staircase decked out in blossoms by Los Angeles florist Bloom and Plume before reminding everyone why she was on her own The Bachelorette journey. 
I'm looking for someone who's going to change the world with me. I'm ready.
Michelle Young's Second Chance at Love
Young previously competed on Matt James' season of The Bachelor, which aired earlier this year. In the finale, viewers were heartbroken as they watched Young leave in tears after James sent her home. 
James rejected Young because he had doubts about her, which was not a good sign. 
During the After the Final Rose special, Young admitted she was utterly shattered at his decision, and to make matters worse; she did not even get closure from their relationship. James then apologized for hurting her. 
Luckily for the heartbroken bachelorette, the producers gave her and Katie Thurston a second chance. Thurston, who was with Young on the season, finished in 11th place. 
Thurston recently wrapped up her season on The Bachelorette and even gave Young a piece of advice as she headed into her season. She told the new bachelorette to keep an open mind. 
Michelle Young's Past Relationship 
Besides her relationship with James, Young revealed on the show that she had a serious relationship before James.
The relationship had "became unhealthy," and they broke up in January 2020 even though she felt it should have ended earlier. The ex-boyfriend in question is probably Kyle Aaron, who Young likely met at Bradley University in Illinois, and like Young, he played basketball.
Although Aaron does not have any traces of their relationship on his Instagram, he had plenty of pics of them together on Facebook. 
Though it's unclear how long the two of them dated, it seemed like their relationship was pretty serious, as Aaron had pictures dating back to 2016. And their last tagged picture together on Facebook is from October 2019. 
After two failed attempts, hopefully, this time around, Young will walk away with a ring on her finger.