Gunna and Chloe Bailey Spark Dating Rumors as They Were Spotted at the Hawks Game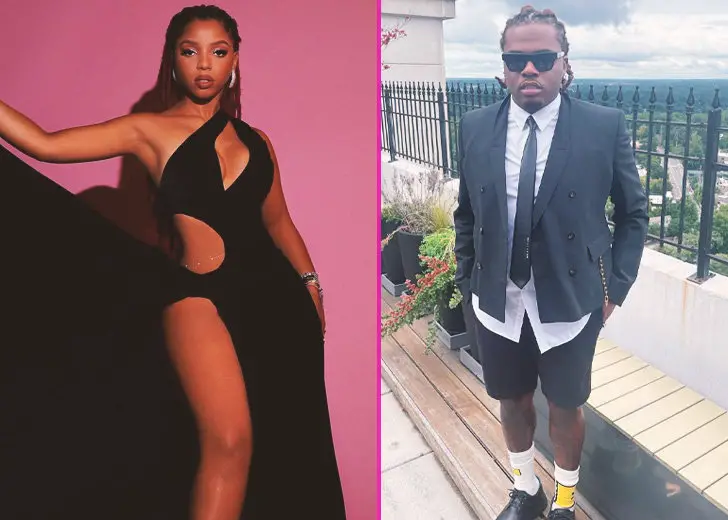 American rapper Gunna is presumably off the charts.
The 28-year-old artist sparked dating rumors with singer Chloe Bailey after the pair were spotted together at the Hawks game on October 21, 2021. The two were snapped sitting side-by-side at the court-side with a small table in-between them.
Their snaps quickly surfaced on the internet, and fans subsequently started speculating if Gunna and Bailey were dating each other.
One fan wrote, "You can tell they're enjoying each other's company," while another added, "Are those promise rings?"
Gunna Addressed Dating Rumors with Chloe Bailey at AMAs 2021
This week, the famed rapper walked on the red carpet at the 2021 American Music Awards. During the event, host and video producer Chelsea Briggs spoke with him and asked him if the dating rumors between him and Bailey held any truth.
"I was looking on Twitter and fans are very excited, we're excited about seeing you and Chloe Bailey at a basketball game together. And there's rumors of dating. I want to just get your take on that you know I have to ask you," she said.
Addressing her curiosity, Gunna hesitantly said that he was "not dating" Bailey but also added he and the singer were on "just like a date." He said that the pair went together to the game to catch a vibe.
He went on to explain that Bailey was a very close friend and complimented her with lines like "she's very creative" and "she's very talented."
Gunna further stated that the fans would be seeing the pair more often in the coming days. He even said Bailey had access to all his songs and albums, and he would happily let her use his music to help uplift her career.
His latter statements again hinted that something was going on between them — presumably, they were taking their time before confirming the relationship.
Chloe Bailey's VMAs Performance Was Partially Dedicated to Gunna
Besides the Hawks game instance, Gunna again sparked dating rumors when he reacted to Bailey's September 17 Instagram post about her iconic VMAs performance.
"i swear i didn't even know i licked the mic til after i watched the performance back [sic]," the singer captioned the picture, particularly pointing at the picture where she was licking the mic.
The College Park-born rapper later publicly shared Bailey's pictures on his Instagram stories. Gunna claimed that part of her performance — where she licked the mic — was iconic in the re-post.
"IT'S THE (tongue emoji) FOR ME," he wrote.
Gunna's Dating Rumors and Ex-Girlfriends
In the last few years, the famed rapper has been involved and rumored to be dating several women.
For instance, he was reportedly dating Jai Nice, a popular fitness Instagram model, for some time in 2019. Nice often posted pictures with Gunna during their relationship — one of the posts saw her saying she missed him.
Later, he was linked with Heather Rose in March 2020 while still dating his ex-girlfriend, Nice. Netizens also witnessed an online feud between Rose and Nice, where the latter alleged Rose being the reason behind her sour relationship with the rapper.
The rapper was also rumored to be romantically involved with Lala Baptise in the past.