Who Is Gerard Way's Wife? Here's How the Two Met and Married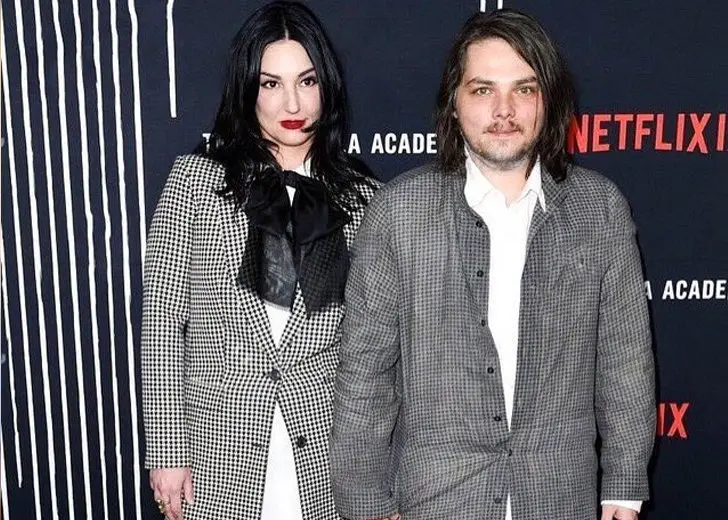 American singer-songwriter and comic book writer Gerard Way has been married to his wife Lyn-Z, aka Lindsey Way, a bassist of Mindless Self Indulgence, since September 3, 2007.
Since then, the couple, despite managing a private personal life, occasionally takes to their social media to express their love for each other.
To give an instance, Gerard beautifully wished her a happy birthday in May 2019, saying she brought love and light into their lives.
"I'm sick today and she is taking care of me, on her birthday! I can't begin to count all the reasons you are the most special person I know. I am so very much in love with you," he added in his Instagram post.

Gerard Way and his wife Lindsey Way. (Photo: Instagram)
The same year, in September, Lindsey similarly posted a picture from their wedding day to make the occasion of their twelfth marriage anniversary.
Gerard Way and His Wife Met during a Musical Tour
According to People, Gerard and his wife, Lindsey, met and bloomed their romance when they were touring with the singer's rock band My Chemical Romance as part of Linkin Park's Projekt Revolution festival.
The singer also credited Linkin Park's late musician Chester Bennington for bringing him close to his now-wife during the conversation with the mentioned tabloid.
"His band and bringing us on tour, that changed my life. I met my wife. We have an amazing life now and a daughter. My memories of that period and meeting Linds again are tied into Chester and his band," he stated.
In a 2008 interview with Rolling Stone, the late Bennington also reflected on his role in bringing Gerard and Lindsey together.
He said that he felt proud that the couple "reignited their friendship" during the musical tour and eventually ended up getting married to each other.
"I was like, 'This is freaking awesome,'" he added.
Gerard Way and Wife Got Married Backstage
Quite surprisingly, Gerard and Lindsey got married during the same musical tour where they met.
To be precise, they tied the knot backstage on the final date of the Projekt Revolution tour.
The wedding allegedly took place quickly at the end of the tour in the presence of a limited number of people.
"So there were literally only 30 or 40 people there, and he [Chester Bennington] was one of them," Gerard told People.
Who Is Gerard Way's Spouse Lindsey Way?
Lindsey, whose full name is Lindsey Ann Ballato, was born on May 22, 1976, in Dunoon, Scotland. According to her website, she is of Indian descent.
Her bio further revealed that she moved to the United States at the age of two with her family.
And at 17, she left home to study Fine Art and Illustration at The Pratt Institute in Brooklyn, New York.
Lindsey went on to become a bass player for Mindless Self Indulgence after its producer hired her to replace Vanessa YT.
At present, she is associated with music as well as works as a visual artist. She also manages a private life with her husband and daughter.