Willow Smith's 'Transparent Soul' Featuring Travis Barker Brings Back the Pop-Punk Beats
Willow Smith released her new single with Blink-182 drummer, Travis Barker.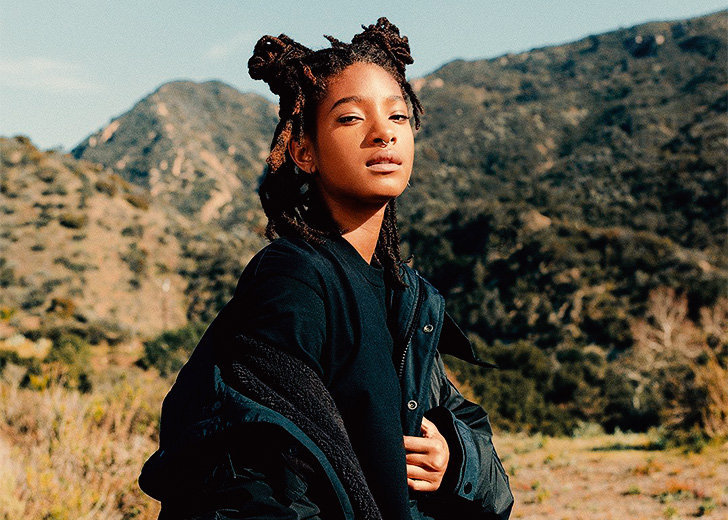 Willow Smith, the daughter of actors Will Smith and Jada Pinkett Smith, started her music career in 2010 with the hit single 'Whip My Hair.'
With her debut album Ardipithecus in 2015 at 15, she has been in the music industry for half her life. At just 20, she already has four albums in her discography, and the fifth one due to drop soon.
The singer has been experimental with her music and just released a new pop-punk song, 'Transparent Soul,' the first single from her upcoming fifth album.
Transparent Soul
On April 27, the actress-singers released her collaboration with Travis Barker, the drummer of the rock band Blink 182.
She stays true to the pop-punk genre with fast tempos, loud and distorted electric guitars, and power chords. The heavy drums of Barker can also be heard in the background. 
The video screams the early 2000s' scene with aesthetic matching the punk-rock and emo bands like Green Day, My Chemical Romance, and Paramore.
Directed by Dana Trippe, in one scene, Smith is seen donning heavy black eyeliner and bondage pants and a grungy black and white dress with a giant spiked necklace in the next.
She is even seen shredding her electric guitar during the end of the music video.
With the vocal matching those of early Paramore's sound, the lyrics talk about how people have a fake facade they show to her, but she can see right through them because of their 'transparent soul.' 
"Transparent soul, I can see right through just so you know," she sings in the chorus while smiling menacingly into the camera. 
Smith had first teased the news of her upcoming song through an Instagram post on April 25. She shared a still from the music video informing the fans to get ready for a new tune.
After the song was released, she again took to Instagram to share a grateful post thanking her team that helped execute her creative vision. The beautifully painted custom guitar was made by Yvette Yong in collaboration with Ernie Ball Music Man, as per her other post.
Inspiration For The Album
Speaking with Rolling Stone about her new track, Smith said that it was inspired by the following quote she had read from Radhanath Swami, a Hindu guru. 
It is said that a saintly person is so pure that he or she acts like a spotless mirror. When we come in the presence of such a mirror-like soul, we can see both the beauty and ugliness of our inner life.
As for her new pop-punk direction, the singer said she had always gravitated towards the rock scene because of the exposure while touring with her mother Pinkett Smith's nu-metal band Wicked Wisdom. 
Her mother's powerful voice had always inspired her, but she could never tap into the same furious rock energy as her mom because of her training in the R&B and pop genre. But she later realized that it was not because of the voice but the insecurity of what others would think.  
Adding to it, she also included Avril Lavigne and My Chemical Romance to the list of artists that had inspired her.
So when the pandemic hit, she finally dwelled on this new music she had always been drawn towards and started writing the songs for her new album.
Reaction Of Fans
The fans have been very supportive of the collaboration and Smith's ventures into the new genre of pop-punk. They have also been praising Barker for helping more artists transition into this genre. 
One user @hottie_blaque tweeted she liked how Barker had been cosigning artist into the genre of pop-punk and keeping it alive.
I like how Travis Barker is cosigning artist from this generation keeping the pop punk genre alive — Pretty Young Tenderoni (@hottie_blaque) April 28, 2021
Another user @d_a_y_l_i_n_ tweeted that if Smith and Barker single-handedly brought back the pop-punk era of the early 2000s, they'd pull the side part and under eyeliner again. 
If Willow Smith and Travis Barker single-handedly bring back the pop punk era of the early 2000s, I'm pulling out my side part and under eye liner again 😫 pic.twitter.com/9XqugkBxfJ — Phaedra Parks Stan Account (@d_a_y_l_i_n_) April 28, 2021
Collaboration With Barker
In an interview with Apple Music 1's Zane Lowe, Smith shared Barker was one of her favorite artists, and it had been an honor working with him.
She further added that being in the studio with him showed her how multi-dimensional an artist he was, which immensely increased her respect for him.