Emma Chamberlain's Boyfriend Tucker Reacts to Her Met Gala Interview with Shawn Mendes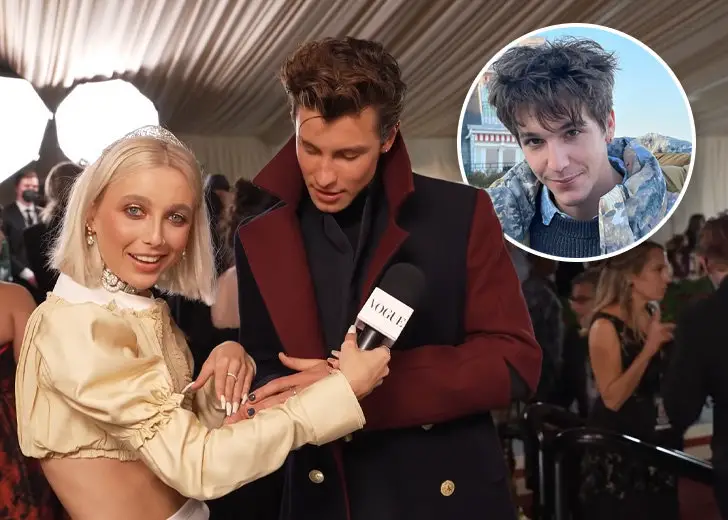 The Met Gala 2022 took place on May 2, leaving everyone reeling in excitement over what their favorite celebrities wore. 
While some are busy playing the fashion police and breaking down the looks, others are talking about Emma Chamberlain's cute moments from her Vogue red carpet interviews. 
As the brand ambassador for Louis Vuitton, Chamberlain was at the prestigious event in a two-piece Louis Vuitton set featuring a beige puffed sleeved crop top with a floor-length white skirt.
She matched her outfit with a crown and choker style necklace, both of which were Cartier.
After showing off her look, she got down to work for Vogue as she interviewed the event's A-list attendees. 
Out of the many stars she interviewed, one of them was Shawn Mendes. The two of them talked a little about their outfit. 
Mendes shared he was wearing Tommy Hilfiger and going for a "Navy Captain" look. 
The 'Treat You Better' singer even showed off his matching blue and brown painted nails. 
Emma Chamberlain's Boyfriend Tucker Pillsbury Reacts 
A snippet of the duo's conversation has been reshared on Chamberlain's fan page, and according to her fans, Mendes was flirting with the social media star. 
In the comments section, one user wrote, "he licked his lips after they hugged." "He is so into her," another one wrote. 
In the post's caption, the fan page iterated that Chamberlain's boyfriend, Tucker Pillsbury, probably "went crazy" after seeing the video.

Emma Chamberlain's boyfriend Tucker Pillsbury reacts to her interview with Shawn Mendes. (Source: Role Model/Instagram)
Crazy or not, Chamberlain's boyfriend reacted to the duo's little red carpet moment. 
Pillsbury, who goes by his stage name Role Model on Instagram, uploaded a screengrab of the video but removed Chamberlain's face and photoshopped his face onto it. 
He mentioned nothing, so it is unsure what he meant by the photo, but it looks like he was mocking his girlfriend. 
The singer was not at the Met Gala because he is currently on his first-ever "TOURx 2022" world tour to celebrate his dynamic debut album, Rx.
Emma Chamberlain and Tucker Pillsbury's Relationship 
In March 2022, Chamberlain and Pillsbury went public after stepping out together at the Vanity Fair Oscar Party. 
The duo had known each other for a couple of years before dating. 
It looks like things are going well between the two, as the YouTuber had previously shared that she preferred to keep her love life private unless she was sure of it. 
During her appearance on the Call Me Daddy podcast, she admitted she was in a relationship but ensured that the identity of her boyfriend remained a secret. 
She shared her partner was "incredible" and "supportive," leaving no room for complaints. 
Previously, Chamberlain had told Seventeen that as much as she desired to share about her love life on social media, she knew it was not the best move to date in public. 
"I think when you're young, it's scary. Being in a relationship as a young person is hard enough. Having everybody else see it, it's super overwhelming. But I think when you're older, things are set in stone and you're like, 'you know what, it's time,'" said the influencer. 
As someone who is private, it looks like a lot of thought went into Chamberlain's decision to go public with her boyfriend.