Emma Chamberlain and Boyfriend Tucker Pillsbury Attend the Vanity Fair Oscar Party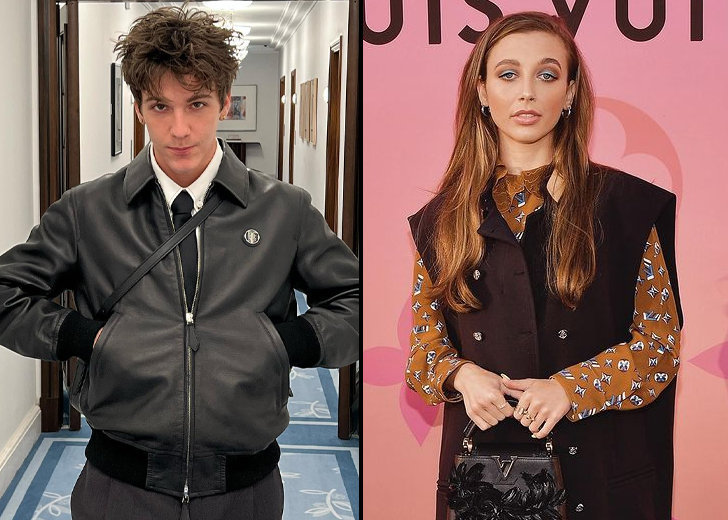 This is as official as it gets!
Emma Chamberlain walked the red carpet event, Vanity Fair Oscar Party, with her boyfriend, Tucker Pillsbury, known professionally as Role Model.
Evidently, things are getting serious for the couple, as Chamberlain had previously made it known that her relationship status would be off the public sphere unless she was absolutely settled into it. 
Needless to say, Will Smith and Chris Rock have taken center stage when it comes to the Oscar chatter on the internet. 
So, to say that Chamberlain and her boyfriend managed to make a splash with their first "official" public appearance is saying something. 
Emma Chamberlain's Oscars Red Carpet Look 
Chamberlain and her beau graced the red carpet event with matching black ensembles. 
The girlfriend went with a splendidly elegant yet versatile outfit put together by Louis Vuitton for the occasion. 
The "long, black high neck, no sleeve gown. Low back, silk, black dress," as she explained to Vanity Fair, described her gown perfectly. 
Chamberlain, who confessed that these parties could be unpredictable at times, was clad in a way that all her bases would be covered. 
Her Louis Vuitton gown would have worked for either an elegant, languid affair and, at the same time, a full dance floor.
A minimal choice for bling comprising several Cartier diamonds finished her look. 

Emma Chamberlain and Tucker Pillsbury at the 2022 Vanity Fair Oscars Party. (Source: Twitter)
The outlet also noted that the YouTuber's team changed the makeup midway to go for a more grungy look than originally planned.
However, with the number of pictures and videos storming the likes of Twitter, it appears as though the look was planned all along. 
Emma Chamberlain Was Accompanied by Boyfriend Tucker Pillsbury
Speaking of the pictures and videos circulating on the microblogging platform, most of them framed Chamberlain with her boyfriend, Pillsbury.
The boyfriend was also dressed in black — mostly. 
Pillsbury coordinated his white shirt with a pair of black trousers accented with white seams. A black tie, a black jacket, and a pair of black boots were involved — a classic, casual, gentlemanly look. 
The Breadcrumb Trail Ends
Chamberlain and her boyfriend had reignited relationship rumors when she appeared in his upcoming music video. 
Although the social media celebrity didn't even completely show herself back then, she was instantly spotted by eagle-eyed fans.
Still, Chamberlain's relationship status was not a secret. She had admitted to having a boyfriend on multiple counts. 
It was just that she was unwilling to make her relationship public until recently. 
Chamberlain stated she had the urge to announce her love for her special someone and flaunt cute pictures of the two of them on social media as soon as they were in a relationship. 
But she decided against her initial urges because she did not want to bring the public sphere into the fold and influence her relationship. 
"I don't even know what I'm doing. I'm just trying to make sure I'm doing the right thing here," she said of her relationship. 
With that, having a public relationship would make things outright overwhelming. 
Looks like Chamberlain has finally got a grip on things.