Eminem's Kid Marks Transition as Stevie Laine after Coming Out as Non Binary
Stevie Laine accepts any pronouns for themselves.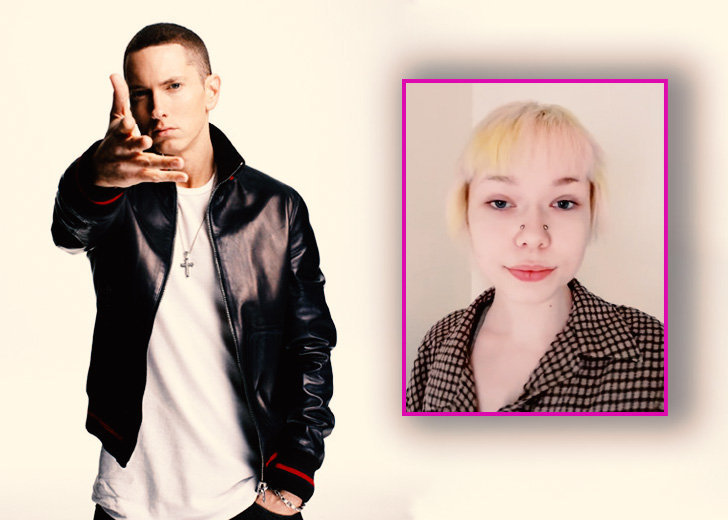 Renowned rapper Eminem's adopted child, Stevie Laine, has come out of the closet as non-binary.
On August 7, 2021, the 19-year-old took to TikTok to reveal their true identity, where they shared a series of pictures showing their transition from their early days to the present. The video showed that they formerly recognized themselves as Whitney Scott Mathers with she/her pronouns.
The clip then subsequently detailed that they later accepted themselves with they/she pronouns, followed by they/she/he pronouns at present. Finally, they added the hashtags "gender fluid" and "bi" in the caption while writing that they were forever growing and changing.
Over the last few months, Stevie has taken to their social media multiple times, including Instagram and TikTok, to open up about their orientation.
For instance, they shared a picture of themselves, wearing a full sleeve yellow and orange striped shirt with a short hair look, on Instagram on June 17, and shared their new identity in the caption.
The gender-fluid teenager also clarified they no longer go by their former name Whitney and would continue as Stevie when one of their followers on Instagram commented on their post to clarify.
"We love this for you!!!!! Stevie is such a lovely name too I love this," one commented, showing support for their decision.
Another chimed, "you look so swag- and Stevie is such a pretty name btw."
Family's Support and Tragedy
According to Daily Mail, Stevie's new name was mentioned in their grandmother Kathleen Sluck's obituary late last month. The obituary read,
Kathleen was a exceptional mom to her two daughters; Kim and Dawn; and was overjoyed to become a grandmother to her grandchildren; Alaina, Adam, Hailie, Stevie, P.J., and Parker.
Since the statement mentioned Eminem's adopted kid as Stevie, it is safe to say that their family has accepted Stevie's new name and identity.
In addition, Eminem's other daughter, Hailie, also liked Stevie's post, showing her support for her sibling's transition.
In between Stevie's granny's death and their non-binary announcement, their mother, Kim Scott, made a suicide attempt on July 30 this year, according to TMZ.
The report said that she was immediately hospitalized after she cut herself with several small lacerations on the back of her leg and a good amount of blood was on the floor.
She was reportedly combative when the officials arrived to rescue her, leading them to restrain her. After she got calm, following both medical and psychological evaluation, she was discharged to go home.
Stevie's Adoption
Stevie was born to Scott and her ex-boyfriend, Eric Hartter, when Scott had split from Eminem. But after she rekindled her relationship with the famed rapper, he legally adopted her child in 2005.
"You can never let a child feel like it's her fault for what's goin' on," he said publicly back then.
As for the teenager's biological dad, he was a professional tattoo artist who had various run-ins with the law. Due to that, he was in and out of prison, while he also reportedly battled drug addiction. He eventually died at 40 in 2019.
On the other hand, Stevie was raised by Eminem, who has had a turbulent relationship with the LGBTQ community, along with his biological daughter Hailie, 25, and adopted daughter Alaina, 28.