You Can Now Buy Eminem's NFT at Nifty Gateway 'Shady Con'
Eminem will be releasing his first NFTs on April 25, 2021, at 6:30 pm Eastern Time via the NFT marketplace Nifty Gateway.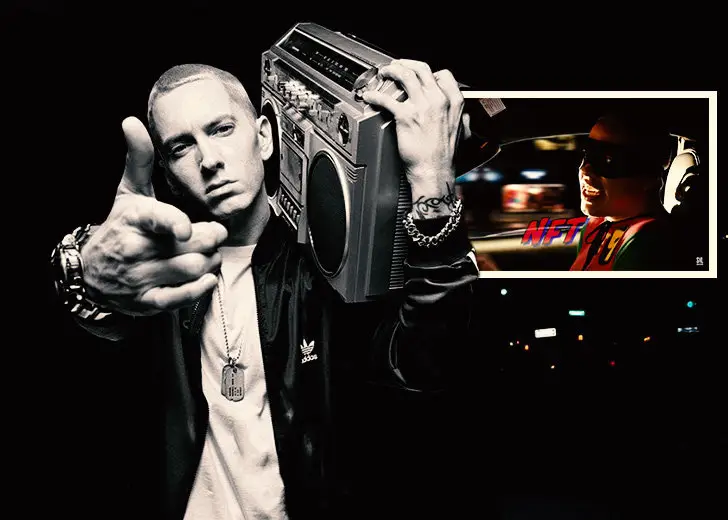 Eminem is releasing his first NFTs on April 25, 2021, at 6:30 pm Eastern Time via the NFT marketplace Nifty Gateway. Dubbed 'Shady Con,' the drop will have a slew of Eminem-approved collectible tokens. 
The drop event will feature four major categories: Open Editions, Trading Cards, Limited Editions, and Auction. 
Open Edition
The Open Edition purchase will be up for fifteen minutes as of 7 pm ET and will have unlimited tokens available for purchase. However, if you fail to purchase within the allotted timeframe, they will be gone forever. 
Also, you can only purchase one Open Edition piece per transaction. 
Trading Cards
Trading Cards will be open to purchase via "pack." Each pack is said to contain one random card out of six designs that exist. There are only 888 packs in existence. 
These packs can be purchased within a half an hour window starting from 6:30 pm ET, and one user can only buy one pack. This purchase also entails Nifty's Prerequisite clause. Meaning, the user must have at least one previously purchased NFT on their platform. 
Limited Editions
The Shady Con event offers only two Limited Edition NFTs, each limited to fifty units available. The NFTs purchased under Limited Edition will have a print autographed and numbered by the Rap God himself. Prints will be shipped three months after the drop event. 
Much like the Trading Cards, Limited editions will be available for purchase from 6:30 pm ET and is entitled to the Prerequisite clause. Users will only be allowed to enter the drawing once. 
Auction
This is the big finale. The Auction segment features a very exclusive one-of-one collectible NFT. So if you do purchase this token, you will be the only person who can ever own it. 
To purchase this token, you will have to enter an auction that will run for 24 hours. Although any bids placed in the last five minutes of the event will extend the window by another five minutes. 
Naturally, the highest bidder wins. This digital art piece is bundled with a few physical collectibles as well. The winner of the said auction will be awarded EMINEM X CARHARTT JORDAN 4's, SSLP20 Film Strip Shadow Box signed by Eminem, and a very RARE vinyl print of Eminem's Infinite album signed by Eminem. These items will be delivered three months post-drop to the then-owner of the NFT.
What Are NFTs?
In its essence, NFTs are much like cryptocurrencies like Bitcoin or Dogecoin. However, there are two significant differences. Firstly, instead of holding money, they hold assets like art, music, or even a tweet.
Fun fact: The founder of Twitter sold his first tweet for just under three million US dollars. 
Secondly, these token are non-fungible, or in other words, one of a kind. Think of it this way, bitcoins and dogecoins are like your everyday dollar bills. Each dollar bill is equivalent to another dollar bill. However, NFTs are more akin to art pieces like the Monalisa. No other painting in the world is equal to Monalisa or a random scribble you drew on MS paint. 
Now here is the tricky part. Fans can copy the digital art that comes with the NFT purchase as many times as you want, much like how a copy of the Monalisa can be drawn. What they will get exclusively is the ownership of the original work, which can then be sold like real art pieces.