Meet Dylan Meyer, Kristen Stewart's Girlfriend Turned Fiancée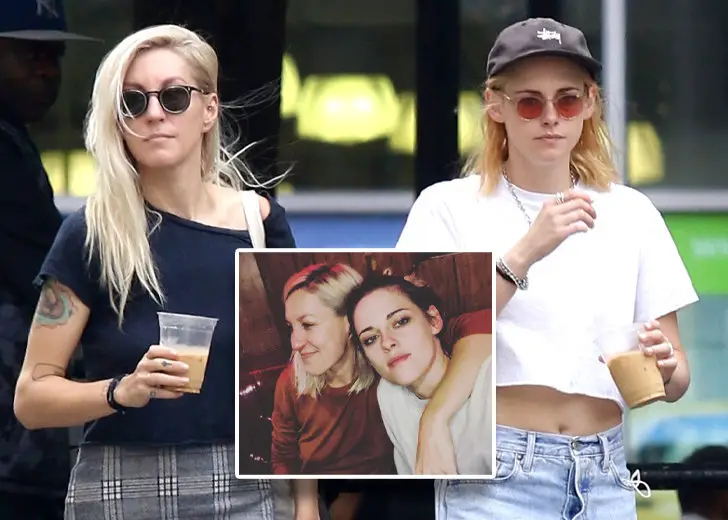 Kristen Stewart is one of the most sought-after actresses, especially now with her portrayal of Princess Diana in the biographical drama Spencer.
However, Spencer is not the only monumental thing for Stewart this year. In November 2021, the actress revealed she was engaged to her girlfriend of two years, Dylan Meyer.
Here is everything you need to know about Stewart and Meyer's relationship. 
Who Is Dylan Meyer?
There is not much information about Meyer except for her relationship with Stewart and her love for animals and nature.
Meyer is a screenwriter by profession and has acted on several projects. 
She started her journey in the entertainment industry in 2011, where she played the role of Frat Partier for a short movie named The Death and Return of Superman.
Her career gained traction after 2015 when she started producing and screenwriting. 
In 2015, she acted in two short movies — Jem Reacts to the New Jem and the Holograms Trailer as Roxy and Wrestling Isn't Wrestling as Daniel Bryan's friend.
The same year, she wrote a short movie named Loose Ends. In 2016, Meyer served as the writer and executive producer for XOXO.
The Netflix movie follows the lives of six strangers who are forced together into a night of frantic and romantic chase of a dream.
From 2017 to 2018, the screenwriter wrote eight episodes for Miss 2059, a sci-fi T.V. show.
Miss 2059 revolves around Victoria, a beauty queen who finds herself in a dangerous galactic game. 
She also starred in an uncredited role as a support group attendee in Beyond the Sky and received special thanks for Truly Outrageous, a short movie.
In 2019, Meyer served as the writer, producer, and director for another short film named Rock Bottom. 
In 2020, the screenwriter worked as a consultant for An American Pickle. She also acted alongside her girlfriend-turned-fiancée in a T.V. series named Homemade. 
Recently, in 2021, Meyer served as the writer alongside Tamara Chestna for the Netflix movie, Moxie.
The film was based on Jennifer Mathieu's novel of the same name and directed by Amy Poehler. 
One glance at Meyer's Instagram proves she is a huge cat and nature lover.
She has uploaded a couple of pictures of her cats, Zsa Zsa and Snack, looking adorable and cozy. 
She has also posted multiple snippets of nature, including trees, flowers, sky, rocks, and the ocean.
Apart from cats and nature, Meyer posts pictures with Stewart, her friends, and images related to her career. 
Kristen Stewart and Dylan Meyer
The Twilight star spilled the beans about her relationship in an interview on The Howard Stern Show in November 2019.
Since both Stewart and Meyer work in the entertainment industry, it is no surprise that the first time they met was in a movie. 
The pair met six years before the interview (approximately 2012-2013) but, unfortunately, lost touch.
However, they reconciled at a friend's birthday party, where it was love at first sight for Stewart.
Moreover, the pair have similar interests, making Stewart fall for her girlfriend even harder. The actress started dating Meyer right after breaking up with Stella Maxwell. 
We're both from L.A. and we really love L.A. We're both kind of, like, scumbags. We both felt like trolls as kids. We're so similar but different.
It is reported that Stewart and Meyer started dating in August 2021 after they were photographed kissing.
A source told E! that the Café Society actress was moving from Maxwell and dating Meyer. 
Two weeks into the relationship, the Spencer actress was head over heels for Meyer and deeply in love with her. She dropped the L-bomb soon after at a dingy bar late at night. 
They met with Meyer's friend, and after they left, Stewart confessed she was in love with her.
While there were many speculations about Stewart and Meyer's relationship, the two confirmed it via Instagram in October 2021. 
The screenwriter posted a black and white polaroid photo of her and Stewart kissing each other.
Since then, Meyer has uploaded many pictures with her girlfriend, gushing about how much she loves her. 
While Stewart and Meyer got engaged in 2021, the Twilight actress was ready to get hitched two years ago.
Just a few months into their relationship in 2019, Stewart was prepared to propose to her partner. 
In the same 2019 interview with Stern, the actress said she could not wait to propose to Meyer and confessed she would get married.
Steward did not reveal when she would do so but confirmed that it would be soon. 
The couple spent the COVID-19 pandemic's quarantine together with their pets. They also attended the Black Lives Matter protest in Lost Angeles together during that time. 
They protested against police brutality, which had cost the lives of many innocent people like Breonna Taylor, George Floyd, and Ahmaud Arbery.
Similarly, they also advocated and encouraged people to vote during the 2020 presidential election in the USA. 
While Stewart was ready to get engaged to her partner in 2019, it happened in 2021.
A blog named Lainey Gossip assumed that the duo was married after they were photographed in July 2021 at LAX. 
This was because both of them were wearing wedding rings on the ring fingers of their left hand. However, the couple did not confirm it till November 2021. 
Stewart told Stern on The Howard Stern Show that she was engaged to Meyer. She revealed that she "wanted to be proposed to" had hinted what she wanted to her partner. 
Fortunately, Meyer understood her girlfriend's wants and wishes and popped the question exactly how Stewart wanted. Of course, Stewart said "yes," and the rest is history. 
The pair are certain about getting married, but they have not revealed the date yet.
However, the Charlie's Angel star said she does not want a traditional wedding with people walking down the aisle. 
Instead, the couple would stand at the altar and exchange the vows in front of their friends and family.
Moreover, the actress confessed she wants to wear Levi's jeans and a t-shirt with a tuxedo printed on it instead of a wedding dress. 
Similarly, the couple is unsure who will officiate their wedding. Stewart mentioned they would most probably do it themselves since they do not want anyone else in their special moment. 
That being said, they are toying with the idea of inviting Guy Fieri to officiate it for them. And regardless of what they will end up doing, their marriage will be hard to forget.