'Deadpan Love' — Cautious Clay Finds it Easier to Be Vulnerable in His Art
Cautious Clay says the separation between real life and art allows him to be more vulnerable in music.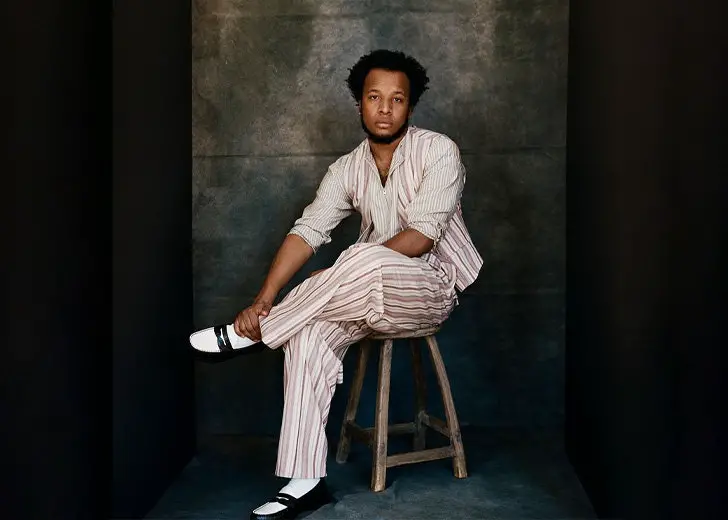 Joshua Karpeh, known professionally as Cautious Clay, entered the mainstream music scene through his debut single 'Cold War' in 2017. Within a month of its release, the song gathered huge acclamation and millions of streams.
But that wasn't all. Taylor Swift also sampled the song for her single 'London Boy.' Later, it was also featured in multiple TV shows and movies, including Issa Rae's Insecure. 
The hit debut kicked off a successful musical journey for Clay. He collaborated with John Legend and John Mayer and released three sensational EPs — Blood Type, Table of Context, and Resonance.
On June 25, 2021, the recording artist released his first studio album, Deadpan Love, with 14 catchy songs. Emblematic of Clay's sophisticated take on music, the album resonated a feeling of hiding vulnerability beneath a tough exterior.
Cautious Clay on Being Vulnerable in 'Deadpan Love'
Clay dished on the theme of Deadpan Love in an interview with DJ Booth on July 2, 2021. The musical artist elaborated on why it was easier to be vulnerable in arts than in interpersonal relationships. 
As per his accounts, Clay could always separate himself from his work, stating that a project would exist outside of him once it was completed.
The 28-year-old then shared that he was just Karpeh beyond his fame as Clay. In his own words, if he stopped making art and ended his career as Clay, he would still have himself as Karpeh.
That being said, Clay stated it wasn't easy to be vulnerable in interpersonal relationships, implying one can't always separate themselves from relationships because it is real life. 
Why Are Cautious Clay's Songs Famous?
In the aforementioned interview, the interviewer asked Clay about the secret behind his successful songs. Providing a brief answer, the songwriter said, "I think it's polished."
Clay added that writing music for specific buckets also helped a lot in resonating with the audience, and perhaps that's his ultimate weapon. 
A classically trained flutist and saxophonist, the Ohio native is a master at blending sounds from R&B, hip-hop, and indie pop and producing stream-of-conscious lyrics infused with wordplay.
Clay believes that the secret to making pleasant songs is merging conflicting genres and embracing a sea of possibilities.
"It boils down to understanding what the song needs," he added before saying one has to know both tasteful and untasteful music. 
Courtesy of his unique take on making music through a refined R&B vocal style and jazz-inflected instrumentals, Clay has amassed massive recognition within a short period.
The singer boasts over 28K subscribers on his eponymous YouTube channel with over 9 million views. Besides YouTube, his burgeoning fame is evident in the number of listens on Spotify. 
Clay's debut 'Cold War' has been played over 88 million times, while his other song 'Cheesin'' has been listened to over 27 million times on the platform.