Courteney Cox and Matthew Perry Are Not Just Friends — They Are Cousins!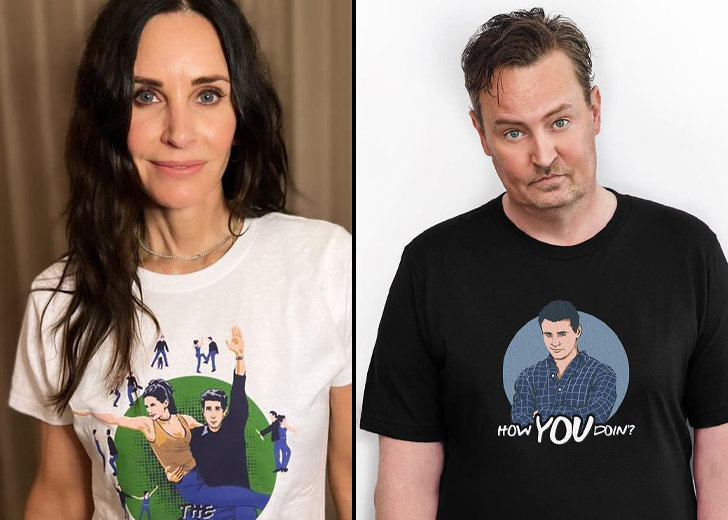 Courteney Cox and Matthew Perry have one of a kind of friendship. But could we be any more surprised?
The two met on the set of Friends almost three decades ago, and to date, they are close with each other. Friends is arguably one of the best sitcoms ever made. 
It revolutionized the TV industry, and even though the show was made over three decades ago, it is still watched to date.
Cox's character, Monica Geller, and Perry's character, Chandler Bing, were the two characters that were adored the most. Many fans believe that the character's romance was channeled into real life.
While, up to some extent, it is true, what most people don't know is Perry and Cox are distantly related. 

Courteney Cox and Matthew Perry posing with their Friends' co-stars. (Source: Instagram)
Courteney Cox and Matthew Perry Are Distant Cousins 
MyHeritage, an online genealogy website, researched the iconic duo and their relations and found that the two are distantly related. According to the reports and experts, they are 11th cousins.
The two share the same ancestors named William Osbern Haskell III and Ellen Haskell. The Haskells lived in England approximately 500 years ago and were married.
It is reported that Ellen moved to America with her two sons, Roger and William, in 1635. William is the direct ancestor of Perry, whereas Roger is of Cox.
MyHeritage proved the lineage through Perry's father, John Bennett, and Cox's mother, Courteney Copeland. The head of research at MyHeritage, Roi Mandel, told CNN that they "went into this line very deeply."
Mandel was confident that their research was correct since they checked every name and record present. Therefore, it is likely that Perry and Cox are distantly related and are 11th cousins.

Courteney Cox and Matthew Perry taking a selfie together. (Source: Instagram)
The reports also showed that Perry and Cox were related to Lady Gaga. Mandel noted that being related as such is not a surprise.
He said, "it makes sense that when you go so many generations back, the chances of people being connected are higher." However, it is unknown if Perry and Cox know they are distantly related. 
Matthew Perry Had Feelings For Courteney Cox
It is not a surprise that Perry had feelings for Cox. Playing a couple on screen for almost a decade is bound to raise feelings towards each other.
While Perry has not addressed it publicly himself, a source exclusively told Us Weekly in November 2019 about it. According to them, the actor has "always been in love with her."
Moreover, the sources confirmed Perry has "never fully been able to get over" Cox. But there have been no reports of the two of them ever dating or in a relationship.

Matthew Perry posing for a photo wearing Friends' merch. (Source: Instagram)
Like Perry, Cox has not addressed it as well. Similarly, according to her Instagram, she refers to the duo as "real friends." On the other hand, both have been in relationships with other people.
Perry has been linked with Yasmine Bleeth and Julia Roberts in the past. He also dated Lizzy Caplan for almost six years, from 2006 to 2012.
He was also engaged to Molly Hurwitz, a talent manager, but the pair parted ways in June 2021. Likewise, Cox was married to her Scream co-star, David Arquette, from 1999 to 2013.
The two even have a daughter named Coco. Since 2013, Cox has been in a relationship with Johnny McDaid.