Who Are Clermont Twins? A Look at Their Lives Before and After Fame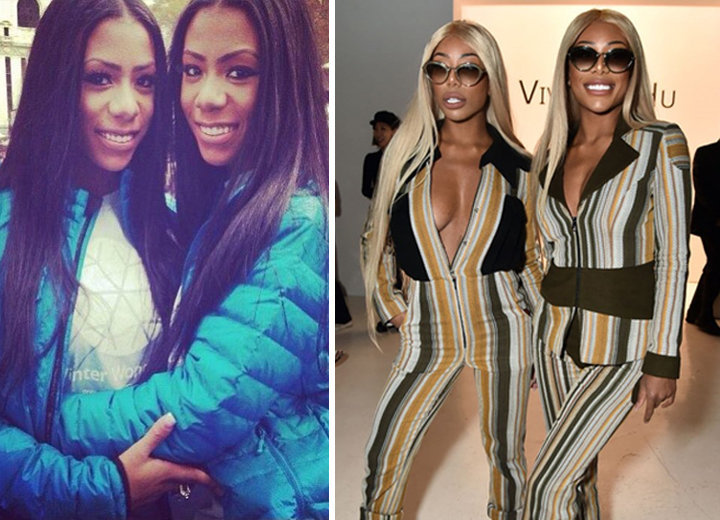 The identical twins Shannade Clermont and Shannon Clermont, known jointly as Clermont Twins, turned big after their 2015 stint on Oxygen Network's Bad Girls Club.
They capitalized on their reality TV appearance and are now big on social media and fashion, having worked with the big shots of the music and fashion industry.
However, they were not born into success. The youngest of a middle-class family, Shannade and Shannon carved their way to success themselves, and they have kept going despite a few lapses. 
Who Are Clermont Twins?
Shannade and Shannon were born on March 21, 1994, in Montclair, New Jersey. Their parents, both middle-class immigrants, raised them and their three older siblings (two brothers and one sister) in two places.
Their mother, a Jamaican, ran a daycare, and their father, a man from Haiti, owned and ran a moving company. Other than these, they have Indian and Chinese heritage as well.
After spending their first nine years in Montclair, the family moved to Dallas, Georgia.

The Clermont Twins with their family. (Photo: Instagram)
Their parents always wanted their children to understand the importance of hard work and good academic performance. There were no talks about fame and glamor in the household.
Shannade and Shannon, however, wanted to have a more glam-filled life. It was an interest they developed because of their aunt, who would take them to fashion shows in New York and make her own clothes.
With this influence running strong, they both attended fashion schools. Shannade attended Parsons School of Design in Lower Manhattan, New York City, while Shannon went to The Fashion Institute of Technology. They both graduated in 2016.
But their lives took a turn for the better in 2015. That year, they appeared in Bad Girls Club as "bad girls." They were kicked off the show halfway through, but that only did wonders for their careers in the entertainment business.
Soon came a music video gig with rapper Future. And they got the Kanye approval, appearing on his Yeezy Season 6 campaign as doubles for Kim Kardashian.
2017 saw the twins combine their sense of fashion and business. They started Mont Boudoir, their clothing line, and later added eyewear to their collection in 2019. This came on the backs of their Saint Laurent and Sherri Hill internships.
The beginning of that same year, however, would start a nightmare Shannade came to terms with years later. A nightmare that left one dead and her in jail for a while.
Shannade Clermont's Jail Time and Lapses in Career
On January 31, 2017, Shannade went on a "prostitution date" with real estate broker James Alesi. That night, after Shannade left, he died of a drug overdose.
But, it would later come out that Shannade did not just leave him. She also took Alesi's, who she described as her "sugar daddy," card and the necessary information to use his money.
The fashion influencer then spent $20 thousand of his money over the next few months on fashion supplies for herself, all the while not knowing Alesi was dead. These would all come to bite her in the back in 2018.
In July 2018, she was arrested for one count of conspiracy to commit fraud and one count of access device fraud, and aggravated identity theft. 24 at the time of her arrest, Shannade potentially faced decades in prison if found guilty.
In November, she pleaded guilty and awaited sentencing in April 2019. The sentence she was given was less than initially expected but more than the sisters expected — a year in prison and over $5,000 in restitution.
Aside from the pain of having to go to jail, the case presented the twins with another difficulty. They had to reject a lot of modeling offers between November 2018 and April 2019, and their brand image stalled.
Shannade turned herself in on June 4, 2019, and was released from Federal Correctional Institution, Dublin (FCI Dublin), a low-security prison in Los Angeles, on March 9, 2020.
They relaunched their brand in June 2020, adding eyewear to their collection, and have since been going strong.
They have constantly evolved their sense of style and appearance, even undergoing plastic surgery on their lips, cheeks, chin, and buttocks — basically everywhere except their breasts.
Both of them were subjected to a lot of internet trolling and ridicule after Shannade's conviction. However, they kept their heads up and persevered.
Now, they have a fashion empire of their own. The social media influencers, who boast around 1.8 million Instagram followers, lead a fashion brand that caters to their niche audience.
Following Shannade's release from prison and the turmoil the family went through during and before her imprisonment, the twins also started The Clermont Foundation, a non-profit dedicated to mental health awareness.