'Selling Sunset' Star Christine Quinn Reportedly Appearing on 'Call Her Daddy' Podcast as New Guest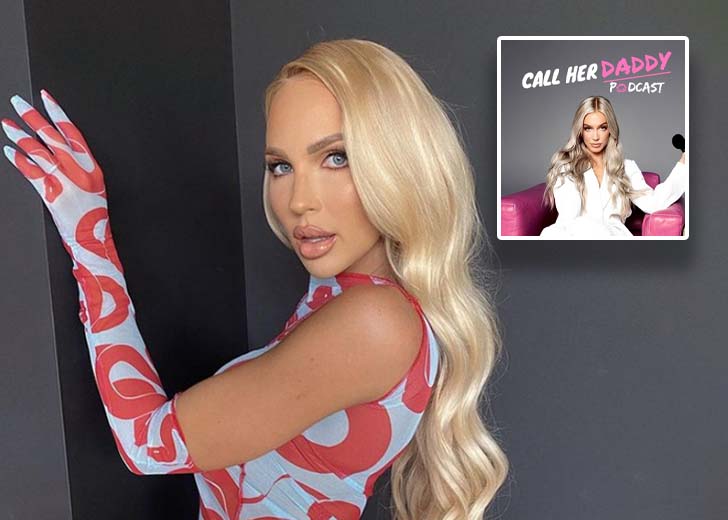 Selling Sunset star Christine Quinn will supposedly appear as a guest on the next episode of the Call Her Daddy Podcast.
While there has been no confirmation, fans of Quinn and the podcast seem convinced that is the case after the podcast's Instagram page teased the guest's identity with a picture of their outfit on Instagram Stories.
The words "GUESS WHO" could be seen in the stories, prompting people to identify the guest through their outfit.

'Call Her Daddy' podcast's Instagram page teased the next guest's identity. (Source: Instagram)
Given the guest's all-black outfit, it would normally have only been possible to narrow the guest's identity down to their gender. However, not long after the Stories went up, fans grew sure it was Quinn.
Many pointed out the resemblance in dressing style, as well as the black leather gloves, which had already made appearances on Quinn's several Instagram posts.
"Definitely [Christine Quinn]," one user wrote in the podcast's subreddit. "She has posted on her insta wearing the same leather gloves."
Aside from the glove and the dressing style, another thing that has prompted many to believe the guest is Quinn is the blonde bob-cut hair that can barely be made out in the Instagram Stories.
Christine Quinn Seemingly Confirms Her Guest Appearance
Amidst all the speculations and rumors about Quinn being the next guest, the realtor has seemingly confirmed her guest appearance.
She uploaded a picture of Gianna Fusco, the host of Wait What?! With GigiCutie podcast, asking Alexandra Cooper if she had gotten Quinn on Call Her Daddy.
Quinn also uploaded several clips of people talking about her new book, How To Be a Boss B*tch, as well as some clips from her book promotion events.
If she does indeed appear as a guest on the Call Her Daddy podcast, much of the conversation will likely revolve around the book and what inspired her to write it.
Christine Quinn Addresses Fake Pregnancy Allegations
Quinn became a well-known TV personality after the first season of Selling Sunset premiered in March 2019. Many of the show's viewers paid a lot of attention to her because of her candor, and she quickly grew to be one of the show's most important cast members.
However, while her character made her a favorite for many, it also brought a fair amount of negativity. Over the years, she has had to deal with plenty of criticisms and allegations.
Among them, one of the more recent ones was viewers of Selling Sunset accusing her of faking her pregnancy, which was a major storyline for the reality show's fourth season.
Quinn addressed the fake pregnancy allegations in her book.
"I've had low points more recently, too, like when I didn't have the fantasy pregnancy, birth and postpartum that I had been planning on," she wrote.
"I won't unpack this part of my life just yet, but basically I was completely blindsided by all the negativity people threw at me when my baby bump didn't look the way they thought it should."
Quinn and her husband Christian Richard welcomed their first child together, son Christian, in May 2021.