Is Chris Pine Dating Evan Rachel Wood after Split with Annabelle Wallis?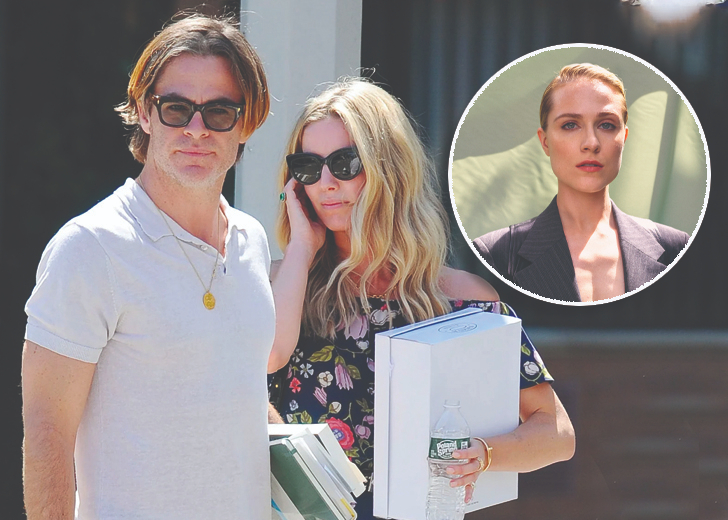 Chris Pine isn't staying off the dating game for too long, or so it seems.
The Wonder Woman actor was spotted out and about with a "strawberry blonde gal" in Hollywood in late April 2022. Sharp-eyed fans spotted the actor on an outing that seemed a lot like a date.
His female companion was also an actress, according to the people nearby.
Despite dating rumors already flying around, some speculate that it might have just been a casting meeting. They opine people are reading too much into what might just have been a casual work-related thing.
Chris Pine Seen Out on a Date with Evan Rachel Wood
The first place Pine's spotting with a then-mystery lady was discussed was on Deux Moi. On April 24, 2022, a story emerged there about the actor's outing.
"Chris pine at Blair's in silverlake on a date with a strawberry blonde gal!" the first anonymous tip read. "Date is also an actress but I can't place her."
Then, the tipper talked about what they overheard. His date apparently spoke about "being on movie sets for most of her life" and "knowing JJ Abrahams [sic] lol."
The most recent update about the date came on May 1, 2022, when another anonymous detective provided Deux Moi with what they knew about it.
"Hi- the Chris Pine date was Evan Rachel Wood," the person confirmed. "Last Sunday. I was there too."
Further, they speculated from her outfit for the occasion that they were there for a romantic evening. "She looked dressed for a date," they added. "(She was stunning)."

Screenshot from Deux Moi discussing Chris Pine and Evan Rachel Wood's outing that sparked dating rumors. (Photo: Deux Moi/Instagram)
They also left a comment on Pine's dress for the supposed date. Apparently, he wore "the highest waisted pants [they had] ever seen on a man."
Was Chris Pine's Date Only a Casting Meeting?
Pine broke up with his ex girlfriend, Annabelle Wallis, in March 2022, So, this date with Wood might seem "too soon" for many of their fans.
This has led a few of them to speculate this was nothing more than a casting meeting.
The Star Trek actor is getting ready for his directorial debut with Poolman, a mystery-comedy. His cast until now includes himself, Annette Bening, and Danny DeVito.
So him getting together with Wood might just be to woo her into taking the role. After all, going by the description of the character opposite Pine in the movie, fans speculate Wood will easily fulfill the role.
According to Deadline, Pine's character, Darren Barrenman, makes "uneasy alliances with a beautiful and connected femme fatale," a character yet unnamed.
Pine and his girlfriend of four years, Wallis, quietly split in March, news about which Us Weekly broke on March 2. 2022. According to their insider source, the couple had been leading separate lives for "a few months."
They first started dating in 2018. Theirs was a casual fling that turned into a long-term relationship.
As for Wood, she was in an abusive relationship with Marilyn Manson.
In February 2021, she accused him of grooming and abusing her throughout their time together. This led to four other women coming out with similar accusations against the singer.
Things had been silent regarding her dating life as of late before this story broke.