Chris Lane Admits Marriage and Family Wasn't in His Plans until He Met Wife Lauren Bushnell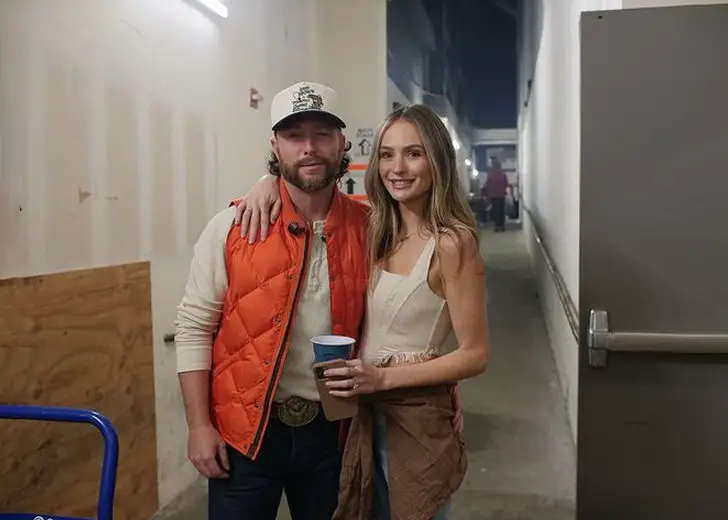 Chris Lane loves seeing his wife, Lauren Bushnell, be a mother to their kid, Dutton Walker. They were both nervous before he was born but adapted nicely to the recent addition.
However, Lane never had plans to have a family. He is now glad that his wife changed his perspective on that.
Chris Lane's Wife Changed His View on Marriage
Lane admitted that he never wanted to get married or have kids during an interview with Entertainment Tonight in February 2022. He credited his wife Bushnell for making him reconsider the prospect.
"I never wanted kids," Lane told the publication. He confessed he did not even want to get married before getting with Bushnell.

Chris Lane with wife Lauren Bushnell and son Dutton Walker. (Photo: Chris Lane/Instagram)
But his wife changed his mindset and made him want things he didn't know he needed.
He then described something he had kept to himself since Dutton was born.
Lane cried his eyes out the day his son was born, and he realized how much he wanted to have a family.
"I felt like I was praying, just, 'Lord, thank you so much for not listening to me for all those years that I said I never wanted that,'" the singer told ET.
He admitted that he would have never realized he would miss out on the "best thing in the world," referring to his son and fatherhood.
A son was what he prayed for when the realization hit him. However, he was now praying for his wife's wishes to come true.
"I know Lauren wants a little girl eventually," Lane said. "Now I want what she wants."
Dutton was named after John Dutton, a character on Yellowstone. When the interviewer suggested they call their future daughter Beth, after Beth Dutton from the same show, Lane joked he wasn't too into the idea.
Chris Lane and Lauren Bushnell's Parenthood Journey
Lane and Bushnell welcomed son Dutton on June 8, 2021. The first-time parents adjusted pretty quickly to life with a toddler.
Lane told Hollywood Life that month that one of his favorite parts of parenthood was watching Dutton change. "I feel like he changes every 10 minutes." he said at the time.
His other favorite thing was watching Bushnell be a pro at handling their kid.
"She's killing it," Lane gushed. "With barely any sleep, she's a superhero."
Watching his partner handle Dutton so well gave him a better understanding of why mothers are considered superheroes.
The couple went into parenthood with little preparation or expectation. They were nervous.
"It's been a little exhausting, but a major, major blessing to my life," Lane said about the extensive diaper duties at the time.
Things turned out to be fine, just like how it was at the start of their relationship.
Bushnell, who began her journey in the spotlight on The Bachelor, was involved with Ben Higgins in the show. They got engaged in March 2016.
However, they ended their engagement in May 2017. After this, she dated Devin Antin and then met Lane.
In November 2018, Lane and Bushnell made their relationship official. Then came their engagement on June 16, 2019, and wedding in October 2019.