Chloe Veitch of 'Too Hot to Handle' Once Revealed She Kissed Her 'The Circle' Co-star Mitchell Eason — Did They Ever Date?
Know everything about Chloe Veitch and Mitchell Eason, including their relationship with each other.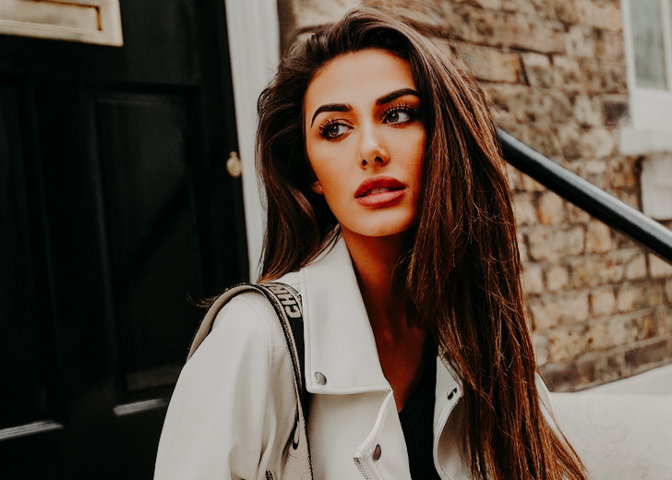 Chloe Veitch is a British model and TV personality. She is best known for participating in shows like Too Hot to Handle and The Circle. 
With her quirky personality and magnetic energy, Veitch quickly became a fan favorite. However, the model always doubted her luck when it came to love and relationships.
Veitch walked away alone despite being in two dating shows on camera. Regardless, things were different behind the scenes. 
The model confessed she shared a passionate kiss with The Circle co-star Mitchell Eason. The revelation of their involvement brought up many questions — Is Eason Veitch's boyfriend? Are they dating? Are they still together?
Here is everything you need to know about Veitch and Eason. 
Who Is Chloe Veitch?
Veitch was born on March 6, 1999, in Clacton, Essex. Not much is known about the model's childhood except that she faced many hardships growing up. 
She used to get bullied at school and had to deal with her drug addict father at home. She worked in a chip shop and helped her father battle substance abuse. 
Veitch's stepbrother was also an addict. He died when she was just 15 because of alcohol abuse. The same year she lost her aunt to cancer, which affected her badly.
However, it didn't stop Veitch from moving forward. She has been an unstoppable force in the entertainment industry. 
Veitch started her professional model career in 2018. She appeared in Extreme Hair Wars, where aspiring hairstylists styled different model's hair to win Britain's best hairstylist title. 
The same year, she won the Top Model UK beauty pageant. She also represented the United Kingdom in the 2018 Miss Supranational held in South Korea.
She secured fourth place and was chosen as the brand ambassador of beauty brand Guerison Green Global.
Since then, she has modeled for various brands like Calvin Klein and Bait Hanayen. She is represented by two agencies — Money Management UK and Milk Model Management.
Veitch joined the TV scene in 2020 as a contestant on the Netflix dating series Too Hot to Handle. Even though she couldn't find love on the show, she still managed to steal the hearts of many.
She quickly climbed the social ladder from 6,000 Instagram followers to over a million.
Because of her popularity, she was again approached by Netflix for season 2 of The Circle. Furthermore, the viewers loved her unapologetic nature, and Veitch gained even more exposure cause of it. 
She expanded her online reach and launched her own YouTube channel in 2020. There she posts beauty videos and travel vlogs as well behind the scenes from her shows.
Who Is Mitchell Eason?
Mitchell was born on September 16, 1998, to an athlete father and realtor mother. Ed Eason used to play football in high school, and Tammy Eason is a real estate agent with over 20 years of experience. 
Mitchell has one brother, Ed Eason Jr. Mitchell shares a close bond with his family and appreciates them. He constantly posts pictures of them on his Instagram and doesn't fail to mention how much he loves them via the captions. 
Mitchell is a hard-working person. He has had a mind of an entrepreneur from a young age. According to his LinkedIn, he has worked in an array of professions. 
He opened his own landscaping company, Eason's Scapes and Services, when he was just 16 years old. He founded the company in January 2007 and worked on it for ten years. 
After he left Eason's Scapes and Services, Mitchell joined Credit Blueprints as their Vice President from August 2017 to April 2020. Then, from January 2018 to December 2020, he worked as the CEO of 360 Media Marketing. 
While working at Credits Blueprints and 360 Media Marketing in 2019, Mitchell was involved in two more projects. 
He worked at Mitchell Eason LLC Full-time as a salesperson for a month in December 2019. The same month he started landed a job at Prudential Insurance as a salesperson. He is still working for the insurance company. 
Currently, Mitchell is following his mother's footsteps and true passion by becoming a licensed realtor. He is also a health insurance agent and a model. 
He has been making YouTube and TikTok content as well. Mitchell has his merch called Ferk It, which is available on his website. 
On 2021, Mitchell dipped his toes in the world of reality TV. He starred in season two of The Circle. However, he is not the first contestant from his family.
Tammy and Ed Jr. had taken part in the show's first season, but neither of them won. 
Mitchell also has a fair share of controversy under his belt. On April 2021, an old picture of him surfaced on Twitter where he had a confederate flag hanging on a wall in the background.
Another user who claimed to go high school with Mitchell said that he was homophobic and racist. As a result, many Twitter users tagged Netflix and The Circle to remove Mitchell from the show. 
Regardless, neither the production nor the show responded to the accusations. Mitchell has also not addressed the scandal to date. 
Is Chloe Veitch Dating Mitchell Eason?
Veitch and Eason were both contestants in the Netflix series The Circle. The show revolved around the participants anonymously making connections with each other as themselves or with a fake persona. 
Veitch had her eyes on two people during the show — Trevor and Eason. She chose Trevor only to find out later that Trevor was a catfish and the person behind the name was DeLessa St. Agathe. 
The model was unlucky with love on The Circle, but things were spicing up behind the camera. After the season finale, Eason asked Veitch if he could kiss her, to which Veitch said yes. 
Since then, the two parted ways. Eason is currently in Miami, whereas Veitch is in the UK. Nonetheless, the two are constantly FaceTiming and have been an integral part of each other's life. 
However, it is not clear if the two are dating or not. Veitch has clarified that they are more than friends, but they don't have a label yet. 
Similarly, even though their relationship is long-distance, they have conversations about meeting each other and their future. The way Veitch talks about her co-star, it seems like she is smitten by him. 
The model said that she loves talking to Eason and revealed that he lifts her spirits. In addition to that, she even got Tammy's approval to date her son. 
Eason also addressed his relationship with Veitch on his YouTube channel. In the video titled 'CIRCLE Q&A "ARE ME AND CHLOE DATING"????' he said that they are friends at the moment, but anything could happen in the future. 
The two don't know where they stand at the moment and are taking it slow. Therefore, only the future will reveal if Veitch and Eason decide to move things forward or remain friends forever.