A Detailed Look At Ferne McCann's Dating History And Personal Life
Know all the men Ferne McCann has dated in recent years.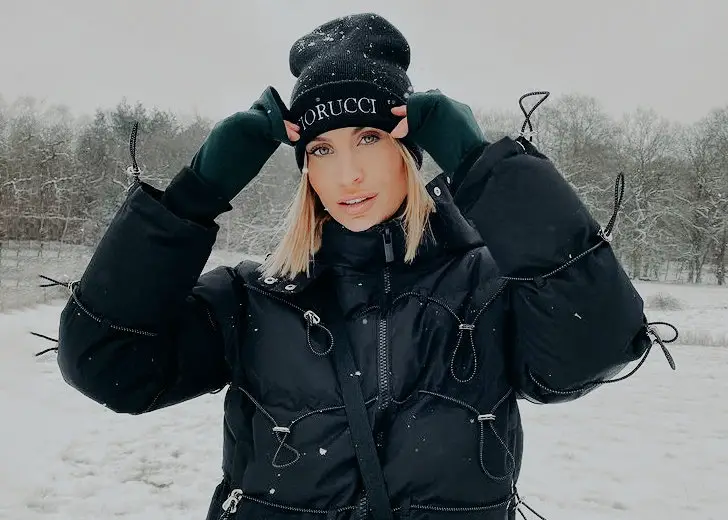 Ferne McCann is an English model and TV personality. She is best known for her work on reality shows like Celebrity Best Home Cook and The Only Way Is Essex (TOWIE). 
In 2017, McCann got her own ITVBe documentary series, Ferne McCann: First Time Mum, which revolves around her journey as a single mother. 
McCann has found a lot of success in her professional career, however, the reality star has not been so lucky when it comes to her personal life. Here's all you need to know about McCann's dating history.
Ferne McCann and Charlie Sims
McCann dated her TOWIE co-star Sims for five years. The duo had their on and off again romance featured through the series and went their separate ways in 2015. 
Sims had given McCann an ultimatum to choose between him and the series. The TV star chose the latter, and shortly after, Sims walked away from the show and the relationship.
However, McCann seems to have no resentment towards her ex-boyfriend. In her 2016 autobiography, Cross My Heart, the reality star wrote she would always love and adore Sims. 
Currently, Sims is happily engaged to make-up artist Georgia Shults. The pair constantly share pictures of each other on their Instagram.
Ferne McCann and George Shelley
In 2016, McCann was linked to a fellow cast member of I'm A Celebrity Get Me Out Of Here, George Shelley. The pair had developed a great bond on the show.
McCann took to her Instagram to support Shelley when he came out as bi in 2016. 
Ferne McCann and Arthur Collins
McCann started her relationship with Collins in June 2016. However, the pair briefly split after they went on a trip to Ibiza.
The duo rekindled their romance and had even been preparing to move in together. However, things didn't go as planned for the TV star. 
Collins was found guilty of carrying out an acid attack in a London nightclub in November 2017. The devastating event that had taken place in April 2017 and left 14 people injured. 
The TV star had just found out she was pregnant when her former lover was taken in by the police for questioning. McCann broke up with her baby's father right after the traumatizing event. 
McCann revealed it had been hard to go through it, but she did it nonetheless for her child. She decided to end the relationship and go through parenthood alone. 
She gave birth to a baby girl named Sunday in November 2017. Since then, McCann has tried her best to raise her daughter as a single mother.
She constantly shares adorable pictures of her daughter to her followers on Instagram. 
Despite Collins being in prison, McCann had been taking her daughter to visit her father at HMP Full Sutton in York after he claimed his parental rights.
There had also been speculations of the pair getting back together in 2018. However, McCann denied those rumors, saying he was just her daughter's father and nothing more.
The TV star also shared that there had been an older man in her life who had been there for her, but it didn't work out.
Ferne McCann and Jordan Hames
After McCann's disastrous relationship with Collins, the news about her dating Love Island's star Jordan Hames broke in September 2019.
There has been no official information about how long the pair dated. 
Ferne McCann and Albie Gibbs
McCann met Gibbs in December 2018 during the holidays and started dating him in 2019. She met Gibbs in Dubai on vacation after the fiasco with her baby daddy's arrest. 
McCann was in love with Gibbs and even revealed that she wanted to settle down with him. She also opened up about how Gibbs was interested in marrying her and having children with her.   
She wanted to introduce him to the world via First Time Mum. However, Gibbs was not interested in living the celebrity life. 
Sadly, their relationship came to an end because of the COVID-19 pandemic. McCann announced the news on First Time Mum.
She claimed she could not cope with a long-distance relationship, hence the couple parted ways on May 2020. 
Ferne McCann and Jack Padgett
McCann made her relationship with Padgett Instagram official when she shared the duo's picture for the first time in February 2021. 
A few days before the announcement, the TV star had opened up about her new relationship with the model on an episode of Loose Women. She revealed their relationship was going strong as the pair had also been living together at the moment.
The duo was first spotted kissing in South Africa back in December 2020. McCann had even declared Padgett as "the one." However, the former lovebirds broke up a couple of months later. 
McCann confirmed the breakup in June 2021 because the duo wanted different things in life. 
With all these unfortunate relationships, McCann has revealed that she is done with younger men. She no longer wants to be in a relationship for the sake of fun, instead, she wants a partner to share a future.
Soon after her breakup with Padgett, McCann has already accepted to date another mystery man. 
However, the TOWIE star's main priority is to give her daughter a sibling. Thus, McCann might settle down with a man ready to give her what she wants in the upcoming future.