How Chad Johnson's Brief Marriage with Ex Wife Evelyn Lozada Ended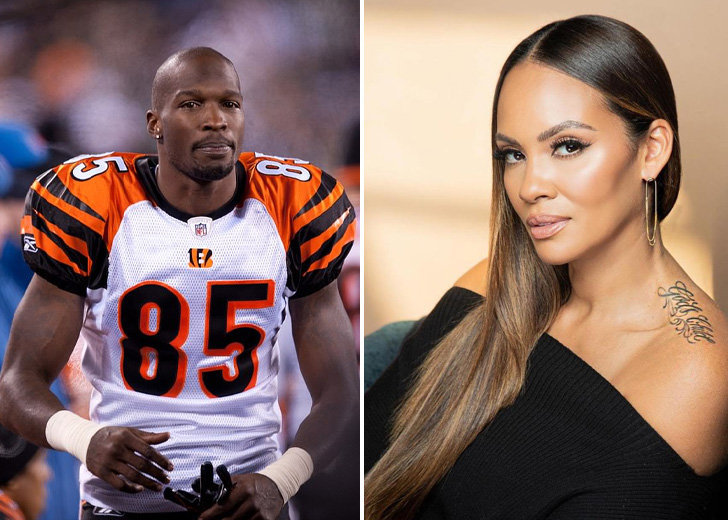 Chad Johnson and his ex wife, Evelyn Lozada, got married in 2012. But their marriage could only last a month.
Lozada discovered what she thought was proof of infidelity on his part just a few weeks into their marriage, which escalated to divorce just a month later.
Johnson also caused her physical harm on the night she decided to end their marriage, something which haunted him for a long time.
Chad Johnson and Ex Wife Evelyn Lozada's Social Media Wedding
Johnson and Lozada got engaged in November 2010. Their engagement came after a lot of rumors after he gifted her with a 10-carat ring on Basketball Wives just 15 days prior.
Then came their wedding, which could have been one of the most well-documented weddings at the time. Besides the cameras documenting the external affairs at the ceremony, Johnson was detailing his thoughts and feelings throughout the day on Twitter.
The filming was happening for their then-upcoming VH1 reality show, Ev and Ocho, and the tweets were for himself.
He was live-tweeting before, during, and after his wedding on July 4, 2012.
In his tweets, he described his anxiety, confidence, and slight annoyance at how many times his ex wife was changing dresses. In one of his ramblings, he even thought about what would happen if Lozada was a runaway bride and he would be left alone at the altar, "looking good."
In his wedding vow, he included Proverbs 18:22 and said, "I love you guys… If I do it right the 1st time I won't have to do it again," in one of his tweets. But for the only sober person on the day, he did not do it right this time.
Chad Johnson and Ex Wife's Marriage Ended Bloody
During her sit-down with Iyanla: Fix My Life in September 2012, Lozada explained how her wedding went from being a social media frenzy to a divorce in just about a month.
"[by] not paying attention," she replied to Iyanla when asked about it. "Just living life mile-a-minute."
She talked about how she tried to make sure everyone was happy except her, and she ignored the "million" signs that Johnson gave her.
Talking about the night their marriage ended, she revealed how she discovered what she thought were hints of Johnson cheating on her in the back of his car.

Chad Johnson with his ex wife, Evelyn Lozada, at Cosmopolitan Awards. (Photo: Twitter)
Earlier that day, which was just three weeks after their wedding, she was out grocery shopping with his daughter. Getting back home, she went to the back of the car to take out the goods. There, she found a few bags Johnson had left.
She opened one of Walgreens' bags and found a receipt where he had bought a box of condoms, among other things. Suspecting something foul, she went inside and called him to see if he was almost home.
Right as he pulled up to the house, she got in the car, enraged and shaking, and confronted him about the purchase.
According to her, she was mad because he bought the condoms. But Iyanla pressed her on the matter, reminding everyone that Lozada once told him to use protection if he was ever tempted when on the road.
Lozada responded, saying she wanted to know if he was in such a place, mentally, while away from home. But she also clarified that she let him know it was unacceptable to do anything like cheat on her.
She was also disappointed because she saw Johnson was "not even trying" to make the marriage work.
After confronting him, she claimed she told her ex husband that she would not stick by him for what he had done. Johnson was allegedly trying to convince her that the purchase wasn't for himself.
Then, he reached his breaking point, grabbed her ears, and head-butted her. The impact caused a wound on her forehead and caused bleeding and a few stitches afterward.
The incident was the last straw for Lozada, who filed for divorce soon after, and it was finalized a month later, in September 2012.
Chad Johnson Worked through Issues and Got a Second Chance
When the divorce was completed, Johnson was taking anger management classes and had been dropped by his NFL team. Johnson said he took full responsibility for the incident.
"I lost two of the things that really meant the most to me. That someone completed my world, completed me, period," he told ESPN at the time, adding later he had to work on himself and figure out where things went wrong.
But he found redemption in his current fiancee, Sharelle Rosado. In December 2021, she told Page Six she did not mind that he had a history of domestic violence.
They started dating in early 2020, made the relationship official in November that year, and got engaged in January 2021. In August, they announced they were expecting their first kid together, and in January 2022, they welcomed their first kid together, daughter Serenity Hurricane Paula Johnson.