Fans Suspect There Is More to Carrie Underwood's Accident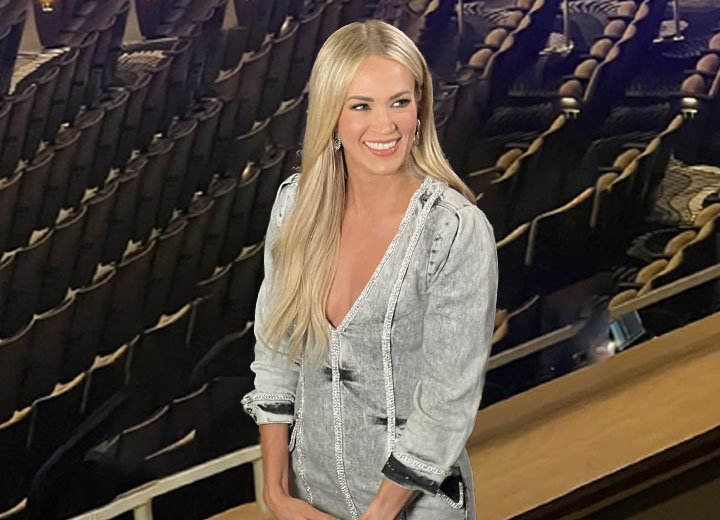 Carrie Underwood had a "freak accident" while walking her dogs in November 2017.
She admittedly missed a step, and while trying to catch herself, she broke her wrist and injured her face, which needed 40 to 50 stitches. 
"There was one step, and I didn't let go of the leashes! Priorities! So that's why my left hand's fine. But I went to catch myself and I just missed a step. If I had fallen anywhere else, I would have been perfectly fine. But it was one step that messed everything up," Underwood said on The Bobby Bones Show (via People).
During her recovery, the songstress went dark on social media and stayed away from the public eyes, occasionally uploading selfies that concealed the bottom half of her face. 
She did not post any injury photos and told fans she would get in front of the camera when she was ready and warned fans she might look a little different. 
Carrie Underwood's Accident Spurs Multiple Fan Theories
People questioned the validity of her accident story, and she became a victim of plastic surgery rumors. But that was not the only theory fans had come up with regarding the cause of her accident.
Another one of the theories claimed Underwood was a victim of domestic abuse. They explained that forty stitches from a simple fall down the stairs seemed far-fetched. 
"How do we know Carrie Underwood 'fell' and this wasn't abuse by someone else? The whole thing seems fishy to me," a netizen tweeted.
"I've seen videos of mega car crashes and the driver walk away from it fine. Meanwhile, Carrie Underwood has 50 stitches from falling. Either the world is being its usual weird self or we're about 2 years away from an expose on domestic abuse in the Underwood household." tweeted another. 
Meanwhile, a third user stated she was suspicious because she, too, had gotten a handful of stitches on her face, and the scar was noticeable even after many years while Underwood looked flawless. 
Some fans also criticized Underwood for continuously teasing the situation with her questionable selfies, such as one with a mouth hidden with a red X.
They noted the songstress should address the situation head-on instead of "seeking attention."
Carrie Underwood's Husband Helped Her Recover
Although the country music star did not address these speculations, she mentioned how her husband, Mike Fisher, helped her recover during an interview on SiriusXM's The Highway. 
She shared that her husband was "all right [as a nurse]," but she was terrible at letting him or anybody else help her with anything.

Carrie Underwood's husband, Mike Fisher, thanks everyone for their support after the singer's accident. (Source: Instagram)
"I'm probably not a very good patient because I'm like, 'I can do it. I'm not completely broken. I can do this.' I'd say the hardest part was my wrist. Like, I can't use my appendage, and I'm trying to pick my kid up and make food and do mom stuff," the singer admitted. 
Immediately after the accident, Fisher had taken to social media to open up about the experience and how he was dealing with the incident. 
He thanked his fans and friends for their support and said he was "reminded that there are so many good people in this world."