A Look at Carrie Underwood's 11 Years of Marriage with Husband Mike Fisher
Carrie Underwood and Mike Fisher celebrated their 11th wedding anniversary with similar posts on Instagram.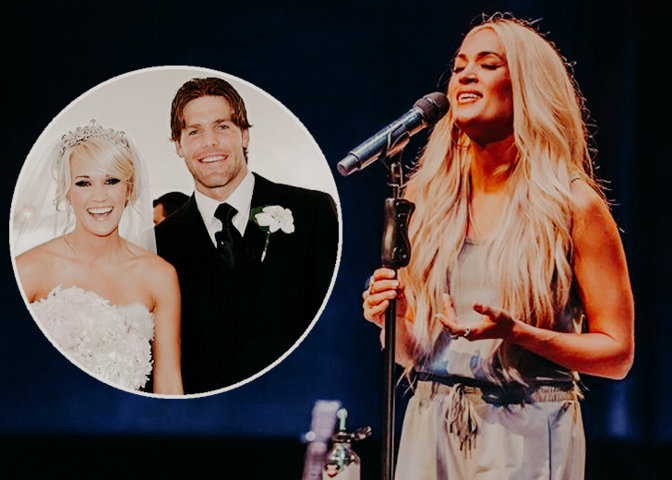 Carrie Underwood and Mike Fisher celebrated their 11th wedding anniversary on July 10, 2021. The 7-time Grammy award-winning singer took to Instagram to mark the milestone in their relationship.
She posted a picture of herself with her husband and expressed her excitement for the years to come.
Fisher also made a similar post but uploaded a throwback picture of their marriage. In the captions, he wrote about how fast time had passed since they tied the knot and called her the best partner he could imagine.
Happy anniversary @carrieunderwood hard to believe this was 11 years ago today! Here's to many more with the best partner I could imagine!! #happyanniversary
Relationship History
Underwood and Fisher first met in 2008 through Fisher's friend, who knew her bass player. He drove to Toronto to meet her, and she had him join the meet-and-greet line so it wouldn't be awkward if the meeting didn't go well.
The two started dating shortly afterward, and he proposed to the 'Before He Cheats' hitmaker in December 2009.
A month later, Underwood and Fisher made their first public appearance as a couple at the Bell Sens Soiree at the Hilton Lac-Leamy in Gatineau, Canada.
Fisher and Underwood tied the knot on July 10, 2010, in Greensboro, Georgia.
After four years of marriage, she announced her first pregnancy in September 2014 before performing at the 2014 American Country Countdown Awards in Nashville.
And on February 27, 2015, the pair welcomed their first child, son Isaiah Michael Fisher.
Miscarriage
Underwood and Fisher tried for more children after Isaiah was born. Unfortunately, the couple got pregnant thrice but went through a miscarriage on all three occasions.
The two opened up about their experiences with miscarriage in the second episode of their Mike and Carrie: God & Country podcast.
She described it as a very difficult experience and noted that she never thought it could happen to her.
It sounds bad when you say it, but it's one of those bad things that [you think] happens to other people, you know what I mean? Like so many things in the world, it's not something you envision yourself having to deal with.
Underwood recalled she had a conversation with God after her third miscarriage, where she told him to either not give her a baby or have a successful pregnancy as she couldn't deal with the miscarriages anymore.
Four years after giving birth to Isaiah, Underwood and Fisher welcomed their second son, Jacob Bryan, on January 21, 2019.
The couple had already decided on the name before Jacob was even born.
Fisher explained the name had much significance to them as it matched with the biblical Jacob, who wrestled with God throughout the night until he got his blessing.
The arrival of Jacob also meant a lot to Underwood and her husband, as it changed their marriage for the better.
Fisher says it helped them find God and grow through the process, even though things looked bleak when they were going through the miscarriages.