Cara Delevingne and Selena Gomez Dating Rumors Coming True On-Screen for 'Only Murders in the Building'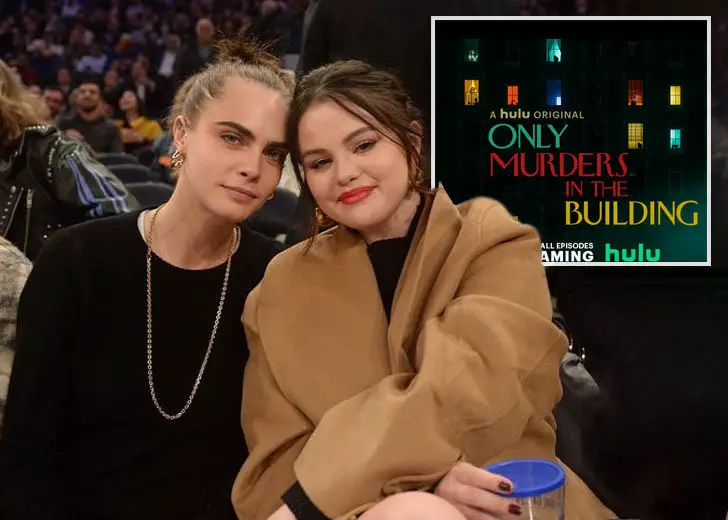 Earlier in November, actress Selena Gomez was spotted showcasing her affection for English supermodel Cara Delevingne.
The Only Murders in the Building star was on her night out with Delevingne at the Knicks versus the Orlando Magic game at Madison Square Garden in New York City.
At one point during the game, Delevingne was shown on the jumbotron, blushing and beaming with a smile.
Moments later, Gomez was caught on camera, giving Delevingne an affection-filled kiss on her cheek. 
And thanks to the images which later emerged, a red lipstick mark was noticed on Delevingne's left cheek.
After the clip went viral online, speculations of Gomez and Delevingne dating each other reignited.
Is it 2014 all over again?
Cara Delevingne and Selena Gomez's Dating Rumors
In 2014, Delevingne and Gomez were seen vacationing in a yatch on the French Riviera.
Photos of her enjoying her time with Delevinge, who is publicly bisexual, surfaced shortly after the dating rumors.
During the said time, Gomez was dating Justin Bieber, on-and-off, which ultimately ended in 2018.
With the vacation pictures, speculations of Gomez being a lesbian started doing rounds on the internet.
Later, during her exclusive conversation with Pride Source, Gomez was asked about the rumors surrounding her sexuality and her dating life.
According to Gomez, she does not care as the gay-gossips did not include "other people in my life for once, which was wonderful."
"Honestly, I loved it. I didn't mind it," the actress remarked.
Gomez then opened up about her relationship with Delevingne and called the model "incredible" and "very open."
"She's so fun, and she's just extremely adventurous."
Later Gomez said she "didn't mind" the lesbian rumors. "I loved it," she claimed instead.
When asked to delve into her sexuality, the singer turned actress told the magazine that she often questions about her sexuality.
"I do, yeah, of course," Gomez remarked.
Further, the actress opined how it's healthy to gain a perspective on "who you are deep down."
In the same interview, she revealed to have grown up among gay people in Grand Prairie, Texas.
Gomez also stressed that she did not have issues "at all" accepting the gay community despite being raised as a catholic.
Cara Delevingne to Play Selena Gomez's Love Interest
As per a recent report by Deadline, model Delevingne has joined the cast of Hulu's Only Murders in the Building for the show's upcoming second installment.
Reportedly, Delevingne will portray the role of Alice, a sophisticated art world insider, in the forthcoming show.
However, things turned interesting after rumors of her playing the role of Gomez's girlfriend in the series emerged online.
The piece of information was first reported by Deuxmoi on their Instagram story.

Deuxmoi's post on Cara Delevingne and Selena Gomez's starring in 'Only Murders in the Building.' (Source: Instagram)
Recently, entertainment website Extra asked Gomez about Delevigne's involvement in the popular series.
She said she is "so excited" and remarked her work with the model potentially being "something completely different."
Extra's Terri Seymour then asked Gomez whether she recommended her rumored girlfriend for the show. 
In her response, the actress said the show's creator originally wanted her in the series, and she only gave them "a little push."