Could Cara Delevingne Be Dating Ex Girlfriend St. Vincent Again?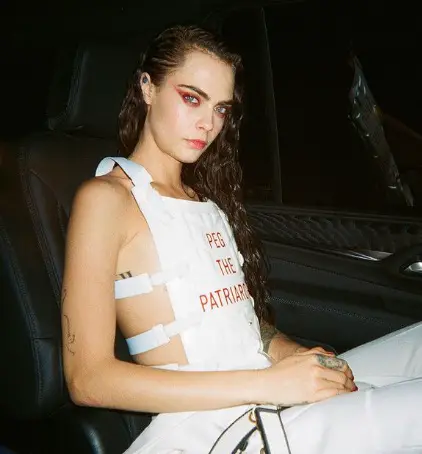 Cara Delevingne has had many relationships over the years with both men and women, the likes of Harry Styles and Michelle Rodriguez. But none of them were as headline-making as her relationship with St. Vincent.
And now, they seem to be going out again. Or at least that's what the internet seems to say.
Cara Delevingne and Ex Girlfriend St. Vincent Back Together?
Deux Moi is always an interesting Instagram page to be on if you're really into Hollywood gossip. The page is famous for its anonymous submissions from people about celebrities and secretive relationships.
Something similar made the page's stories on December 6, 2021, as an anonymous submission propped up seemingly out of nowhere.
The anonymous person claimed that they had seen Delevingne and St. Vincent together at Temple Bar at the time.
Deux Moi then asked the person if they were on a date.
The submitter then responded saying the duo were seen to be having "so much fun."

Deux Moi's anonymous submission that claims Cara Delevingne and St. Vincent were spotted together. (Photo: Deux Moi/Instagram)
Further, they also claimed that Delevingne was being very lovely to the staff on duty at the place.
The submission ended with the person's request to keep their identity undisclosed and also gushed about how they had been waiting for the moment (meaning a chance to submit something like this) for their whole life.
Cara Delevingne and St. Vincent Have Quite a Bit of History
Before this spotting, the duo had previously been in a relationship from 2015 to 2016 — for about 18 months.
The supermodel had a great relationship with St. Vincent, whose real name is Annie Erin Clark. She even told Vogue in August 2016 that she didn't know what real love was before she fell for her.
They first met in 2014 during one of St. Vincent's concerts, and the relationship took off.
But by September, just a month after Delevingne's interview with Vogue, they had called it quits.
Both of them had great influences on one another, something that is more visible on St. Vincent's side. Dating the model put her in the spotlight.
So much so that people wanted to know if the song 'New York' was about her. To this, she responded ambiguously.
The artist told The Guardian in August 2017 that everything she went through in life bled into her music — and dating Delevingne was a big part of her life.
She left people to their deductions.
"People would read into them what they would, and you know what? Whatever they thought they found there would be absolutely right. And at the same time it would be absolutely wrong," she said.
Delevingne has had only one relationship since her split with St. Vincent. She dated Ashley Benson from around August 2018 to May 2020.
Does this alleged spotting mean they're back together? Only they know.