Bryce Hall and Charli D'Amelio Starring in Anthony Michael Hall's Movie 'Home School'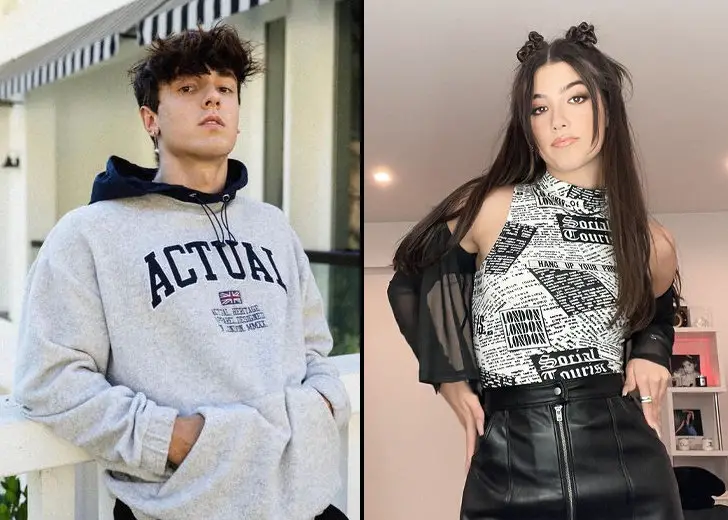 Bryce Hall is allegedly starring alongside Charli D'Amelio in Anthony Michael Hall's upcoming movie Home School.
The big news came out during a YouTube live session on BFFs with Dave Portnoy and Josh Richards on February 8, 2022. And it was Hall himself who spilled the beans.
The social media personality revealed that he was approached to play a part in Home School by its casting team after the show's host, Dave, dived into the news of D'Amelio becoming an actress.
"I actually know exactly what this means. Yeah, she is probably doing something in a movie series," he said while admitting D'Amelio was becoming an actress for real.
Bryce Hall and Charli D'Amelio in 'Home School' 
During the same session, Hall, who has previously starred in He's All That and Jawline, further revealed the plot of the movie, saying it followed the lives of a couple who were public and iconic.
He then delved into his cameo in He's All That and said that the creators of the film wanted him and Addison Rae to play the couple and apparently film some intimate scenes together, too.
"They weren't going to cut out that scene but we broke up before it came out. So it was kind of like oh wow I'm still in that," he added.
That said, Hall didn't confirm whether or not he accepted the acting offer and the opportunity to star alongside fellow social media star D'Amelio in the film at the time.
But fans were quick to question him on social media. For instance, a user on Twitter asked him to explain why he turned down the project.
Responding to the tweet, Hall hinted that he was doing the movie, as he wrote, "who says I did?"
Fans React to the News
Since Hall and D'Amelio hinted at their upcoming film together, fans have been over the moon.
"Honestly I'll definitely be watching the movie," a fan wrote in the comment section of @tiktokinsiders on Instagram. The gossip page had posted the video from the mentioned live session.
Another supportive fan also chimed in, saying, "can't wait to watch this movie, I'll be rooting for my girl Charli AND the boy Bryce of course!!"
"Why not get experienced actors for these roles though," someone critiqued.
In contrast, a tweet read, "don't get our hopes up bryce."
Charli D'Amelio First Hinted at the Project
On February 2, 2022, D'Amelio posted about the film on Instagram, becoming the first person to hint at the acting project in public.

Charli D'Amelio hints about her new acting project 'Home School.' (Photo: Instagram)
She teased her fans by sharing a photo dump of her recent happenings, and in one of those pictures, she penned some crucial points about the upcoming film Home School.
"Home School directed by anthony michael hall [sic]," she wrote in a yellow sticky note, revealing the project title and director's name.
In another sticky note [on the same picture], she implied that the filming would start in June 2022.
Besides, she had planned an acting class with John Kirby at 4 pm on Mondays to strengthen her voice and prepare for the role.