Inside Brian Baumgartner's Married Life with His Second Wife Celeste Ackelson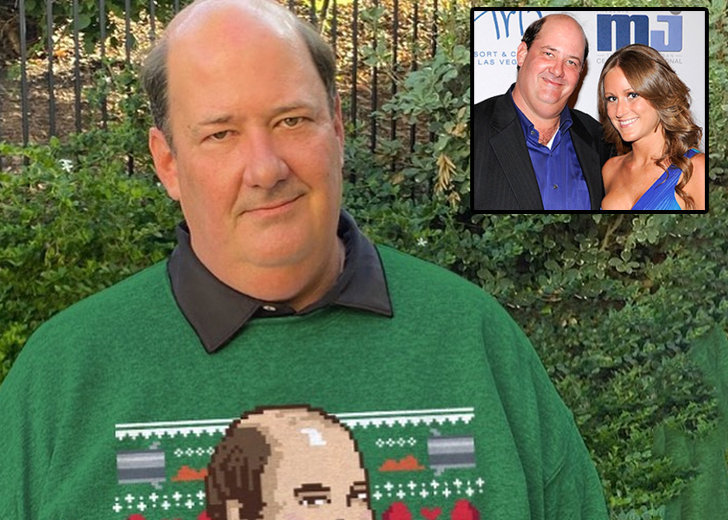 In The Office, there were jokes about how Brian Baumgartner's character, Kevin Malone, did not have a wife and could not keep a relationship. 
However, it is quite the opposite when it comes to real life. Baumgartner has not only been married twice, but he also has kids. 
He is very active on social media but rarely posts about his wife or daughter. Therefore, not much information is known about his personal life. 
Brian Baumgartner's Wife and Wedding  
It is reported that Baumgartner's first spouse was Julia Fisher. Allegedly, the couple tied the knot in a private and intimate ceremony. 
Unfortunately, nothing is known about Fisher and their marriage. Moreover, the pair were even blessed with a daughter.
It seems like the mother-daughter duo doesn't have a social media presence as well. Similarly, there is no information about when the couple separated or got a divorce. 
However, it seems like everything happened before Baumgartner found fame in The Office. The actor is currently married to his second wife, Celeste Ackleson. 
Like his first spouse, it is not known when he met Ackleson. Regardless, TMZ reported the two tried the knot in their backyard on April 28, 2014. 
The wedding ceremony was like a mini-reunion for the cast members of The Office. This was because a few of them, including Jenna Fischer, John Krasinski, Angela Kinsey, and Oscar Nunez, attended it.   
Baumgartner had once referred to his castmates as his "second family" to People in 2013. Throughout the nine seasons of the show, the actors and actresses together. 

Actors and actresses from The Office posing for a photo. (Source: Instagram)
As a result, their "lives have changed together," and they have seen "weddings and divorces and kids, success and failure." Therefore, it was plausible to invite his second family for his special day. 
Talking about his wife, Ackleson keeps a very low-key profile of herself. However, according to The Washington Independent, she was born in the United States in 1982. 
There is no information about her education and schooling, but it is reported that she went to Florida International University. She reportedly graduated in communication. 
She allegedly is involved in fashion also has an outlet called Creativity Fashion.  
Brian Baumgartner's Daughter 
A year after their wedding, Baumgartner and his wife welcomed their daughter. Their representative told Us Weekly that Ackelson gave birth to Brylee on February 19. 

Brian Baumgartner announced the birth of his daughter, Brylee, on Instagram. (Source: Instagram)
They said that their daughter weighed 7 pounds and 11 ounces at birth. But the actor himself announced via Instagram more than a month later, on March 24, 2015.
He uploaded a black-and-white picture with his daughter sleeping and him watching her closely. He wrote a heart-warming caption, calling Brylee his "latest project."
He wrote, "I am happy to announce the arrival of my daughter- Brylee Bea- healthy and very happy."
He also joked that Brylee told him she "looks forward to catching up on all the old episodes of The Office once her eyes adjust to life."
Baumgartner has not shared pictures of his partner, but he frequently uploads photos of his daughter on his social media.