Angela Kinsey Is Done With Final Pages Of New Book 'Office BFFs' Written Alongside Jenna Fischer
Angela Kinsey has done her part to bring 'Office BFFs' to life.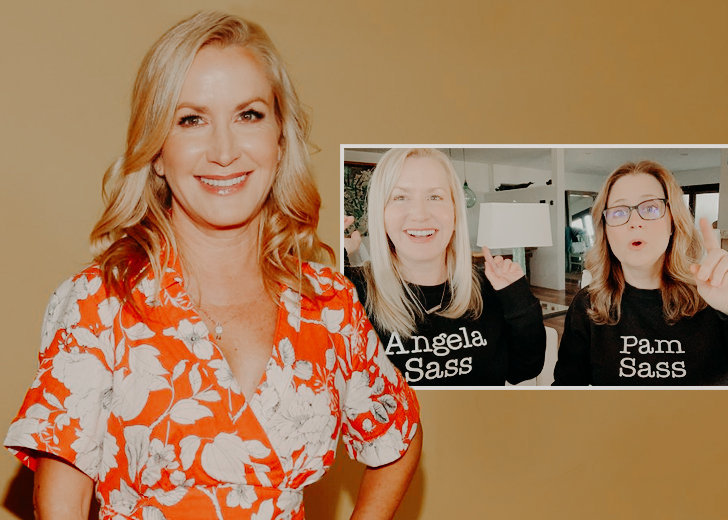 Angela Kinsey and Jenna Fischer set out on a book project a while ago to put into words their experiences and friendship during their time together on The Office. And now, Kinsey seems to have completed her part in bringing the book to life.
Kinsey Done With The Final Chapter
'Office BFFs: Tales of The Office from Two Best Friends Who Were There,' an extension of Kinsey and Fischer's podcast Office Ladies, and fodder for the show's fans who want to know more, is set to be published on February 8, 2022. And it looks like Dey Street Books, the publishers, will have ample time to get the books ready on time for eager readers.
On June 5, 2021, Kinsey's husband, Joshua Snyder, took to Instagram to post a picture with some good news for people waiting for the book. The picture showcased Kinsey hugging her son Jack in their kitchen.
"Ange just came in to tell us she finished writing the last chapter of her book. We cheered and Jack ran up to hug her," the caption read, revealing that Kinsey was done with the book.
The caption continued as her husband expressed his surprise at how tall Jack had become.
Kinsey getting her part done so soon might also be because of the author-duo's recent writing retreat.
She and Fischer took a few days off for themselves to get together and work on the book with no distractions. Both of them have documented their retreat on their respective Instagram pages.
The duo's habit of documenting their experiences helped the book, too.
Both of them had kept journals during their time on the show and it was helpful in tracking back both their friendship and the journey they had made together during the show.
A Long Time After 'The Office' Ended
The book, at the time of its release, will come almost ten years after the show ended in 2013. It was in the first season of the show that the two authors became friends.
Kinsey and Fischer became friends during the first season, but things didn't get best friends-level serious till the day of filming for the 'Basketball' episode of the show.
And before the episode's shooting ended, they had told each other their life stories and sowed the seeds for their friendship that has lasted this long.
A lot has changed since then for Kinsey in the professional side of things. She appeared on 188 episodes of The Office according to IMDb.
After that, she has appeared in a plethora of movies and TV shows such as Bad Judge, Impress Me, Haters Back Off!, Keep Hope Alive, and #BlackAF to name a few, garnering a reported net worth of around $8 million.
Adding to that worth might be her podcast she hosts with her BFF, Office Ladies, where they talk about the show and everything surrounding that. The book, too, will no doubt add to her financial standing.
On the personal front, too, Kinsey's life has changed quite a bit. When she started appearing on the show, she was married to Warren Lieberstein. She tied the knot with him on June 18, 2000, and had a daughter, Isabel Ruby Lieberstein, before getting divorced in June 2010.
After that, she started dating her current husband, Snyder. They got engaged around August 2016 and married a few months later, on November 14, 2016, in a beautiful private ceremony in Topanga, California.
She now lives with her daughter and two step-children, Jack and Cade.