Bretman Rock Gets New Playboy Bunny Tattoo after Making History
Bretman Rock shows off his tattoo in a new Instagram post.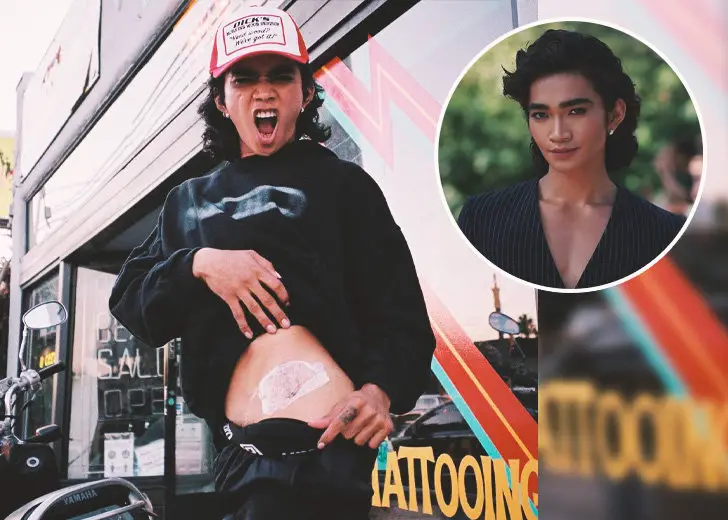 In the last few years, 23-year-old Filipino influencer Bretman Rock has become one of the most famous people on social media. 
Rock started gaining popularity mainly through comedy and makeup-focused content on the now-defunct Vine and YouTube. The content creator has gained 17.8 million followers on Instagram and 8.8 million subscribers on YouTube. 
He launched his makeup line and even starred in his own MTV show, MTV's Following: Bretman Rock. Simultaneously, Rock has become an outspoken advocate for the LGBTQ community. And, of course, he is no stranger to breaking barriers. 
Rock is not only one of the few men in the beauty industry, but recently he became the first openly gay man to appear on Playboy's digital magazine cover. But, according to Playboy, the social media star isn't the first man to appear on the magazine cover. 
He followed in the footsteps of Puerto Rican rapper Bad Bunny and Playboy's founder, Hugh Hefner. But he is, however, the first out gay man to appear solo on the cover. 
Bretman Rock Making History and Getting a Tattoo
Rock struck fierce poses sporting the iconic Playboy bunny garb — a racy black bunny suit, bowtie, and matching bunny ears. 
The social media star had once jokingly said that gracing the cover of Playboy had been a goal for him when his manager asked him what he wanted to do, but he was unsure if he'd be able to achieve it.
I jokingly said Playboy because I didn't think it was possible. It proves to me I can do anything I put my mind to. And it's crazy that Playboy believes in that as well and believes in me. It means the world to me.
And to celebrate his groundbreaking achievement, Rock got a tattoo of a playboy bunny on his hips. He posted a series of pictures of his tattoo on his Instagram while it was still sealed with a caption noting that he wanted to feel something.
In the comments, some fans jokingly thought he had gotten surgery. 
Bretman Rock Posts IG Story about His Tattoo

Bretman Rock's IG Story About His Tattoo (Source: Bretman Rock's Instagram)
After uploading the picture of his tattoo, Rock talked more about it on his Instagram stories. 
While Rock did get the tattoo, he shared that he was not encouraging anyone else to get one claiming that he was Asian and that his "mom would kill him." And since many of his audiences were Asian, he presumed that their moms would kill them too.
But with that said, the social media influencer noted that he regretted only getting the hip tattoo because it was a good excuse for him to show off his tattoo to people. He even gave a meme reference for showing off his tattoo. 
In the last story, he humorously, in classic Bretman Rock fashion, reenacted a scene of him showing off his playboy bunny tattoo to someone.